Due to the current coronavirus crisis, the demand for ergonomic chairs for home working has soared. But should you be investing in ergonomic chairs for your home workers? What are your responsibilities as an employer?
In this blog post, we explore the lessons learned from the first lockdown and the benefits of ergonomic chairs. We unpick employer responsibilities and assess the options available for getting your home workers set up comfortably.
Home working takes its toll
When the UK first went into lockdown in March, millions of people across the country adjusted to working from home.
Not long after, reports of back, neck and joint pain came flurrying in as people set up camp at their kitchen table. For those with limited space and resources, finding a comfortable space to work was a real challenge.
The Institute of Employment Studies' Working at Home Wellbeing Survey, conducted during the first two weeks of the first lockdown, revealed there had been a significant increase in musculoskeletal complaints.
More than half of workers reported new aches and pains, especially at the neck (58%), shoulder (56%) and back (55%), compared to their normal physical condition.
How employers responded
Some employers reacted quickly by sending office furniture direct to workers' homes. On the first day Boris Johnson announced people should work from home, digital marketing agency Hallam arranged the delivery of desk chairs and second screens direct to the homes of its 51 employees.
Other companies have taken other avenues to provide staff with office furniture, including offering home office budgets or reimbursement schemes. In the US, e-commerce company Shopify provided employees with $1,000 to set up their home office. And in one survey of around 1,400 US-based companies, more than 1 in 5 say they are helping to pay for their employees' home office equipment.
But, not every employer has been able to do the same. It's a big financial undertaking and no one really knew how long it would be before people could return to the office. Many certainly didn't expect we would still be working at home come the end of the year.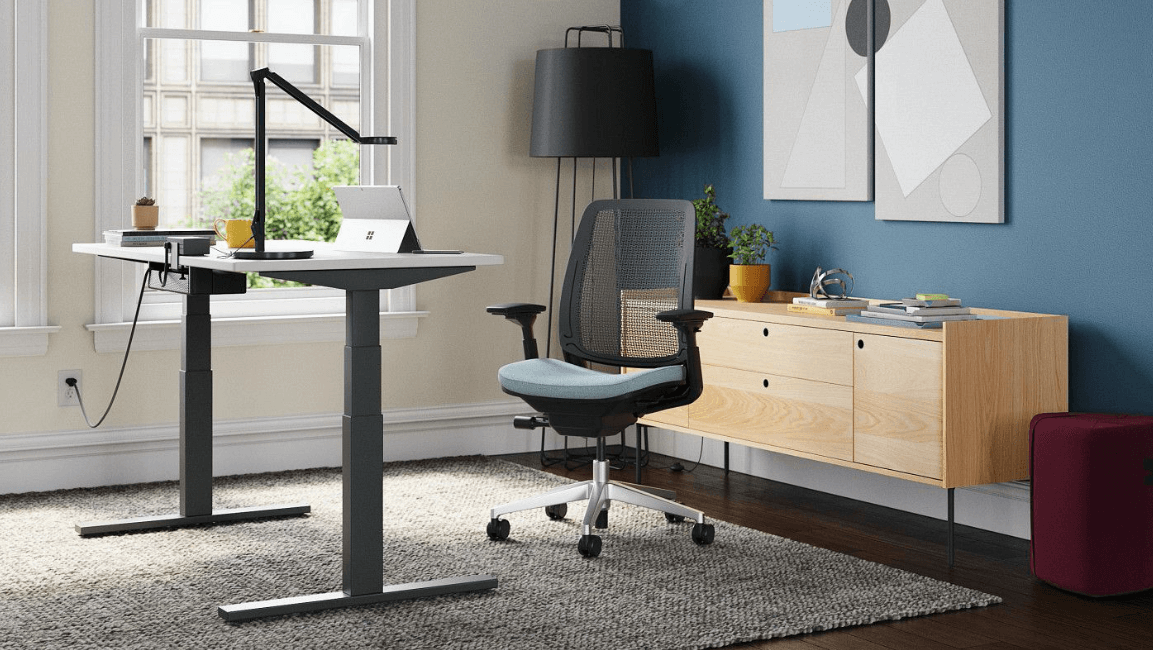 The benefits of ergonomic chairs
A good, ergonomic chair will prevent back strain, fatigue and discomfort.
According to Steelcase, a good ergonomic chair:
Activates your body - the chair moves as you do, bringing you closer to a healthy standing posture
Encourages you to move - the chair will flex with you, helping you change postures as you sit
Reinforces your healthy posture - the backrest should fit the natural contour of your back and provide reinforcement for your spine
Provides comfort where you need it most - contoured foam a flexible edge provide pressure-free comfort for sit bones, glutes and thighs
Keeps you connected - the arms should stay parallel to the floor while you recline
Fits you uniquely - has intuitive back, seat and arm adjustments so it feels like it's made for you and your body
Demonstrating the extent to which a good chair can transform the work experience, research also by Steelcase revealed that:
30% of people describe their home workspace as comfortable. But people with an ergonomic chair were more likely to report they have a comfortable workspace (yet only 24% of individual contributors reported having one).
Employee comfort is also essential for productivity. Workers who aren't sitting comfortably are more likely to find themselves constantly shifting around and their attention focused on their discomfort rather than on their work.
Employer responsibilities
There's no doubt that providing workers with an ergonomic chair can have a positive impact on wellbeing and productivity. But what responsibilities do employers have? Are you obliged to provide workers with ergonomic chairs and other furniture to help them do their work effectively at home?
Under the Health and Safety Act 2004, employers do have a responsibility to help their people work safely from home. As the HSE points out:
"Employers have the same health and safety responsibilities for employees working from home as for any other employees, including the duty not to charge for things done or provided pursuant to their specific requirements."
There is, however, no explicit obligation for employers to provide office furniture for home workers.
According to the HSE, employers should provide workers with advice on completing a display screen equipment (DSE) assessment at home. And where a need is identified, they advise that employers should try to meet those needs where possible. This could mean anything from supplying workers who use laptops with a separate keyboard or mouse, to providing larger items such as ergonomic chairs or height-adjustable desks.
It should be pointed out that while employers have an obligation to ensure staff are working in ways that don't jeopardise their health - the employee has a responsibility too. Workers should be taking care to identify any safety risks and put in place measures to make them more comfortable.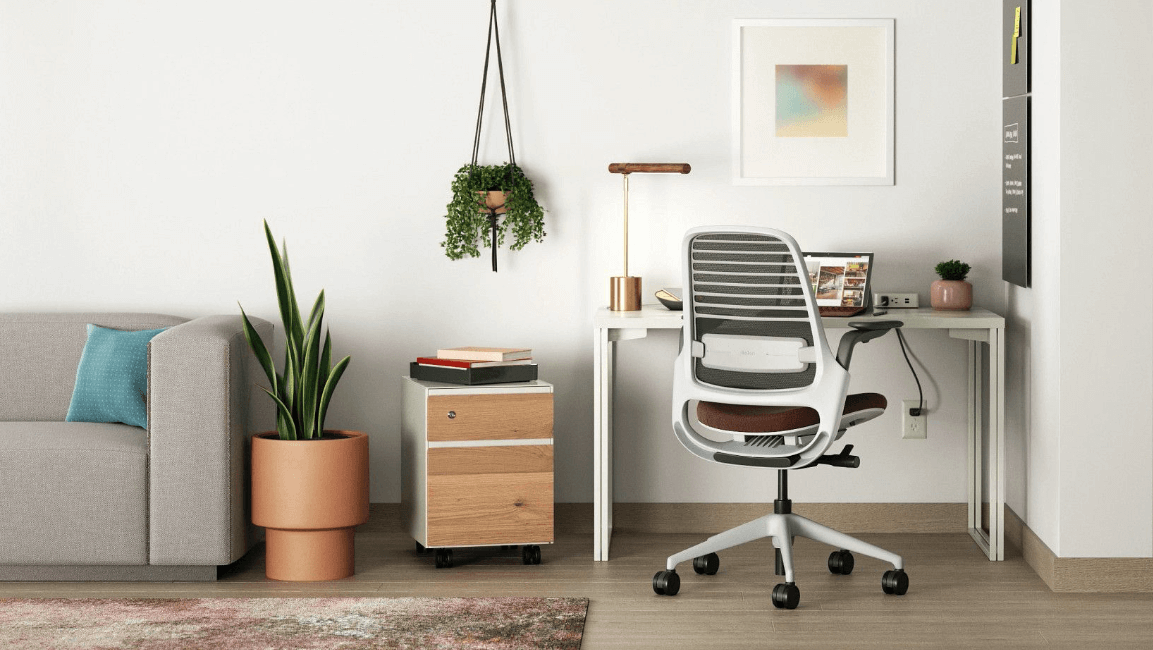 It's not too late
The UK may have begun the rollout of the coronavirus vaccine, but we're still a long way from having everybody back in the office. People will be working from home for a while yet. And even after the pandemic, it's likely that many will want to work from home on a part-time basis, splitting their working hours between the office and the home.
The fact is, it's not too late to get your home workers set up comfortably. Suppliers like Insightful Environments are able to facilitate rapid delivery of ergonomic chairs direct to home addresses to those in your team that need it most.
At IE, we are able to support individual or bulk orders on a range of ergonomic task chairs, including the award-winning Steelcase Series 1 chair, in a very short turnaround.