The idea behind the open plan office was good: break down the walls and create an environment for people to interact and share ideas. It was an effort to foster collaboration and culture. But the open plan office introduced new problems, such as lack of privacy, noise distractions, and difficulties with concentration.
Now, as people return to the office and adapt to hybrid work, they're expecting a better workplace experience. They want more flexibility over how and where they work. And employers wanting to win in the fight for talent are taking action.
However they're also recognising they need flexibility too - to change, experiment and adapt their spaces to the ever-evolving needs of hybrid work.
"No one knows exactly how the office needs to change for hybrid work and it will be different for every organisation. The next couple of years will need to be an ongoing workplace experiment to understand what types of spaces best support hybrid work, and to be able to respond quickly, the workplace will need to be incredibly fluid and agile."
One way to improve the workplace experience and achieve flexibility for both employees and their organisations is to use furniture to create different spaces within the open plan that support all the ways people want to work while enabling spaces to adapt easily. We explore how to landscape using furniture in open-plan office design and share a real-life case study.
Furniture as a landscaping tool
"Both designers and organisations are now using furniture layouts and adjacencies to help breakdown silo mentalities and recalibrate organisational culture."

Orangebox
Workers need access to various spaces within the office to support all work modes, including focused work, small group meetings, and collaborating with large teams.
Furniture is increasingly being used as a landscaping tool to create more flexible environments that support all the different ways people want to work. It's something that's being considered at the very outset of a project rather than after the architectural interior design stage.
Not only does using furniture to landscape allow you to flex your spaces to meet the evolving needs of hybrid work, but there's also the cost benefit of not needing to build walls.
There's an environmental benefit too. Furniture can be moved and reused as needed, so you can keep assets in the circular economy and reduce your impact on the environment.
Products making it possible
Orangebox designed Campers&Dens with one thing in mind: intuition. They wanted workers to be able to walk into an office and intuitively know where to go depending on the task they have to do and their mood.
The solution was a modular meeting room system that creates 'workplace campgrounds' within the open plan.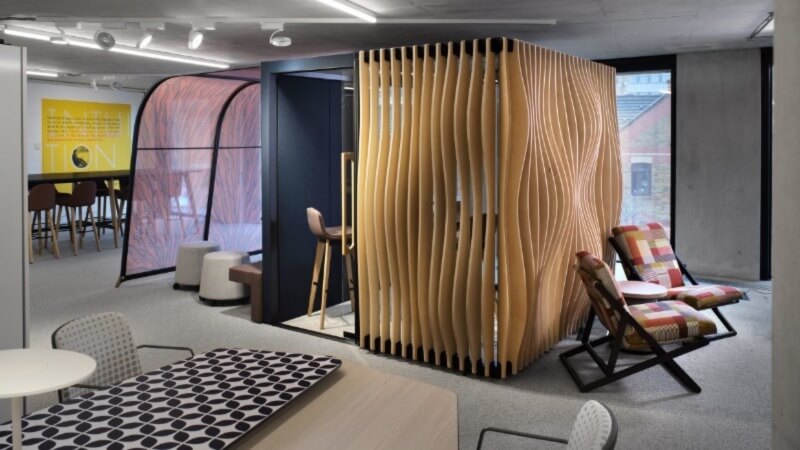 Campers&Dens combines the benefits of a manufactured system with flexible adaptability. It comes in various setups to suit different levels of privacy, from awnings that create a light layer of privacy to glass walls that create a physical sanctuary for people to disappear into.
Technology and whiteboards can be integrated alongside freestanding seats and tables. The airflow, light and roof are controllable, enabling workers to create an ambience that best supports their mood and the type of work they're doing.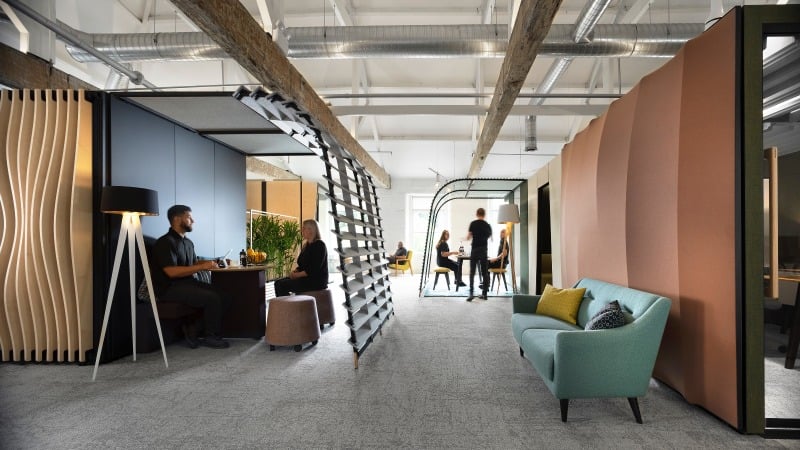 Similarly, Connection Rooms are designed to create a sense of place within the open plan. Like Campers&Dens, they are freestanding with no fixed walls, making them easy to add to an existing space without the need for planning permission or building work.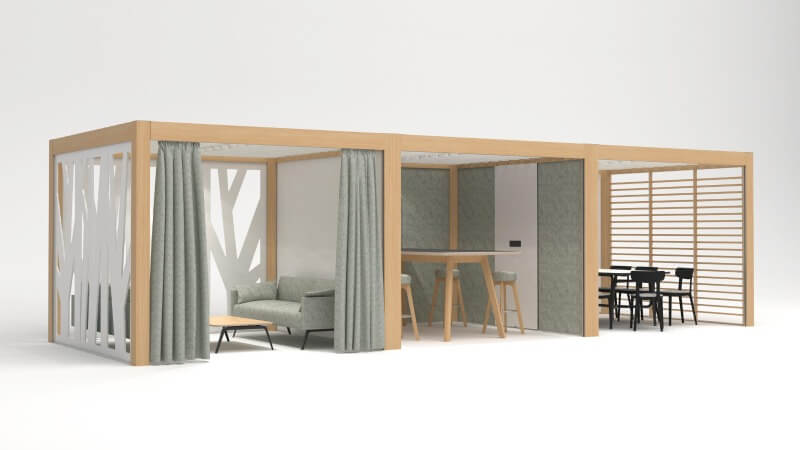 The range comes in multiple sizes and configurations, of which parts can be added, replaced or removed as needs evolve over time. Rooms can be designed with a choice of different walls, including acoustic, whiteboard, upholstered, glass and blinds, to suit different levels of privacy and different functions.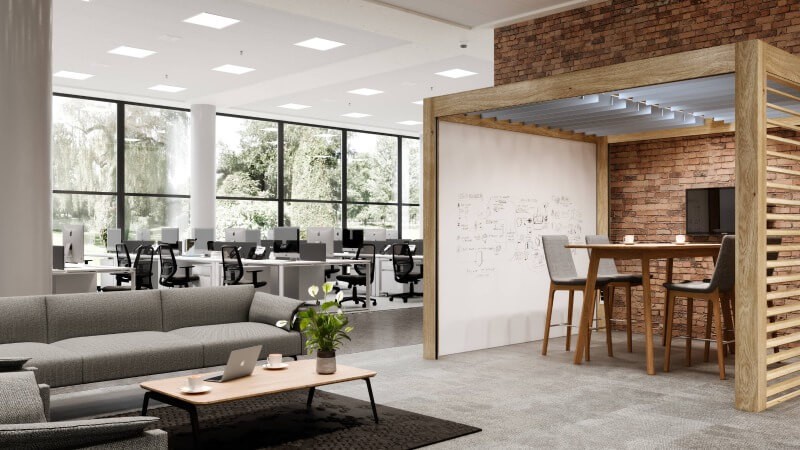 These products create clear zones within the open plan that help create vitality and energy similar to a neighbourhood. They also add interest to the space, making it more appealing and inviting for workers.
"Places where people can find privacy will be among the most coveted in a hybrid neighborhood."
Another product that can be used to landscape in the open plan is the new Steelcase Tents. The tent structure aims to recreate the same feelings of comfort and safety you have when huddled inside a tent within the workplace. The Pod Tent, inspired by the Gherkin building, is ideal for individual work, while the larger Overhead Tent is perfect for small groups.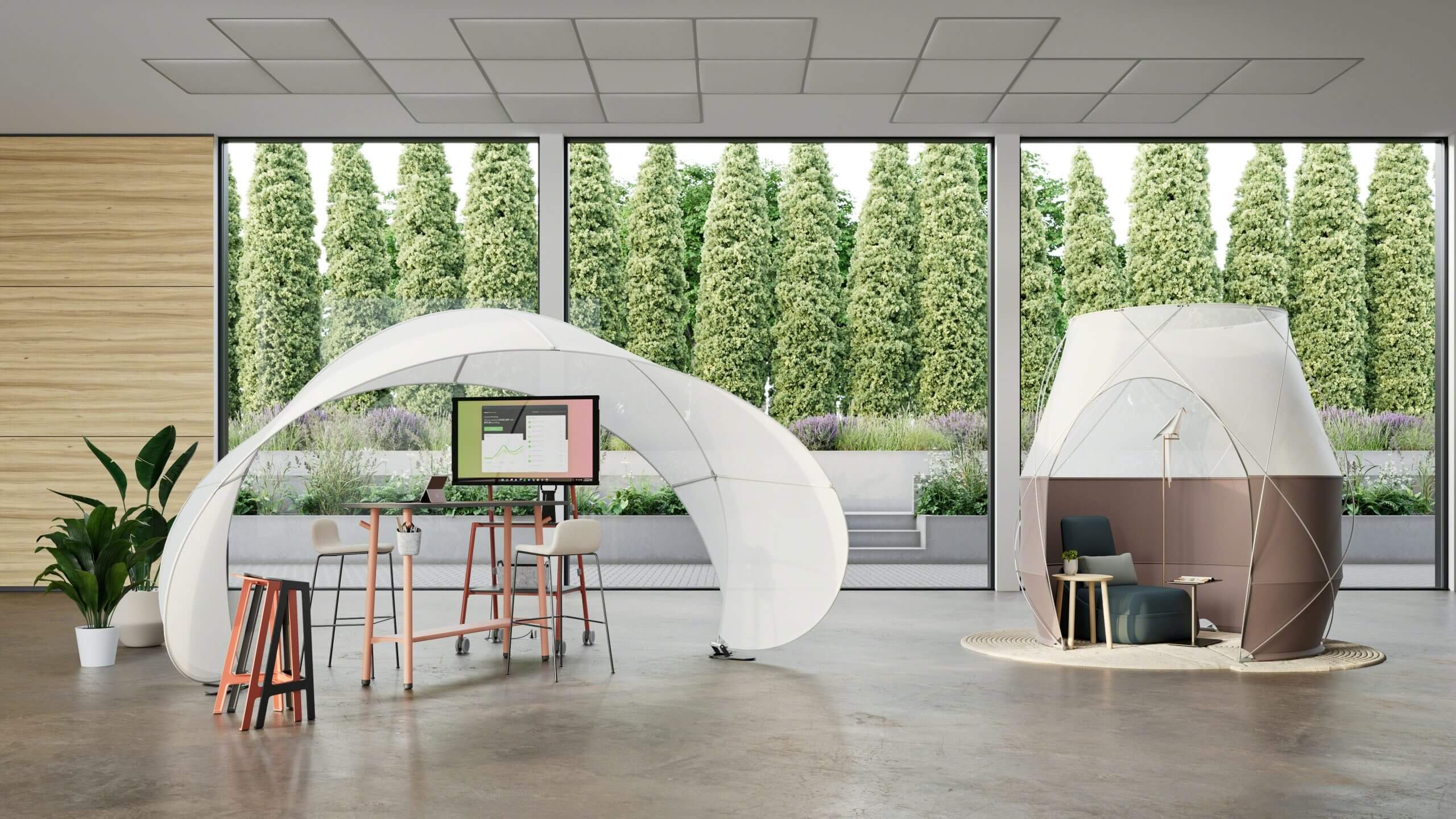 Case study
Like many organisations moving to a hybrid working model, our client wanted to explore how they could improve their workplace. They wanted to create a destination that workers would want to visit.
Recognising that workers needed space to support every task, including collaboration, focused work, and even a quick phone call, they asked us to help them create a range of spaces within their open-plan offices.
The client is testing several different setups, ensuring they get feedback from users to inform the final design.
In the plan below, you'll see the proposed design for the office space, which includes:
Rows of desks for individual work
Different sized collaboration tables for small and large group work
Informal seating areas
Awnings and booths for different levels of privacy
Planters used to create boundaries and add biophilia into the space

In the image below, Connection Rooms creates a semi-open space for small teams to gather. The blinds allow workers to create more privacy, a signal to others that a meeting is in place.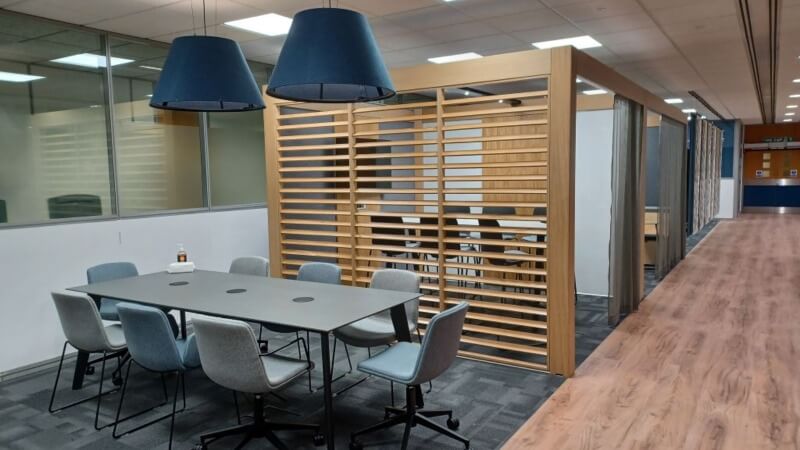 BuzziSpace and Abstracta Airleaf dividers in this image create an acoustic boundary while preserving the room's openness.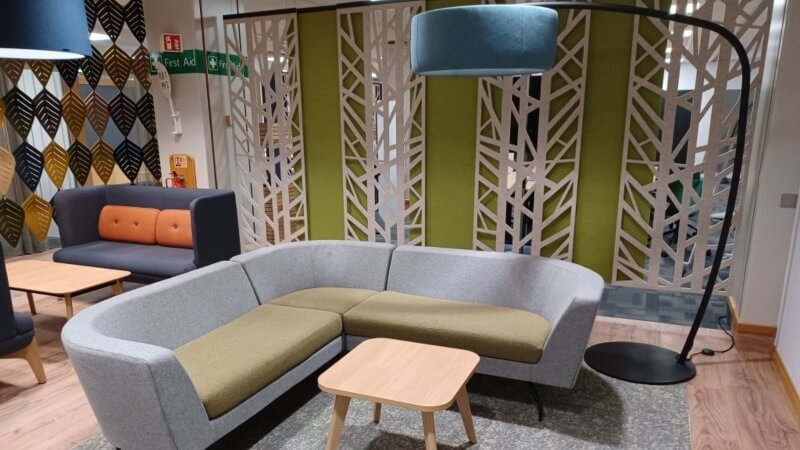 3 best practices for landscaping with furniture
1. Pilots
Test and trial spaces are becoming more popular amongst organisations as they help to minimise the risk of any investments. Trialling new semi-open spaces and different products with small groups in the office is a great way to ensure you're meeting workers' needs before investing.
2. Positioning
Products like Campers&Dens can be a great addition to your office space, but you also need to consider where they are placed within the office. You'll need to consider things like the aspect of the building so you can maximise natural daylight as much as possible and ensure clear lines of sight.
You'll also need to think about the flow of the building and how people are likely to use the space. You wouldn't want to position a focus booth next to a noisy work cafe area. A site analysis will be key to understanding the space and what workers need.
3. Coaching
Though the office design should be intuitive for workers, when first introduced, they will still need guidance on how to use the space to get the most out of it. Some of this work will already have been done during the pilot phase, but it will need to be delivered to the whole workforce. This also means conveying to workers the reasons behind the design. Understanding the need for landscaping and communicating that to users will ensure everyone benefits from the space.
Summary
Furniture can be used to landscape within the open plan, creating flexible spaces that range from fully open to semi-open to fully closed. This gives workers access to all the different environments they may need throughout the day.
Freestanding products like Campers&Dens, Connection Rooms, and Steelcase Tents, along with screens and planters, all make it possible. And because they are flexible, they can be moved, adapted and reconfigured as your workplace needs evolve.
Are you reconfiguring your workspace? Get in touch to discuss how we can help you create a more flexible working environment that will meet your workers' needs now and in the future.