With a shift to more paperless and hybrid working practices, office storage solutions need to become more agile and adaptable.
In the hybrid world workers don't 'own' desks, cabinets and drawers anymore. But that doesn't mean we don't need a place to call our own and stash our stuff when we're in the workspace.
With the rise of hot desking, mobile workers risk feeling an impermanent and unwelcome presence in the workspace as they're forced to hang bags on the backs of chairs or spread their stuff around the desk they've adopted for the day.
Lockers are back - supporting a nomadic workforce
Lockers allow mobile workers to settle into spaces more quickly, giving them a place where they can safely stow away their personal devices, gym kits, bags, coats and even their lunch. They can help us feel like we have a physical stake in the office and give us an opportunity to 'clear the decks' ready to focus, properly, on that day's tasks.
How large do your lockers need to be?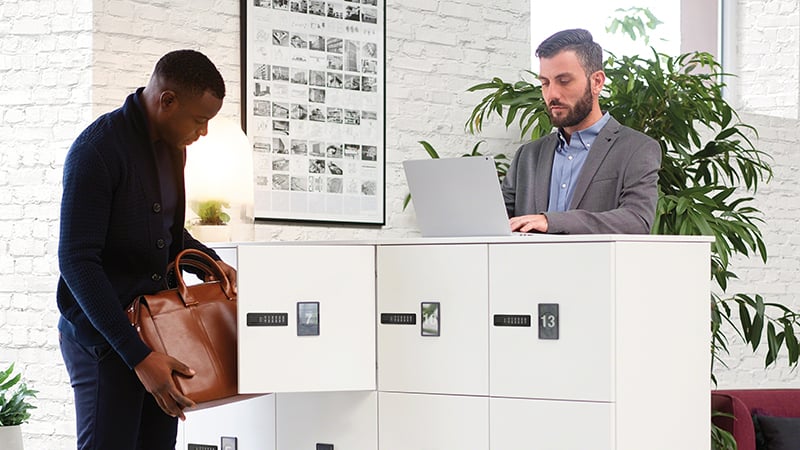 Larger lockers might be needed by employees who are in the workplace every day. They might need to store more things over longer periods (extra clothes and shoes) so that they don't have to transport them back and forth from home each night. Others will just need a place to keep their gym kit, or put away mobile phones and laptops when they're not using them. Some locker systems can even be used as charging units to keep devices safe as they re-powered.
How can we secure lockers effectively?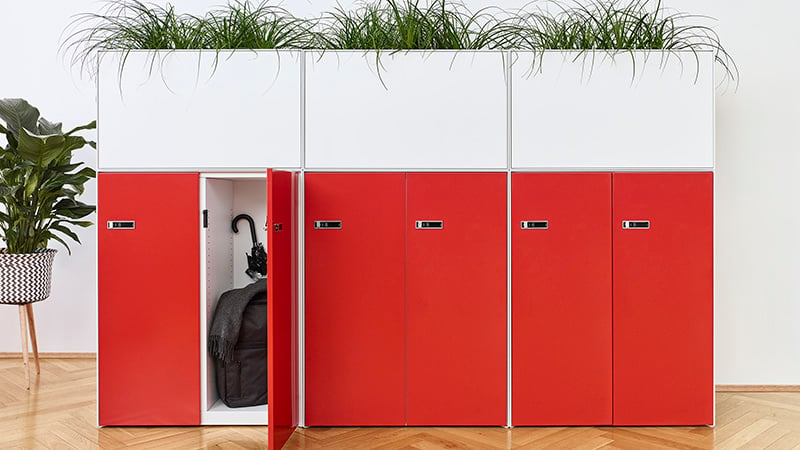 If you're allocating specific lockers to named individuals for relatively long periods you can operate a standard keylock system, although inevitably keys can get lost and you'll need to administer replacements and reallocation as you go along. Alternatively, you can choose a standard dial lock solution that's less costly and complex to control and oversee. For small businesses these analogue options may still be the best and most cost effective way to go.
But for businesses with larger numbers of workers 'keypad' and RFID solutions can give real flexibility, with software programmes available to administer them simply, and effectively.
But don't lockers waste space?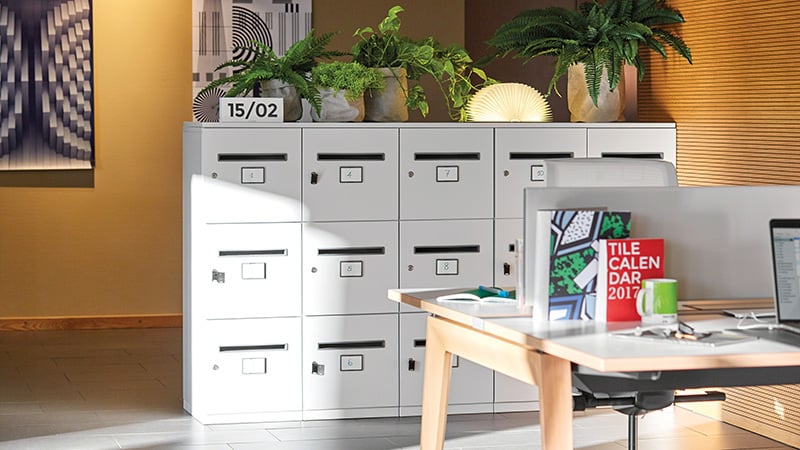 They don't have to. Modern lockers are a far cry away from the immovable, beaten up metal boxes of the football changing room.
Banks of lockers can be used as design features in their own right.
Available in different lengths and heights using different materiality and vibrant finishes, they can be used to define 'neighbourhoods' in busy offices. They can create meeting spaces, team zones or demarcate spaces for rejuvenation and relaxation. They can be surfaces for biophilic decoration.
Mobile lockers and cupboards with whiteboards/textile finish can also give teams surfaces to write on and pin materials, while providing storage space within them (or on the reverse side).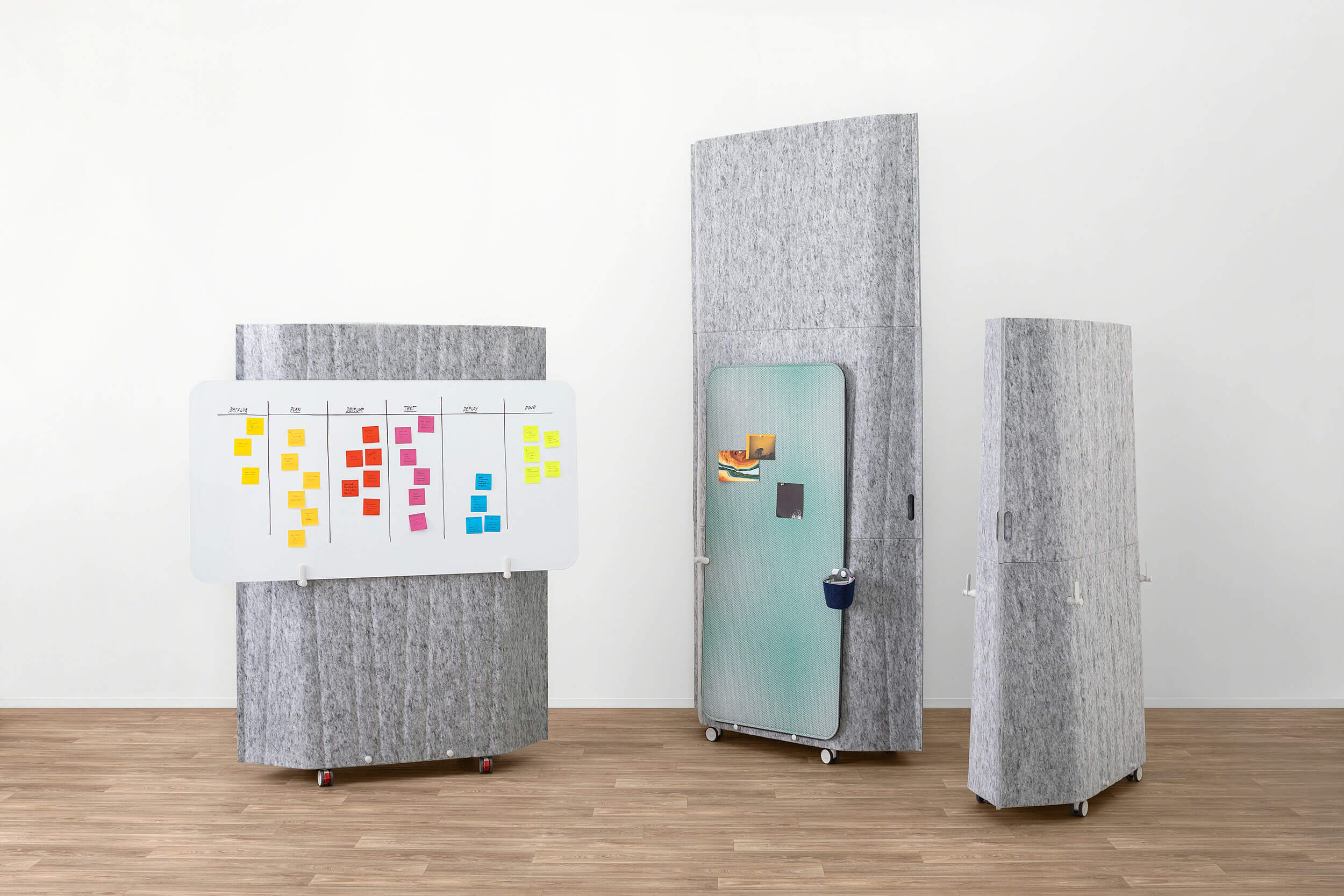 Waist high units can operate as extra surfaces for space-strapped businesses to gather round and use as work tops.
In Steelcase's active frames collection they can even be configured and reconfigured at will, with doors added to shelving units to turn them into lockable storage units.
When storage is a moveable feast
We might generate less paper work in the modern workplace and need less permanent storage as a result, but this has been replaced by a need to transport equipment and temporarily 'set up camp' in places around the office.
In the hybrid workplace employees need to pull together collaboration spaces at will, and they need materials and resources ready and waiting for them when they do so.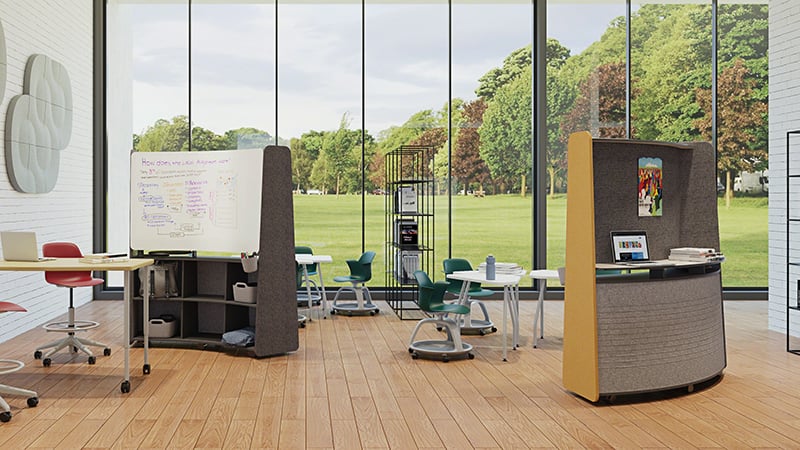 Desks, chairs, tables and screens need to be as mobile as possible to meet these needs. And so do our storage solutions.
The Steelcase Flex collection features mobile white boards and digital displays that can be quickly deployed to create makeshift collaboration hubs. These come with cupboards and cubby holes which can be stocked with marker pens, note books and other stationery - as well as tablets and portable power units to meet the needs of a nomadic but 'aways on ' workforce.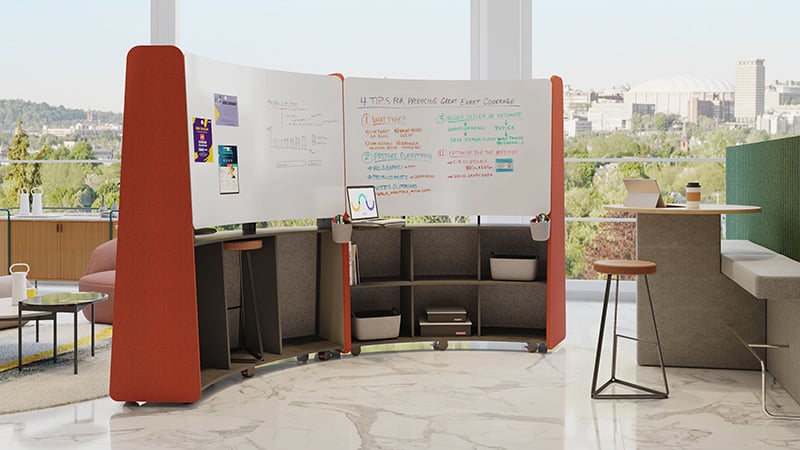 Elsewhere, the inside of moveable acoustic screens are ideal places for collaborating workers to hang up bags and coats and keep them safe. Mobile cloak rooms that move with us.
Like most furniture in the hybrid age, office storage solutions are becoming more versatile, more agile and more adaptable to support us in our 'new ways of working'. The good news they can be bold and vibrant design statements as well as practical resources for a busy and ever changing office.