Viccarbe is a Mediterranean design company based in Valencia specialising in contemporary furniture for collaborative spaces. As the latest addition to the Steelcase portfolio, we're excited to bring Viccarbe's timeless designs, inspired by a Mediterranean lifestyle, to our customers.
The Viccarbe story
Viccarbe's roots are firmly based in a passion for design. Founder Victor Carrasco Berlanga was studying engineering in industrial design at university when the idea for Viccarbe was born. Having learned to design and create from his grandfather, Victor dreamed of creating comfortable, affordable, timeless and iconic Mediterranean products that were durable enough for industry yet attractive enough for the home.
Working alongside long time friend Daniel Benedito, now CEO at Viccarbe, they began producing designs by their university classmates and entering into specialist entrepreneurship awards to increase their capital.
Today, Viccarbe's portfolio is present in more than 80 countries. They've partnered with the most prestigious international designers such as Jean-Marie Massaud, Patricia Urquiola, Jaime Hayon and Piero Lissoni, and they have received prestigious awards, including the Príncipe Felipe Award, Good Design and Red Dot.
In late 2021, Viccarbe was acquired by Steelcase, building on more than 10 years of successful partnership. They have long-lasting relationships in the UK and are well established in the A&D community, and we're excited to bring the Viccarbe collection to our customers here at IE.
Inspiring Mediterranean experiences in collaborative spaces

The Mediterranean lifestyle is central to the Viccarbe philosophy. Viccarbe aims to inspire Mediterranean experiences by creating warm and timeless pieces that can be integrated into many different social and collaborative spaces.
The Viccarbe collection spans chairs, stools, armchairs, sofas, benches, tables and accessories. Each product is distinguished by Mediterranean design, combining simplicity and elegance.
With Valencia enjoying more than 300 days a year of sunshine, Viccarbe says that the light "has a great influence on our feeling for colours, warmth of materials and attention to detail, our sense of humour and the way we look after our friends and what makes us different."
IE's visit to Viccarbe
Five members of the IE team across sales, customer service and design recently visited Viccarbe's headquarters and factory in Valencia. We wanted to learn more about the brand and the products and bring the Viccarbe story to life within the wider IE team.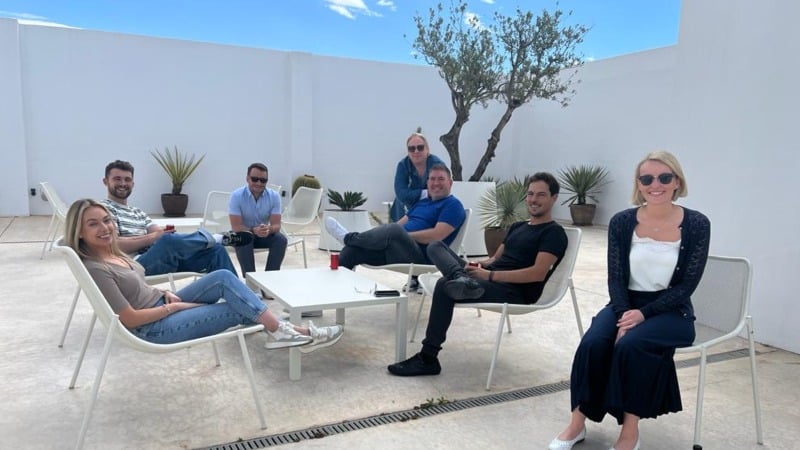 Here are some of our favourite products and what the IE team has to say about them.
1. Aleta
In creating the Aleta collection, designer Jaime Hayon was inspired by the physiognomy and movement of sharks. The collection consists of chairs, bar stools, lounge chairs and matching tables.
The popular Aleta chair is available in a range of upholstery finishes and comes in different configurations, including with or without arms, and with different base options, expanding its possibilities.
"My favourite product has got to be the Aleta chair – very cute, compact, with a clean aesthetic and a lot of different base options, my favourite being black metal/brass 4 legs. It also has a matching coffee table AND barstool from the same family."

Megan Willis, Customer Services
2. Season
The Season collection, designed by Piero Lissoni, is characterised by its unique geometric design and includes chairs, sofas and poufs. The collection also includes an outdoor range.
The Season chair was recognised with the prestigious Red Dot Award Product Design 206 in the category of Living Rooms and Bedrooms but works equally well in collaborative spaces. Given its discreet appearance, it's surprisingly comfortable, and its hidden wheels are a pleasant surprise, making it truly versatile.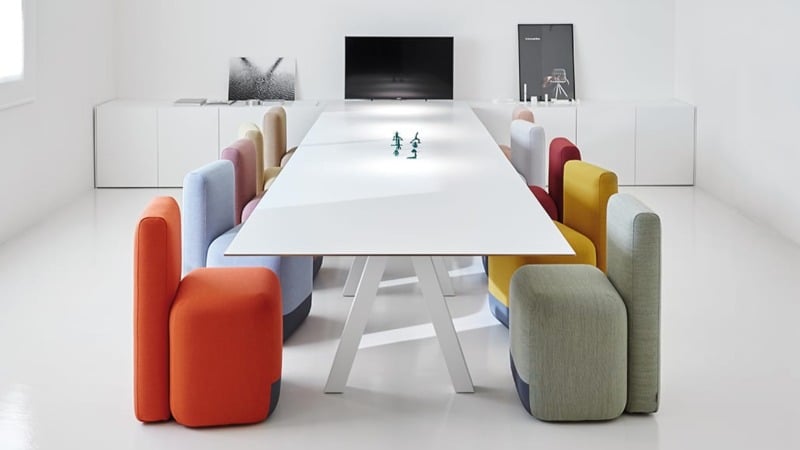 "I had some reservations about this product due to its unusual aesthetic, but once you sit in it you feel its value in terms of comfort and also the fun factor. Amazing 360 spins too!"

Darren Congdon, Design Manager
3. Ace
The Ace armchair is a contemporary benchmark, combining subtlety, lightness of shape and extraordinary comfort. It's available with or without armrests, with a wood or steel base and multiple upholstery finishes. There's an outdoor version too.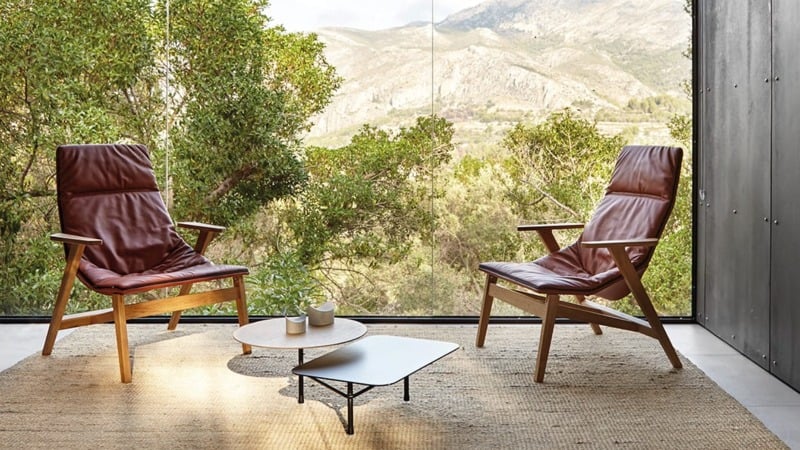 "Ace has a really classy and modern design, is very well finished, has beautiful detailing and is very comfortable."

Nuno Correia, Workplace Designer
4. Solar
Solar is a swivel table designed by Marc Krusin. An integrated seat rotates to the users' needs, whether they're seeking collaboration or privacy. It even comes with a small hook under the dash, handy for keeping your belongings close by. The structure is made of steel, and the table is available in an oak or compact finish.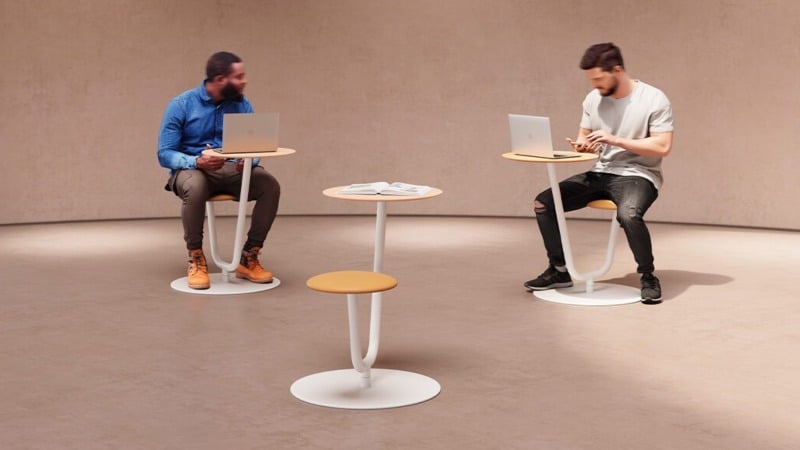 "This is a great alternative for training room settings; it's unique in the marketplace and great fun to sit on! It even includes power with an external battery charging system."

Marc Aston, Account Director
5. Burin
Burin, designed by Patricia Urquiola, symbolises a tribute to the tools traditionally used in woodcarving. The distinctive silhouette of the base runs through the collection of tables.
Larger tables come with a double base and include options for integrated power, making them a fantastic solution for meeting spaces. Meanwhile, the mini low table comes with a handle, making it easy to move around.
The outdoor version is adapted to include the best materials for use outside.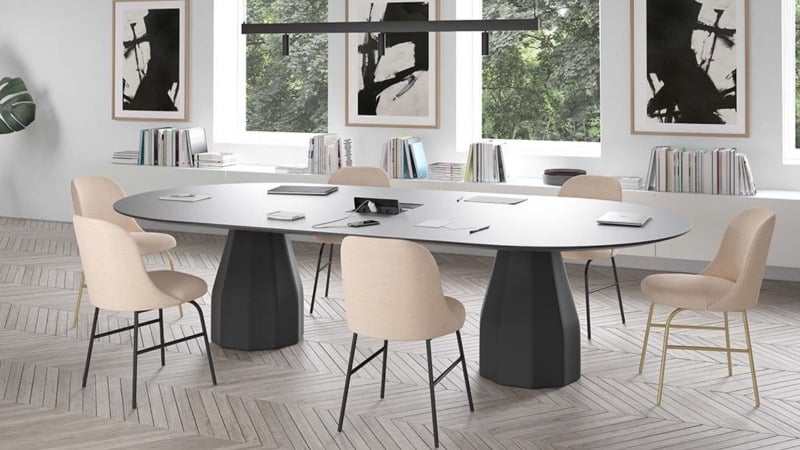 "This is my favourite because it's so flexible - you can use single or multiple bases to create table top sizes of up to 5 metres. I also like that it takes power through a porthole in the base."

Roanna Kenward, Commercial Manager
View the Viccarbe Collection
Are you interested in experiencing Mediterranean design in the flesh?
All of these products and more from Viccarbe will be on show in IE's studio from late June. Get in touch if you're interested in coming to visit.