Orgatec describes itself as the leading international trade fair for the modern working world. It has been taking place in Cologne biennially since 1953 and this year hosted 753 exhibiting companies from 39 countries along with 63,000 visitors.
This year the central theme of Orgatec was "culture@work", exploring how work culture has changed and how that effects the workplace. What kinds of spaces does it need? And how, in turn, is it affecting our working environment?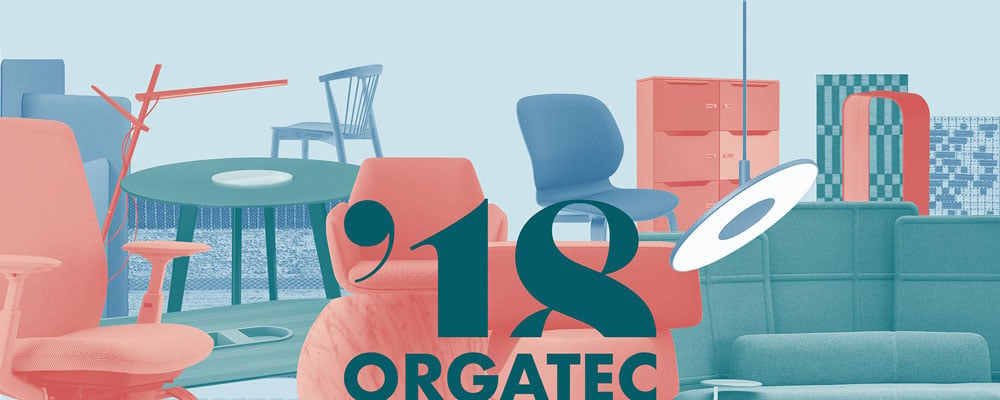 Steelcase – along with its partners including Microsoft, Bolia and Viccarbe – worked with renowned architecture magazine AIT to present the "WORK TO GO" stand at Orgatec. The 'creating conditions for the future" stand concept gave trade visitors exciting perspectives on location-independent working from the younger generation's point of view. Design students at the AMD Academy of Fashion & Design in Hamburg developed and presented innovative spatial concepts featuring Steelcase and other parrtners' product solutions.
Steelcase also launched a new product, Cavatina, the multipurpose chair introduced by the renowned designer Odo Fioravanti. The chair will be available in EMEA in Spring 2019.
Supplier Insights
Here's are the highlights of some of the other suppliers we saw at Orgatec:
Abstracta
Abstracta, have been working to create better soundscapes since 1972 – which makes them acoustics pioneers. Today, they offer a wide variety of solutions for different types of environments and requirements – from thoughtfully designed sound-absorbent screens and surfaces to innovative furniture with integrated acoustic characteristics.
BuzziSpace
BuzziSpace create solutions for happy and healthy workspaces around the world. With a mission to improve wellbeing through human centric design, they seek to provide original acoustic solutions, lighting and furnishings to meet the needs of the modern workplace.
De Vorm
De Vorm develops products by the standards of today. This means they produce efficiently, use the full lifecycle of products and eventually give them a new life. Their emphasis lies on making a product that works, by setting a variety of conditions; it should be legible, accessible, but also environmental friendly and aesthetically perfectly in balance.
Extremis
Extremis is an inspirational Belgian brand that crafts luxurious furniture for your outdoor spaces. Having won over 50 design awards for their original collections, Extremis utilises a fusion of durable and sustainable materials in their work, ensuring that their pieces are of the highest quality.
Glimakra of Sweden is a Swedish value-driving company with factors as Scandinavian acoustic higher design, greater flexibility and better quality. With these, they create favourable soundscapes for different types of public spaces.
+Halle research, analyse and think carefully about how they put together, facilitate and create furniture that helps people get the most out of the environment they are in. The key to their work is a shared vision of enjoyable and dynamic public landscapes with a clear sense of purpose.
Kinnarps
Kinnarps provides interior workspace solutions for offices and public environments. High quality and low environmental impact mark the entire value chain - from raw material to finished solutions for the workspace.
Office Bricks
Office Bricks is a modular cabin system that is quick to assemble and disassemble, while creating sound-absorbing work and privacy areas.
Thinking Works
Thinking Works is an Australian company that was created in 1084 and quickly established itself as a commercial furniture company who combined exceptional quality with ingenious creativity.