As organisations transition to a hybrid work model, the demand and desire for supporting acoustic comfort at work is stronger than ever.
High levels of noise has always been one of the biggest complaints in the office, whether from people talking, the sound of footsteps, the clicking of keyboards, or continuous humming emanating from printers and computers.
Now, imagine multiple meetings happening all at once both in person and virtually. The overall noise levels in the office will increase significantly.
As workers return to the office, the use of acoustic screens and panels to absorb sound and reduce reverberation, will be key in creating a more comfortable working environment.
The importance of acoustics in the workplace
So how do noise levels impact our workers?
The Sound Agency explain:
"Sound affects our bodies, from our hormone secretions to our heart rates. It affects our feelings, moods and emotions. It affects our productivity and ability to think. It affects our behaviour, from how fast we move to which brands and products we like and buy."
Research shows noisy offices can increase workers' stress levels and negatively affect productivity.
Loud sounds and exposure to prolonged noise can lead to physiological stress responses such as an increased heart rate and heightened blood pressure.
While constant interruptions prevent people from being able to focus on their work. And the ability to do their job properly only adds to their already heightened stress levels.
The most destructive sound of all, according to research, is that of other people's conversations. When a conversation takes place at one end of the office, it produces sound waves that spread out towards walls, ceilings and floors, as well as other items in the room. If all surfaces in the space are hard and reflective, the sound waves reflect and reverberate, with the sound taking longer to disperse.
But acoustic screens and panels can absorb sound, preventing it from travelling across open spaces. And can also block sound, in other words, soak it up so it isn't reflected back into the space.
Designing for acoustical comfort
Acoustic screens and panels can be freestanding or mounted on desks, walls and ceilings to provide a degree of acoustic - and visual - privacy for workers.
When choosing and placing acoustic screens and panels in your workspace, we recommend:
Placing them near workstations and in noisier areas where there is equipment such as printers and air ventilation systems, as well as in high traffic areas to help prevent sound propagation.
Using them to create zones of high, medium and low sound activities within shared spaces, e.g. to separate collaboration spaces from individual workstations.
Opting for moveable solutions that allow workers to adapt the space to suit their own personal preferences. There's evidence that introverts and neurodiverse individuals work less well in noisy environments and may need more acoustic privacy.
Let's look at some examples.
Freestanding acoustic screens
Freestanding screens can be moved, relocated and reconfigured with ease, enabling workers to create quieter spaces on demand. They can be used to structure a team space during a collaboration session or to create a partition between group work and individual workstations.
Steelcase Flex Boundary Wall Panels
The Steelcase Flex Boundary Wall Panels can be easily positioned to envelop a team space, providing both acoustic privacy and functionality, as integrated clips allow workers to display markerboards and whiteboards.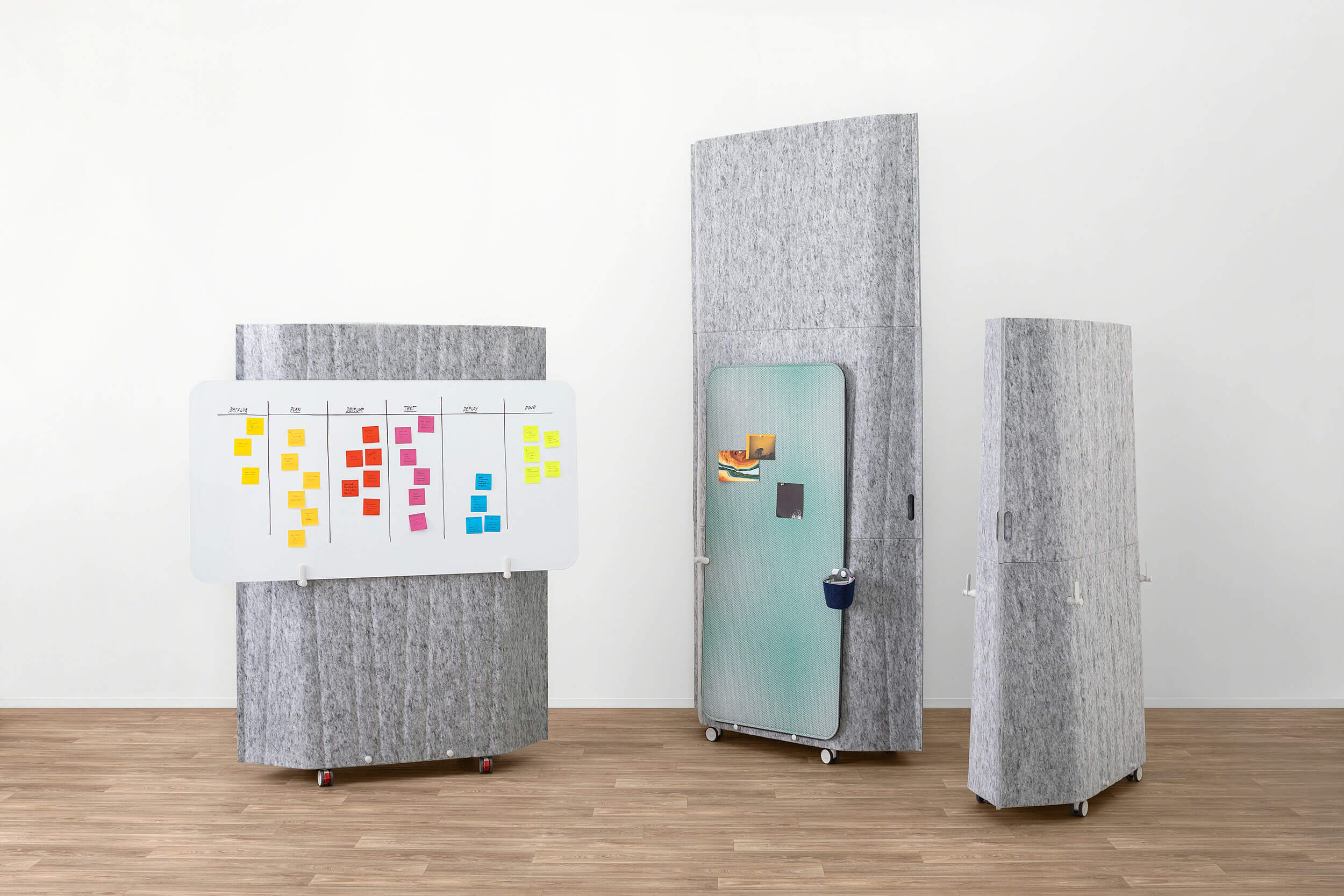 Steelcase Divisio Acoustic Screens
The Steelcase Divisio Acoustic Screens offer great sound absorption and provide privacy for workers in open-plan spaces. They come in a range of textures and colours, and the rounded corners are designed to provide a warm and welcoming feel. The craft sewn fabric can easily be replaced and the screens are 100% recyclable.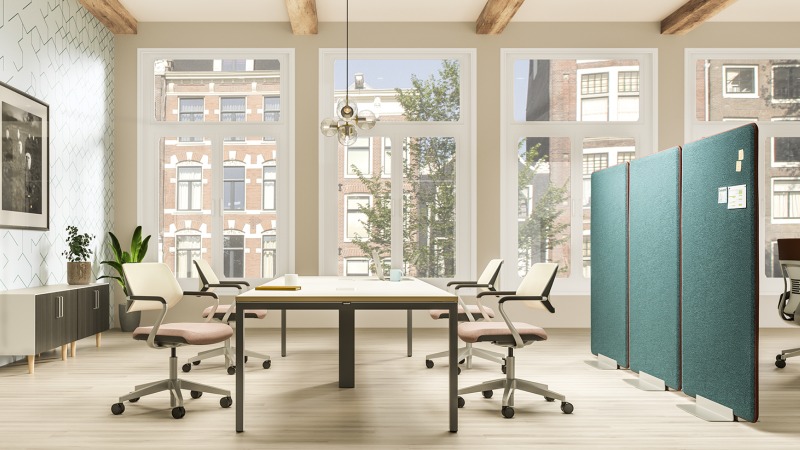 On desk solutions
Acoustic screens can also be added to desks or benches to create acoustic privacy for individual workstations.
Steelcase Partitio Screen
The Steelcase Partitio Screens have excellent acoustic damping properties. They are height adjustable and available in many dimensions.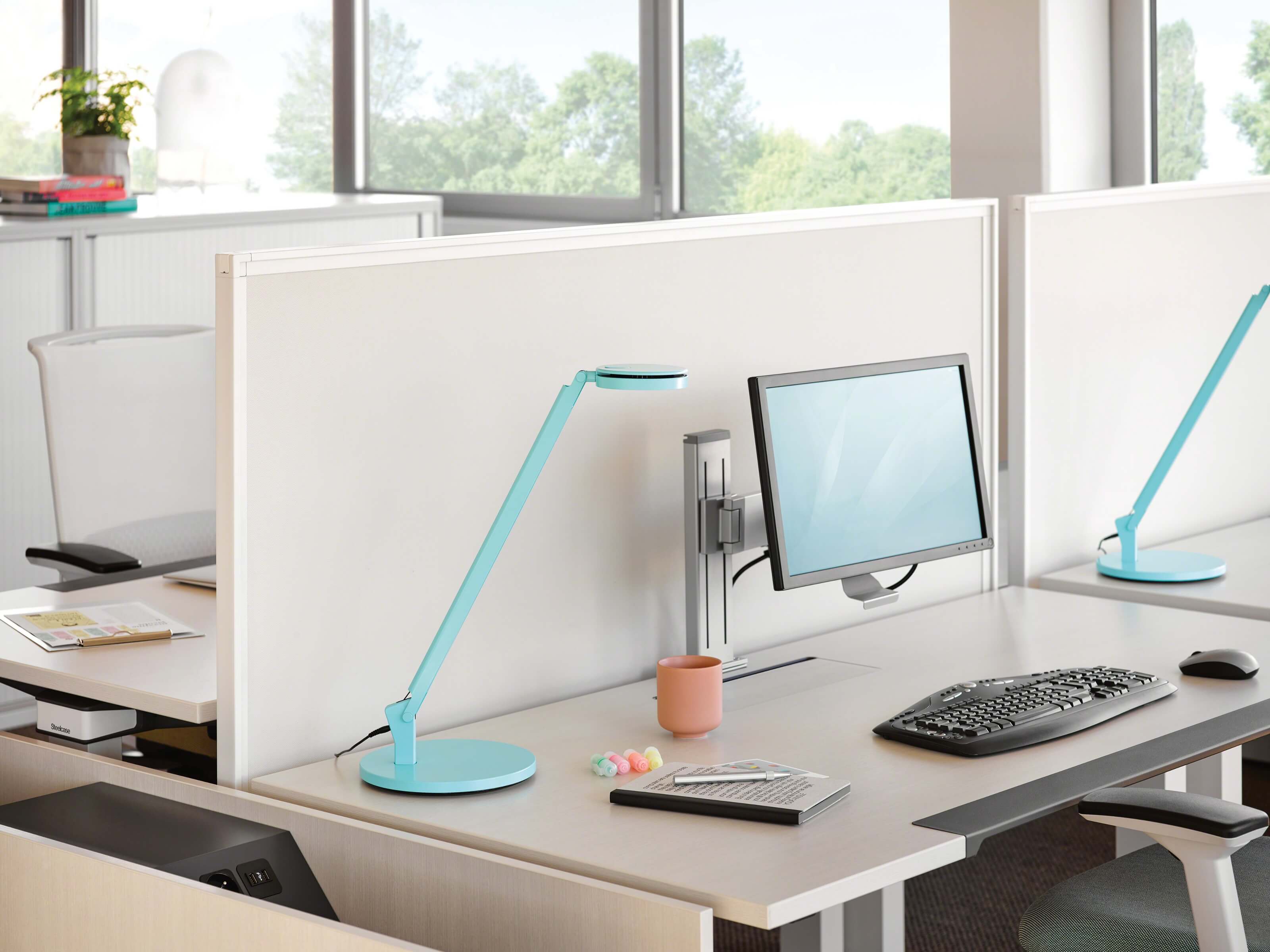 Orangebox Coppice Screen Systems
Coppice by Orangebox is a stand-alone work booth that creates acoustic comfort, perfect for those times when workers need high levels of concentration and focus. The smart design makes the integration of power and data easy. The cables pass through the panels and are concealed behind them, creating a clean look.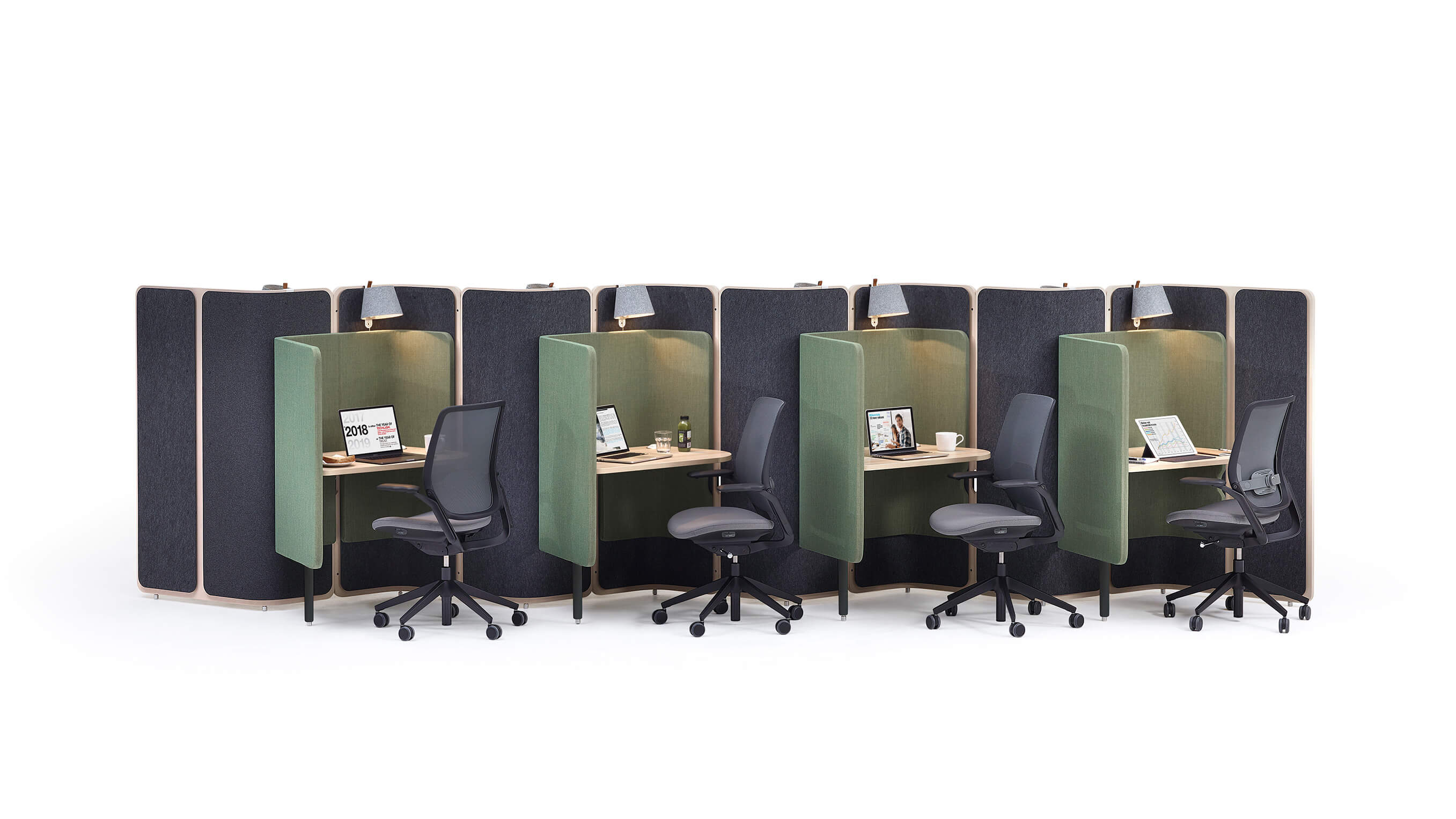 Wall or ceiling mounted acoustic screens
Acoustic panels placed on walls or hanging from ceilings are a great way to address noise pollution in shared spaces. They reduce noise and echo, stopping sound from reverberating. Easy to install and aesthetically pleasing, they can also provide a colourful alternative to artwork.
Steelcase Truchet Acoustic Tiles
The Steelcase Truchet Acoustic Tiles absorb an average of 90% of all soundwaves. They can be wall mounted or hung horizontally or vertically from the ceiling. Place them on the wall next to dyad workspaces or collaboration zones. Or hang them from the ceiling to separate spaces of high and low sound activity.
In the image below, Truchet Acoustic Tiles feature alongside Acoustic Boundary Panels from the Flex collection to create acoustic privacy in a collaboration space.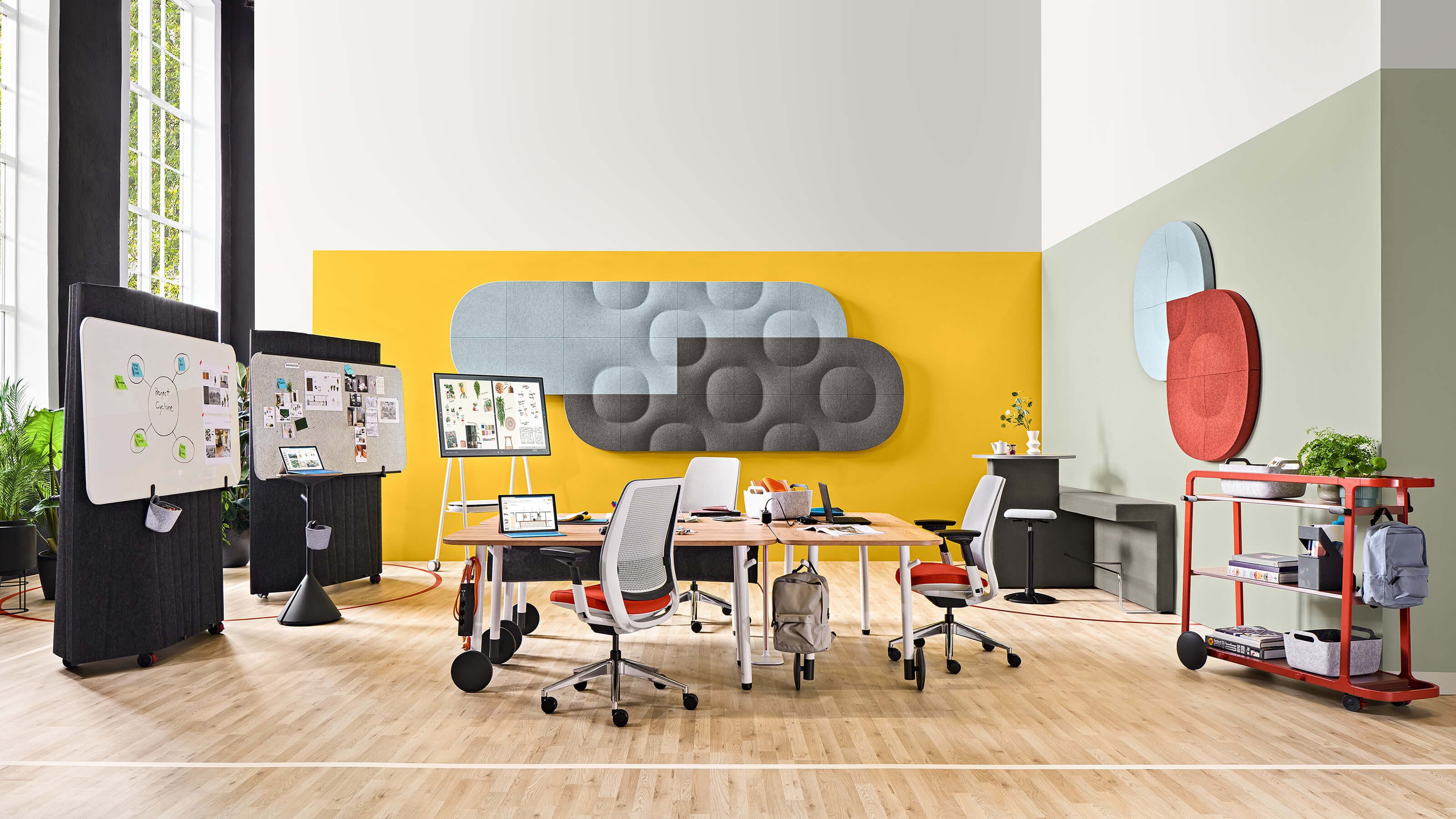 Parentesit Acoustic Panels by Arper
Parentesit Acoustic Panels combine modular panels in a round, square or oval shape. They have been designed to reduce extraneous background noise and create a space for workers to focus. Available in a broad range of fabrics, these panels can also incorporate light and/or audio functionality, which can be controlled via an app.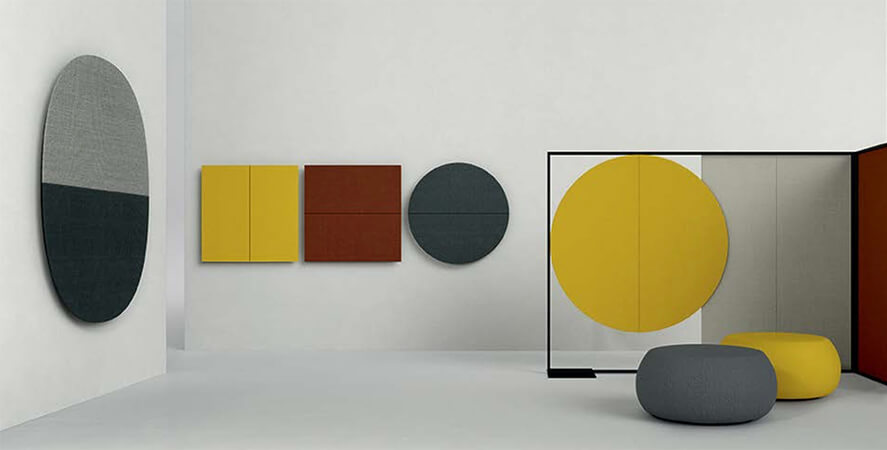 Arc Acoustic Wall Panels by Blastation
Blastation have created a range of Acoustic Wall Panels including Arc, Gaia and Gingko. The modular Arc range, inspired by the arcades of the Colosseum in Rome, absorb sound waves and deflect irritating sound. The panels can be used in many configurations so you can create the perfect solution for your space. They are also made from sustainable materials (50% recycled plastic) and are 100% recyclable.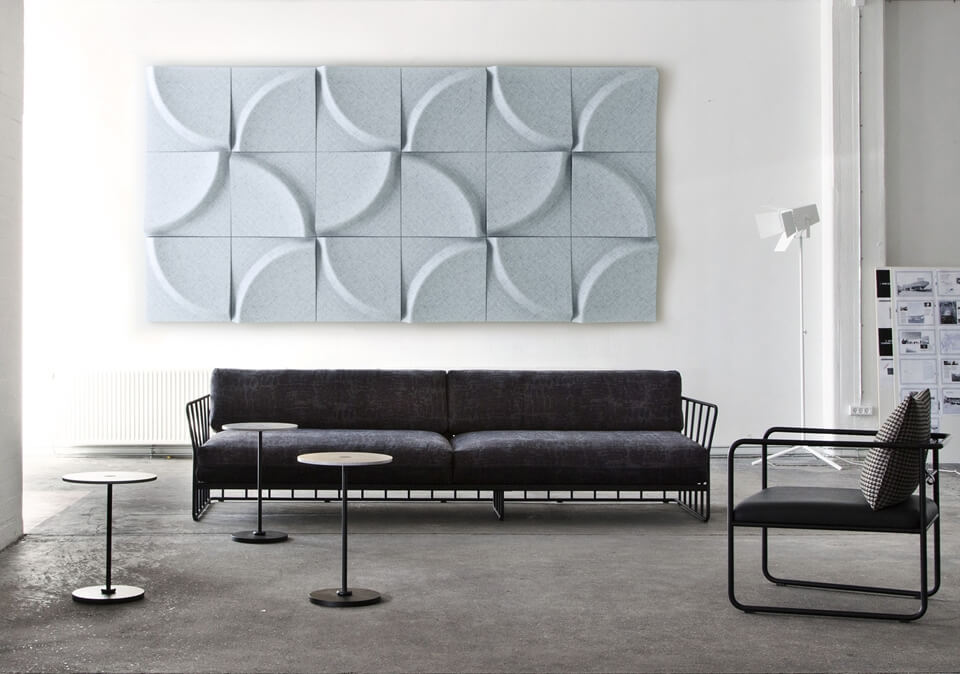 Airflake by Abstracta
Airflake by Abstracta is designed to dampen noise while letting light pass through. The fabric-covered fibre felt absorbs sound and prevents echoes, while the hexagon-shaped modules create 'open' screens so the light can pass through unobstructed. Designed as room dividers, they can be hung from the ceiling or fastened to a wall with an aluminium rail.
Airflake is just one in a whole family of acoustic products by Abstracta. Airleaf can be used to create acoustic comfort in separate spaces in open areas. While Combo Cross protects against both noise and the cold.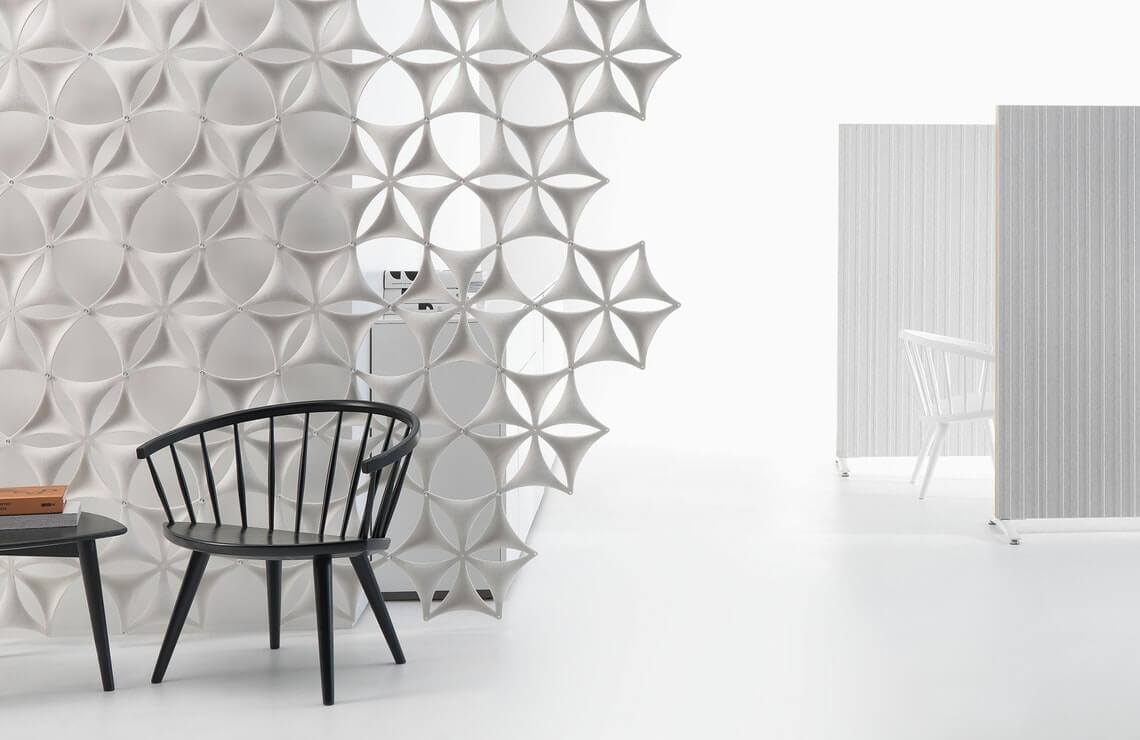 Conclusion
Acoustic privacy is critical to making today's shared spaces productive and maintaining employee wellbeing. As organisations step back into the rhythm of office life, employers will need to ensure there is adequate sound absorption to minimise the build-up of noise from collaboration happening both in person and virtually.