Prestigious offices were once characterised by the weightiness of their furnishings. From the Resolute Desk in the White House to the vast, swooping concrete table designed by Clive Wilkinson for the Mother agency in Shoreditch. 'Fixed' and 'imposing' once held sway. But right now we all need to flex...
Businesses are moving from fixed to fluid
In April 2021 it was announced the executives on the 42nd floor of HSBC in Canary Wharf were being evicted. It was the start of a new phase of hybrid working for the firm, where everyone including execs were expected to 'hot desk' in a much more fluid way. The days of settling down at your 'own desk' in a corner office with a key to the washroom were well and truly over.
Time to flex
Post-Covid the office has become a dynamic hub for meeting and collaboration - a destination for purposeful interaction and creativity.
At the same time, amidst this buzz, teams and individuals still need to find quieter, more intimate spaces for 1-2-1 and solo work.
As our teams come to work to interact and ideate in different configurations at different levels of intensity, the old office design paradigms just aren't able to cope.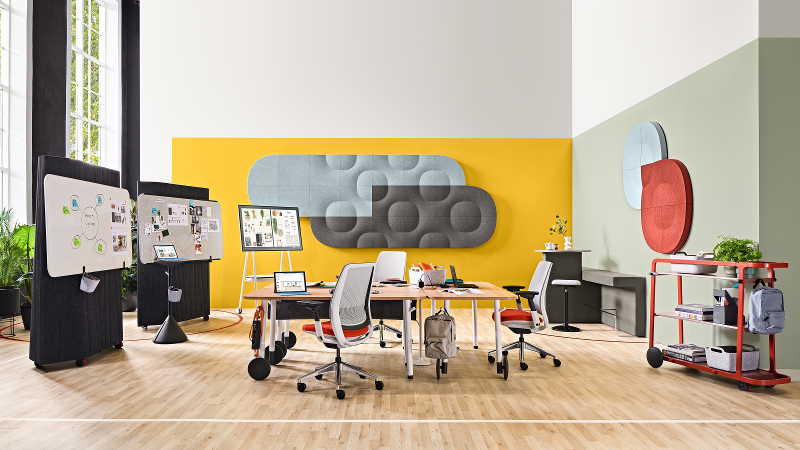 New priorities for the modern worker
Our people need to move quickly from intense collaboration to individual work with minimum disruption
Our people need continual, mobile access to tech and power
Our people need to use tech seamlessly to communicate and collaborate
Our people need spaces for informal, social interaction
Our people need to feel a sense of belonging
Our people want to have power over space
Our people don't want to be overpowered by space
The overwhelming need is for more flexibility and more control.
Knowledge workers need to flex
In the 1960s the pioneering engineering architects realised they couldn't build spaces that were 'fixed' when the projects their clients were working on were evolving so rapidly:
"An engineering laboratory if not a static thing, its purpose and content change, often at an alarming rate, with the passage of time. Anything which limits adaptability for the future is, as far as possible to be avoided'
Edward Parkes, Architect, 1959
Now the same can be said for the kind of 'knowledge' work we're undertaking every day. We need to move quickly between different levels of focus and different scales of interaction. We need to be ready to integrate and work with different technologies.
We need limitless adaptability.
Introducing Steelcase Flex
In the age of agile working we need spaces that can morph and change with the changing needs of our workers.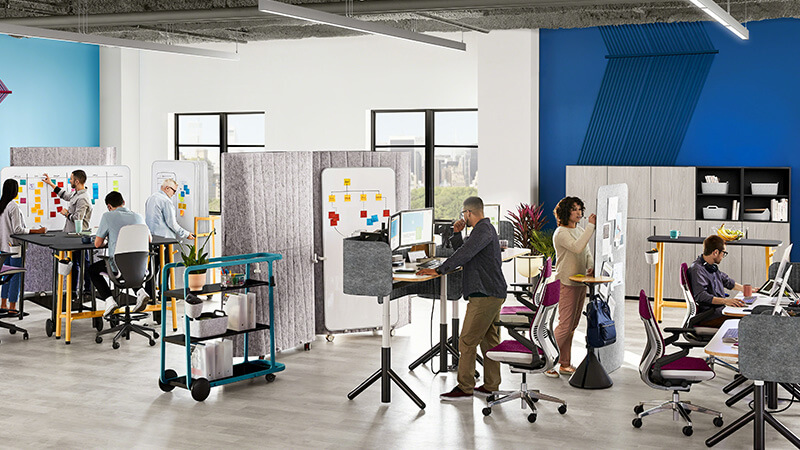 And the Steelcase Flex range is conceived to give you just this level of control. Everything is robust, but lightweight. Furniture is on wheels. Power is transportable.
Moveable acoustic screens can create quieter spaces on demand - for meetings, 1-2-1 etc
Screens double as cupboards, partitions and surfaces for writing/pinning working materials - versatility is key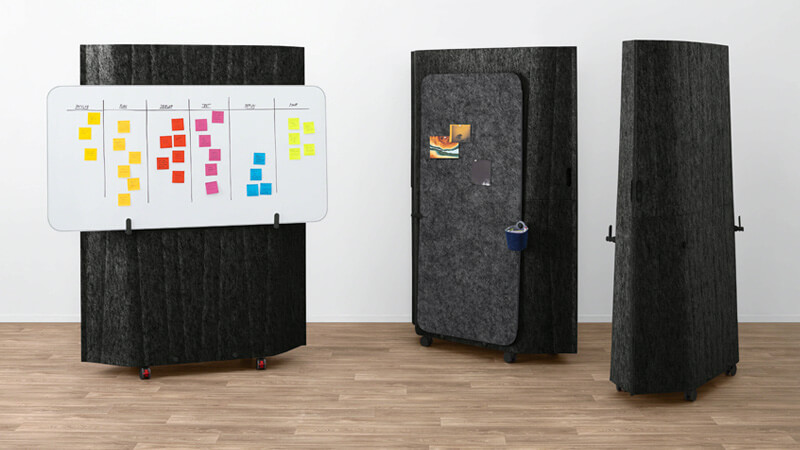 Light weight, height adjustable desks - allow us to adapt quickly/share our resources
Wheeled chairs can be height adjusted for perching/sitting at desks
Technology is light weight and screens are transportable to support hybrid working
Portable power packs let us work wherever we need to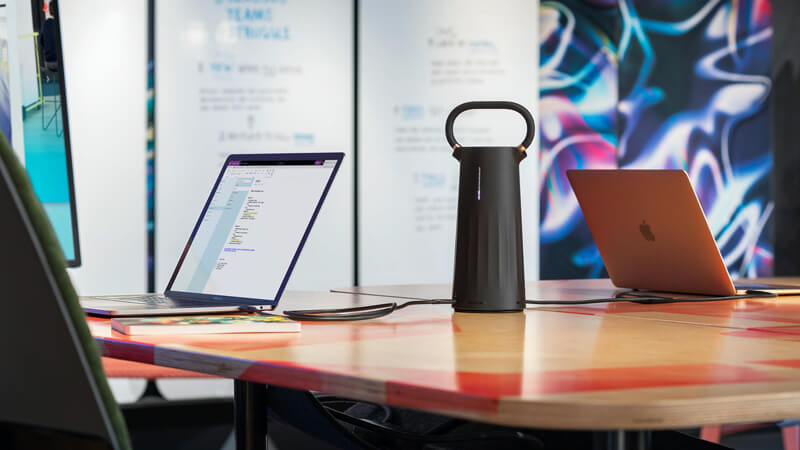 This is 'hacking' the space but without all the boiler room machismo of turning up tables and stringing wires across spaces.
The furniture is designed to transform easily. With a few clicks anyone can adjust settings, link or unlink benches, seating or other units. Anyone can configure space and furnishings to meet their own specific needs:
"Designed with interconnectivity and clever details, the entire collection works together allowing teams to reconfigure their space in a matter of minutes. The pieces work well on their own, but just like teams, they work better together."
Open plan has its limitations
Steelcase research shows that larger, open spaces with configurable furnishing was what companies needed for dynamic work. But these big spaces could lack the privacy and intimacy that individuals and teams often needed, too. Even so, cramped conference rooms were not popular choices in the Post-Covid world.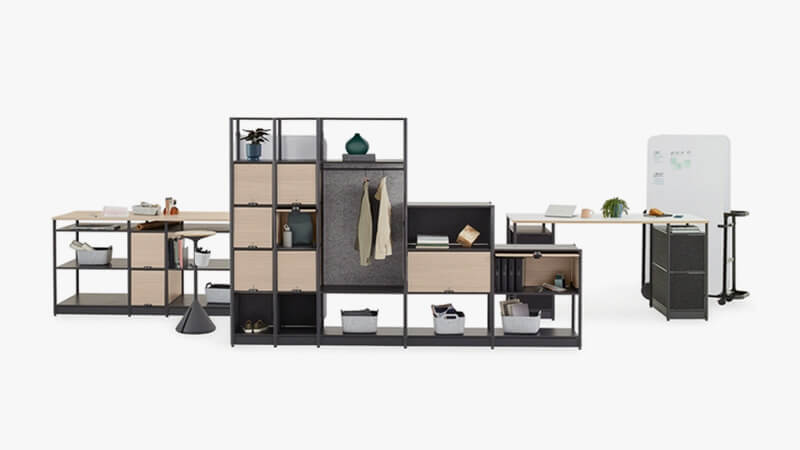 And then came Flex Active Frames
Active frames are adaptable, personalised structures that can be quickly assembled and reassembled to create boundaries and enclosures within open plan spaces.
They can be used as shelves with optional fabric or solid backing for file storage, to display objects, or keep plants.
Equally, they can be fitted out as secure lockers for workers to keep their belongings in.
They can create linear or L shaped units for screening and partitioning. Waist high units can be used as table tops or work islands.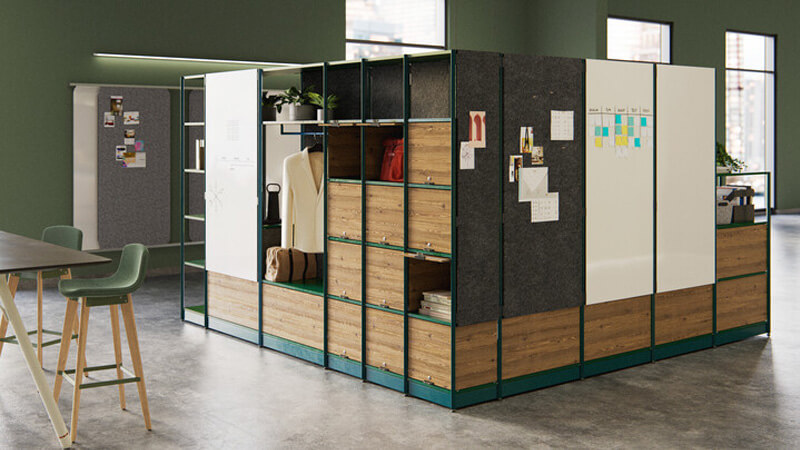 The units also allow for simple, sliding clips to be added that permits two-sided whiteboards or pinboards to be positioned anywhere along the frame wall. This can transform the multi-functional space into one for quick private meetings and video calls.
Partitions of different, customisable heights provide for different levels of acoustic and visual privacy so that various kinds of working spaces can be created.
As a boundary solution, Active Frames provide clearly identifiable territory between teams. They give team spaces privacy and shelter from a busy corridor. And they can help make an ancillary space higher performing. Designed to be utilised across the floorplan, Active Frames make it easy to make the open plan the best it can be.
The new age of hybrid and hyper-collaboration demands more flexibility from our workspaces and furnishing solutions than ever before. Open plan works well for a world where layouts have to be continually reconfigured to support different activities. And light and airy spaces are very much needed in the Post-Covid world. But open plan, also has a tendency to overpower, be acoustically challenging and make people feel unhappy.
Flex Active Frames can help us 'build' working neighbourhoods within larger spaces, where teams can create their own micro-spaces to support the working patterns that suit them best.
With working areas defined and 'bounded', but not entirely enclosed, teams can feel cocooned with their team, but part of a wider (and well ventilated) whole.
Within these spaces the working needs of a team can be met, but they can also stamp their creative identity on where they work every day,
They can demarcate spaces for stand up, conference calls, creative collaboration, coffee and lunch breaks - but they can also reshape their neighbourhood entirely to host larger social gatherings and 'town hall' style meetings.
Workplaces and furniture don't need to be 'fixed' anymore. What's more, they shouldn't be if we're going to meet the needs of a hybrid and hyper-collaborative world.