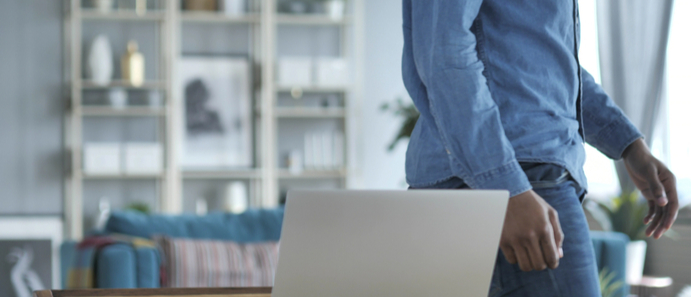 'The Future of the Office and Office Workers' is a major new report from The British Contract Furnishing Association (BCFA). It's a comprehensive look at the impact of our 'new ways of working' on wellbeing and productivity during the Covid pandemic. It contains important findings for employers and government to consider when implementing future policies and legislation around the future of the workplace.
Will the office survive our new taste of freedom?
The BCFA report reminds us how quickly a 'new normal' for office workers established itself in the teeth of the pandemic. The sudden experience of freedom from the commute and the daily grind of the workplace led to widespread predictions of a seismic shift in the corporate world - the imminent 'death of the office'.
Of course, many workers and employers have been seeing the benefits and pitfalls of a flexible approach for many years, but Covid has been an enforced, mass experiment in the effects of working from home (WFH). It's been an unprecedented opportunity to observe and assess its effect on productivity and personal wellbeing, as well as the effect on business and the economy as a whole.
Before the pandemic struck, 29% of managers said they did not trust their employees to work efficiently remotely.

At the beginning of September 2020, 36% of the workforce that usually worked in the office were still working remotely.
Have our new ways of working delivered on wellness, performance and productivity?
What has been the result? The report considers the impact of Covid WFH on four important dimensions of our working life. These are the dimensions that most affect our ability to be fulfilled and productive in our jobs. They are also the dimensions that drive the performance and profitability of the companies we work for.
Engagement
Engagement is a vital factor in deciding whether employees are happy, fulfilled and productive in their jobs. As IE and Steelcase have previously uncovered, levels of engagement drive not only the quality of team work and innovation, but the overall success of a business.
Has enforced working from home during the pandemic, affected our levels of engagement - our sense of connection with our work and our performance?
Overall 60-80% of those working remotely thought their engagement needs were being met in the new normal, as companies have made considerable effort to supply them with the right technology and support.
But the report concludes:
Employees can be just as productive working remotely or working from the office for individual task-based work, but collaboration and knowledge sharing are still best done through face-to-face interactions.
Building trust, team culture, and cohesion is best achieved through multiple face-to-face interactions. Digital technologies can't seem to replicate the depth and power of physical interaction in stimulating creative ideas and energy.
However:
Isolation is a driver of disengagement among employees
Working fully remotely can adversely impact mental health
Employees are more satisfied working from home if they have a dedicated desk and working space
It's important to note that younger workers (flat sharing in small properties in urban settings) may not have had access to suitable working spaces in their homes during Covid. So their experiences of WFH may have been uncomfortable and unsatisfying. Leaving the office has not necessarily been a liberating experience for many millennials and Gen Zers - and many are keen to return to the office for - at least - some of the time.
Choice, as always, will remain a key concern.
Balance
What about that infamous work/life balance?
Many workers have found they can engage more successfully with family life now they are working from home - and they can give equal attention to equally important parts of their lives.
Others are finding they are overdelivering for their bosses to 'prove' they are working when they are 'not in the office', and stress has taken over once again.
41% of remote employees reported higher levels of stress, compared with 25% of their counterparts who work in an office
When it comes to balance, therefore, the report offers the following conclusions
The main sources of stress for remote workers are the pressures of deadlines and general work overload
Remote working creates challenges for staff to switch off, and home life and work can seem to blend together.
A flexible working model best facilitates balance, reduces stress and improves employee wellbeing more than solely working from either the home or office.
As the report puts it:
"Learning how to navigate this new reality and balance work and life boundaries long-term is at the forefront of everyone's mind.We are seeing a natural array of reactions: fear, uncertainty, anger, a sense of being overwhelmed, frustration, anxiety, and more"
.
Choice and control
The report flags up the new potential for different, more fulfilling life and work patterns to develop in the future on the back of more flexible working.
It contains many positive findings about the way a new sense of choice and control is benefiting workers and employers.
For the first time, workers are really feeling like they can ditch the commute, live where they like and work in ways that fit in with domestic commitments.
Meanwhile, employers can potentially access a greater range of talent while downsizing their financial commitment to large office spaces.
Control cuts both ways...
But as employers move to offer more choice in how and where people work they will need to consider how they control key issues such as health and safety, cybersecurity and technology support.
The report urges employers and government bodies to urgently consider the implications for more widespread WFH in the following areas:
Cyber security
Are our WFH set ups safe and secure? Not just our internet connections, but access to Content Management Systems, apps, databases and shared drives. Can we keep discussions and data confidential from others in our house who may overhear or see what we are working on? At the same a lack of tech support on site throws up serious issues - and not just around productivity:
37% of home workers report Wi-Fi issues are impacting their ability to work.
If poor wifi makes virtual working more difficult, will this lead to more 'printing out' and more device sharing with other household members which, in turn, may compromise security?
Health and safety
Who has responsibility for the health and welfare of workers when they are working from home? This includes everything from ensuring desks and task chairs are of a suitable standard to prevent injury, to the responsibility for PAT testing the devices we are supplied to work with. Compliance is turning out to be a major challenge for many businesses embracing home working.
Insurance
There are also real issues for employers to consider around the new liabilities they have to control:
"Businesses will need to inform their insurers of changes made around homeworking. Declaring all assets that are being used in homes, letting insurers know that staff are working from home, and declaring if offices are empty for a period over 120 days (increased from 90 days before the pandemic."
And what about accidents while working from home? There does not appear to be any case law at present that would provide guidance, but the report expects personal injury lawyers will step in with claims as home working continues to increase.
Location
Companies now have an extraordinary opportunity to reassess their commitments to paying for large offices in expensive parts of the country. The pandemic WFH experiment has been proof of concept for more virtual working, and it's been largely a success.
Even so, the report stresses it will be a mistake to jettison the physical office altogether.
There may well follow dramatic rationalisations of corporate space requirements, and a shift of presence from London to the regions.
"Around 2m sq.fot of office space deals have been put on hold or cancelled since March"
But the evidence says all four dimensions of a healthy and productive corporate life are demonstrably enhanced by providing flexible working through a mixture of office based and virtual work patterns.
We still need offices - but choice is everything
According to all the available research workers are more productive when they can choose where they perform different tasks. Collaboration and culture is enhanced by real-world encounters between teams. On the other hand, deep thinking and more concentrated work may be better delivered from home without the distractions of a busy workplace.
Even businesses like Dropbox (who are now a self defining 'virtual first' employer) are retaining physical office space and letting workers choose the right moments for them to be 'present' in the workplace. And this underlines an important message.
"Only 15% of employees want to work from home full-time"
The new ways of working - new challenges and opportunities
Rumours of the imminent death of the office, it seems, have been greatly exaggerated.
But there is now a greater imperative to make sure homes and offices are furnished and equipped properly to accommodate new demands. The office may need to be reimagined as a hub for collaboration, with appropriate steps taken to make it healthy and functional for such gatherings. Some work will remain anchored in the workplace, with greater attention paid to how furniture can be kept clean, shared or readjusted to support a more mobile workforce to undertake tasks in a safe and efficient way.
But one thing is for sure, with more routine flexible working will come new challenges around formalising complex WFH arrangements. Businesses now have to make sure sure that wherever workers choose to work, they are able to do their jobs safely, comfortably and effectively.