In the U.S. figures are suggesting that restless office workers are looking for new job opportunities following the stasis of the pandemic. How has Covid changed the recruitment game in the UK? What can we do to attract and retain the brightest and best in a newly competitive jobs market?
For many workers Covid has meant uncertainty and furlough, but for others it's meant remote working, a better life/work balance and a new attitude to 'the office'. More time in control of our own schedules and more time on Zoom, has opened our minds to the pitfalls and opportunities of these new ways of working.
Many workers in the knowledge economy have felt Covid 19 was a wake up call for them; a time for reassessing what they really want from their jobs and their employers.
Is this the start of the 'great resignation'?
Research in America has shown many workers are considering their options and planning to make their next job move. Reasons for wanting to shift employer include:
Improved work-life balance (38%)
Improved personal growth opportunities (34%)
Better pay (50%)
Being tired of working on the same projects (24%)
Not feeling challenged professionally (23%)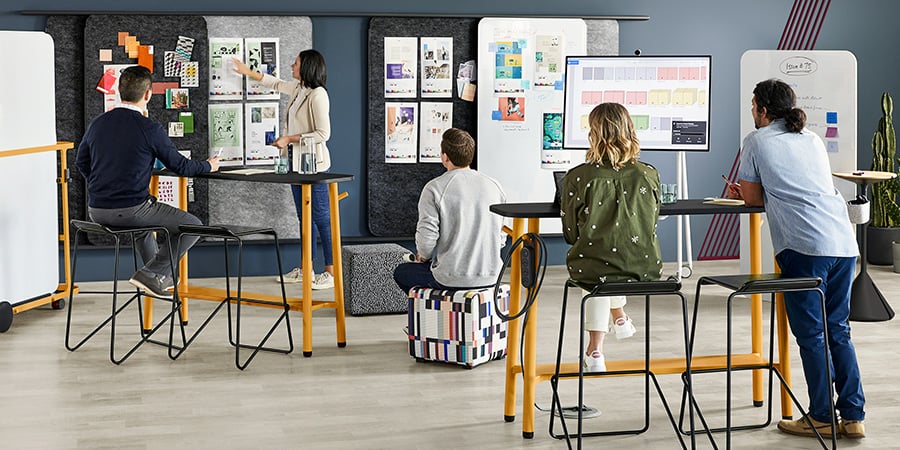 What do workers really want?
A feeling of being 'stuck' pervades, which might reflect nearly two years of uncertainty and treading water. And while nearly every business has (by necessity) got better at supporting remote working during lockdown leading to some improvements in productivity, there is still a sense on all sides that too much separation from our colleagues has been a bad thing.
But adding to the confusion, it seems different groups of workers want different things from their future working lives:
According to Locatee 47% of employees cite flexible working as a top priority
But 50% of young people are worried too much remote working is a threat to job progression
To attract and retain staff right now, employers have got to focus on a working experience that supports everyone in every generation.
Workers are now calling the shots - employers are listening
In the UK, Bloomberg reports workers are demanding more of their employers and prospective employers, post Pandemic. They are asking for more flexibility in their working arrangements, more wellbeing support, and (sometimes) more money. Employers, worried about the expense and disruption of a 'great resignation' post-Covid are responding to these needs. They are prioritising incentives, worker wellness initiatives and the use of workplaces as a means of culture building to combat disengagement:
PwC are reportedly giving workers returning to the office a £1,000 bonus
​​Goldman Sachs are offering free breakfast, lunch and ice-cream to returning teams
Havas is promoting 'Wellness Wednesday' events in office to help workers benefit from a return to the workplace
The founder of workplace analytics firm Locatee, Thomas Kessler told Bloomberg: "Businesses run the risk of losing talent if they don't offer some flexibility. But, on the other hand, workers "still want to feel part of a larger unit, surrounded (sometimes physically) by colleagues, and supported by the business."
4 ways to attract and retain the best workers post-Covid
1. The office is back - make sure it's worth coming back to
As September dawned, reports from London suggested a surge in commuters coming back to the office. On the 6th September almost 2m contactless "tap-ins" were recorded across the tube and bus network in London, with traffic across the network rising by 17% from the previous week.
The media reported palpable excitement for some commuters anxious to reconnect with colleagues and work together again.
But are you ready to greet those coming back to the workplace with a better experience?
Offices are now places loaded with expectation.
Are they comfortable places to work - ergonomic, easy to reconfigure to suit hot deskers?
Can they flex with worker needs - can we move easily between solo work and collaboration?
Can we easily access power and wifi in the office wherever we are?
Are our workplaces hubs for socialising, connecting and collaborating - as well as 'heads down' work?

2. Hybrid is here to stay - choice is critical for workers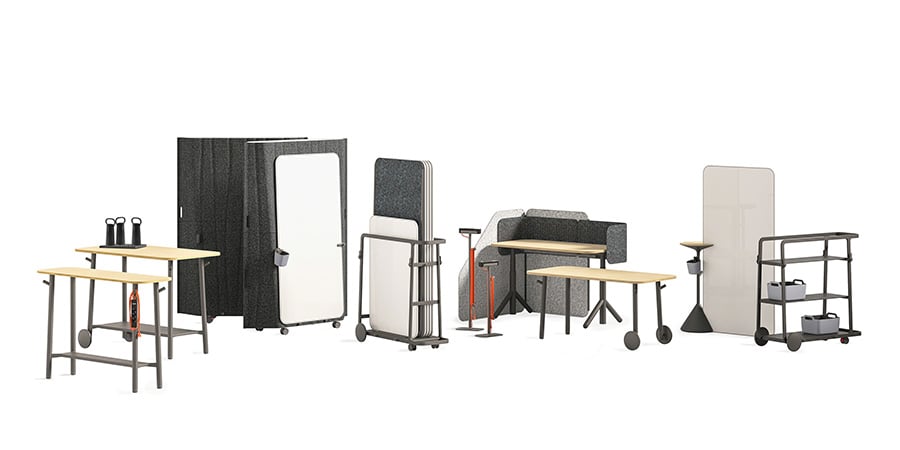 Almost half of all employees now prioritise flexibility in their job hunt and employment decisions.
When it comes to tech and our terms of employment we need to be as flexible as possible to get the most out of workers.
Our offices must be designed by default to make hybrid collaboration happen. Office design needs to support different configurations of workers in and outside the building as they collaborate together. We need to equip our home workers with the tech to make collaboration comfortable and possible. And we need to ensure that those coming into the office have all the tools available to them to make coming into the office a rich and meaningful experience.
This shift to hybrid is an acknowledgement that life/work balance is critical for everyone, but it also acknowledges that workers are best equipped to decide where and how they work to maiximum effect.
3. Meaning and purpose - makes the difference
Research says we've missed human and one-to-one connection most of all during Covid. When it comes to making decisions around whether to stay in a job or start the search for a different one, the level of engagement we feel is key.
Workers who are engaged, feel invested in their job and have a sense of belonging in an organisation are more likely to stay with you. Those who are disengaged are likely to be more unproductive and, ultimately, to leave you in the lurch.
Office design can have a profound effect on our sense of belonging and engagement. As noted above employers are making huge efforts to build culture through an emphasis on workers sharing food and social time together.
Developments of 'third spaces' or 'work cafes' where employees can gather, to have coffee, eat together and socialise are becoming places of profound personal engagement where the values of a company can be forged:
"The third place on campus doesn't have to be a large space. Each department could have a kitchen table, for example, or a big cafeteria could be designed on a more human scale to make people feel at home. It just has to be a space about nurturing social interactions on-site."
CHERIE JOHNSON Director of Global Design, Steelcase
These spaces are designed, not only, to become cultural hubs and areas for replenishment, but also venues for informal meetings and creative discussions. These are the spaces from which new connections, ideas and innovation can continually emerge.
Employers are realising the more they provide spaces which can literally and figuratively nourish their workers, the more likely they are to retain and recruit the most engaged and motivated people.
What does a third space look like?
Santander have pioneered work cafes throughout the world to radically define what a workspace can look like. How can a third space help you encourage new connections and working practices?
4. Corporate responsibility
Employees are aspiring to work with different kinds of employers, too, with better track records of corporate social responsibility. The criteria that are guiding the search for new jobs is often less about remuneration and 'perks', but instead about sustainability and carbon footprints.
In the latest report from Unily on the future of sustainability in the workplace, Dr. Leyla Acaroglu concludes:
"In certain sectors, employees are setting the agenda rather than the organisation, as culture is shifting towards values and ethics being seen as an equal player in profit and innovation for workers."
We know millennials and generation Z are voting with their feet when it comes to working for companies with poor environmental and other ethical credentials.
In the past year, as new and devastating climate events have played out around the world - not least a Pandemic reportedly fuelled by environmental destruction - more workers will be thinking more carefully about how their employers are helping to tackle a global crisis that is affecting us all.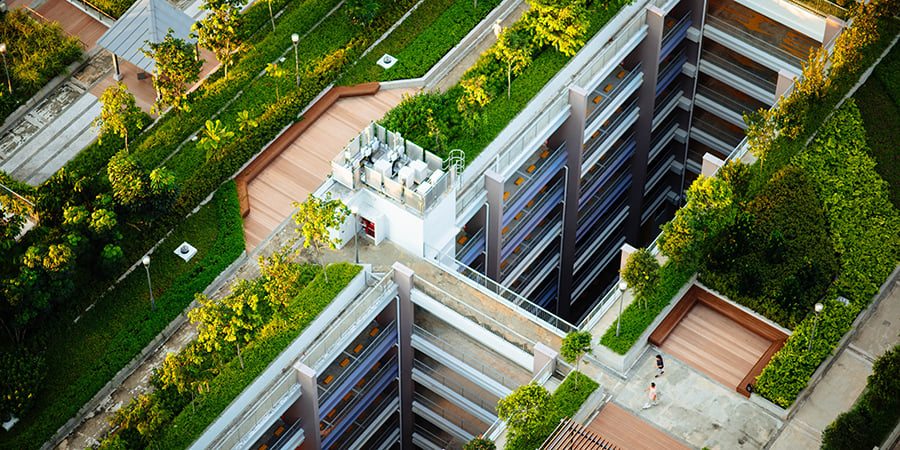 Conclusion
The pandemic has focused many workers on the future. For those fortunate enough to be working in thriving industries, there are more opportunities and choices opening up for working in different ways with different companies. These firms are offering enticing benefits to those with in-demand skills. And it's not just about financial inducements. If we are to recruit and retain the best from this talent pool we're going to have listen to what these people want. We'll need to be flexible, generous and thoughtful in the working solutions we offer.