So you've refurbished your office with task chairs, workstations, collaboration tables and video technology. Now it's time to choose the finishing touches.
These might include ergonomic monitor arms, whiteboards, acoustic products, rugs, power and lighting. You may also wish to add some natural life into your workplace with biophilic design elements such as green walls and planters.
Here, we share some of our favourite office furniture accessories to inspire you.
Monitor arms
Monitor arms support worker comfort and productivity, and research shows 98% of workers prefer a dual monitor compared to a single monitor.
1. Steelcase Plurio Flat Panel Arm
The Plurio Flat Panel Arm from Steelcase supports up to six screens of varying sizes.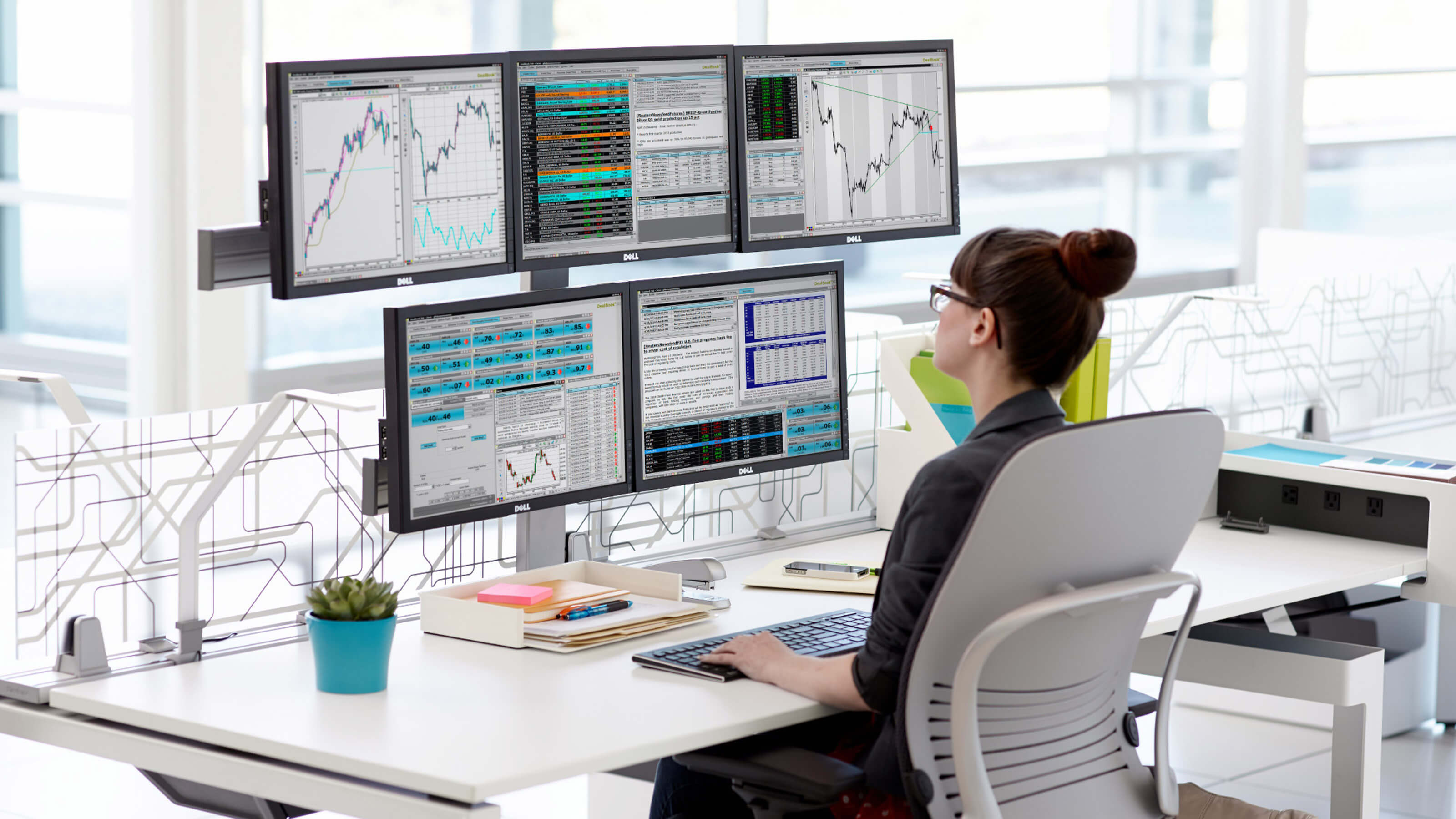 Whiteboards
Whiteboards are a valuable tool for collaborative sessions, helping teams to brainstorm and record ideas in situ. Here are some of our favourite whiteboard solutions.
2. Steelcase Flex Whiteboards
The Steelcase Flex collection helps teams create spaces that can be rearranged on demand to help them do their best work. The collection features a whiteboard which can be mounted to the wall, acoustic screens or freestanding. And weighing less than 4kg, they can easily be moved around to meet the needs of the team.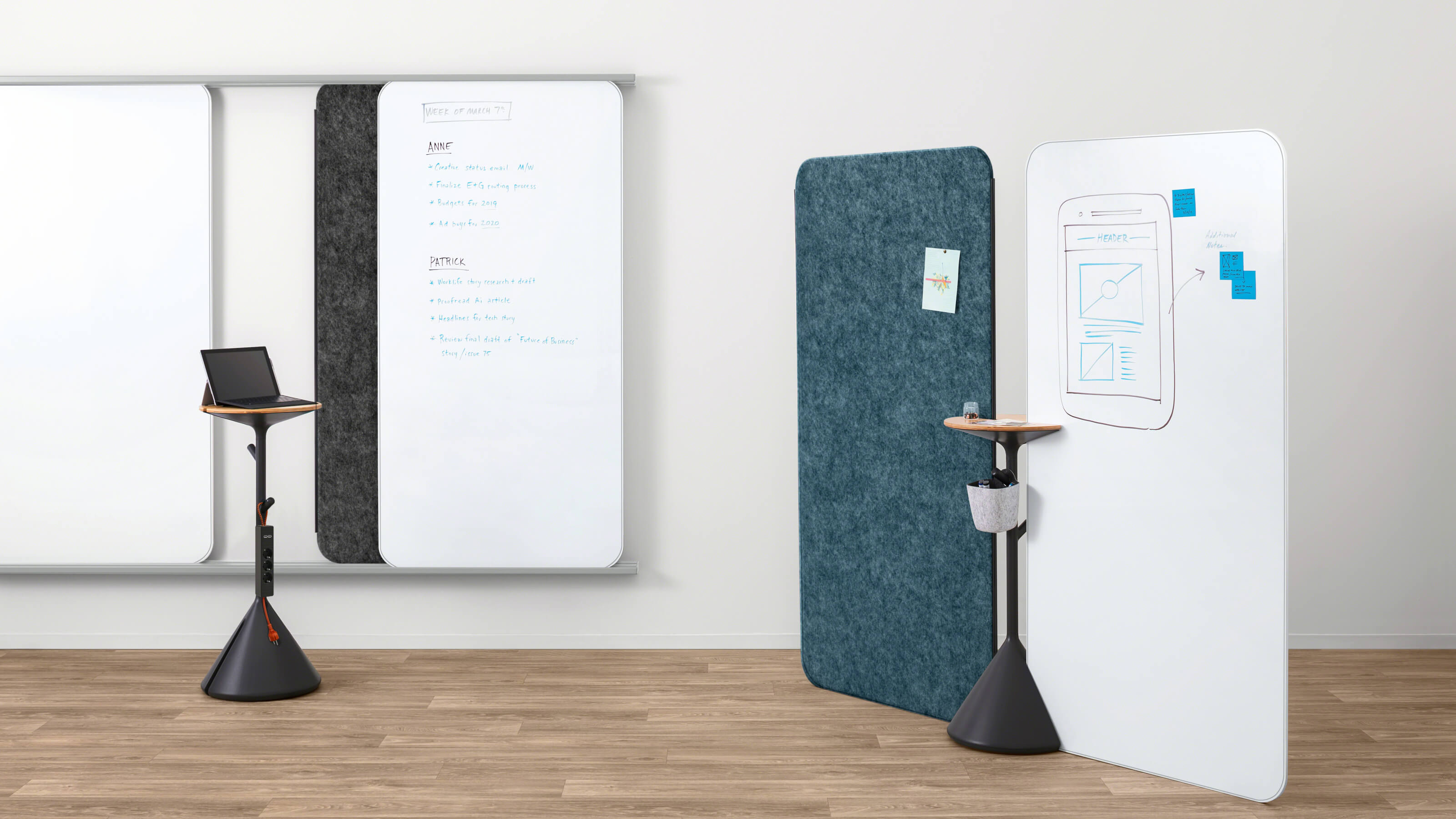 3. Lintex Whiteboards
Lintex has several whiteboards all in a minimalist style. There's the 'Offset' whiteboard with a solid oak frame, the 'Air', a frameless, magnetic whiteboard, and the 'Mathematics', a chalkboard with raw aluminium frame. There's even a sound absorbing whiteboard and one with a TV bracket. They really have thought of everything!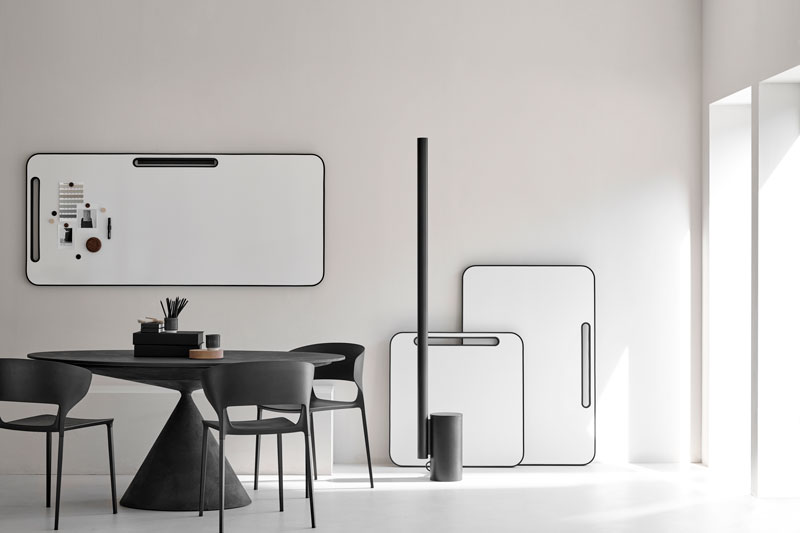 Planters
Plants in the workplace are proven to boost happiness, creativity and focus. Our favourite planters include:
4. Jennifer Newman planters
The Jennifer Newman Studio is known for its bold, colourful designs and its lightweight aluminium planters are no exception. The Drum planter comes in a circular shape with the Box Planter in both square and rectangle. They come with lockable casters so they can be moved around and fixed in one place and are available in a range of RAL colours to coordinate with any colour scheme. They come in a satin powder coat finish and are VOC-free.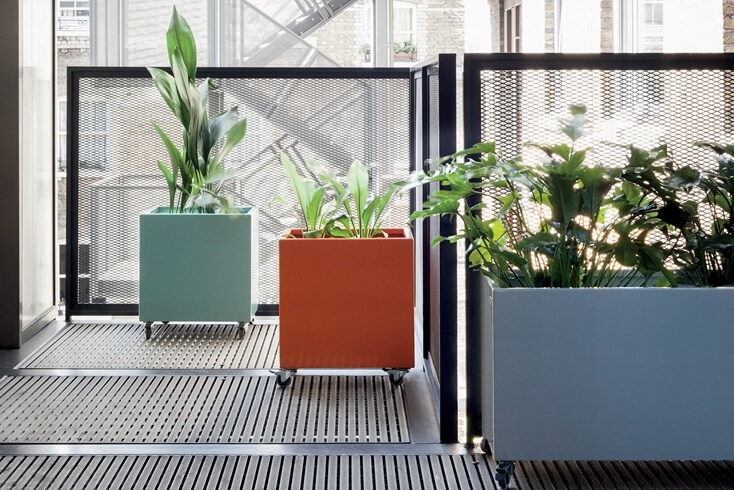 5. Steelcase Volum Art Planter
The Freestanding Planter from Steelcase's Volum Art range offers a clean design in various colourful materials and finishes, adding a fresh and modern look to the workspace.

6. BuzziSpace BuzziPlanters
BuzziSpace focus on creating high-quality acoustic solutions for the workplace, and its BuzziPlanters are made from high-density foam to absorb excessive noise in open spaces. They come in a range of colours and sizes, with the larger rectangle shape making a great divider in open spaces.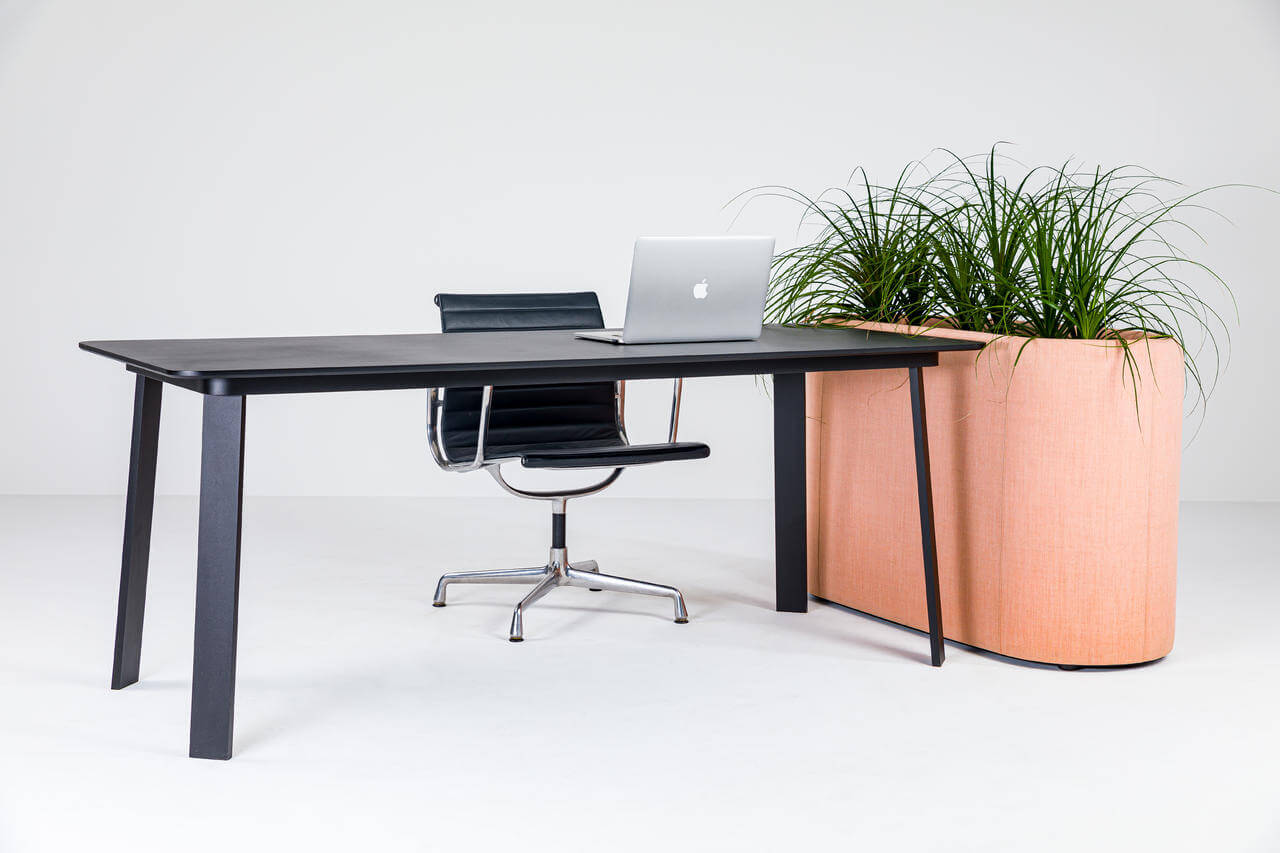 Lighting
Lighting plays a key role when completing tasks at work and is important for their health and wellbeing. Harsh and bright lighting can make it harder for employees' eyes to focus properly, while appropriate lighting can enhance productivity and reduce fatigue and headaches.
7. Luctra Table Pro Lamp
The Luctra Table Pro lamp comes with a base that sits on the desk, or a range of fastenings that allows it to be fixed to the desktop or wall. There's a floor standing version too, the Luctra Table Floor.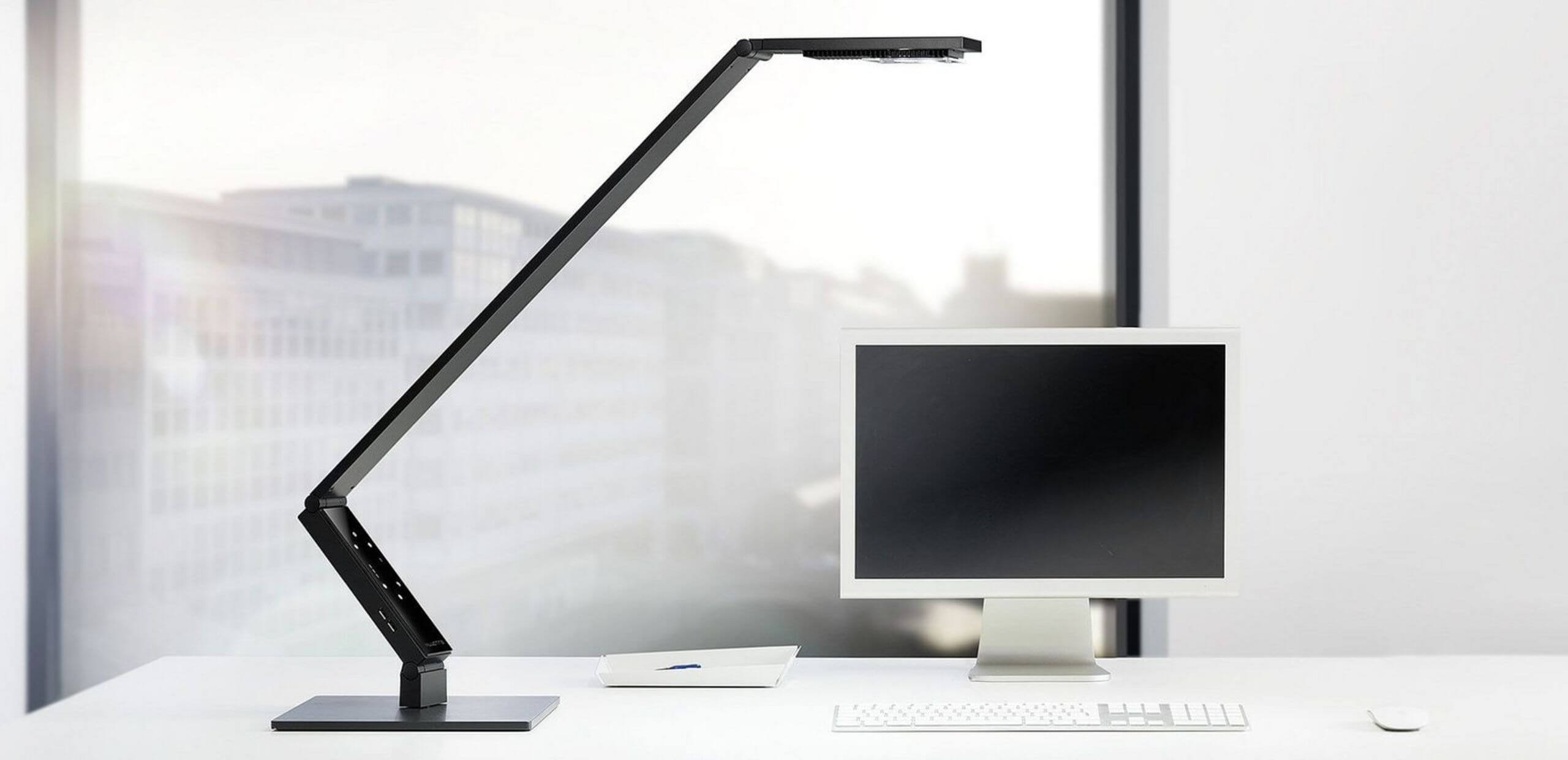 8. Steelcase Eclipse Light
The Steelcase Eclipse Light comes with an adjustable LED lamp that allows users to personalise how well lit their workspace is. It also enhances the user experience when collaborating with remote workers via video. It is designed to mimic daylight, reducing eye-strain.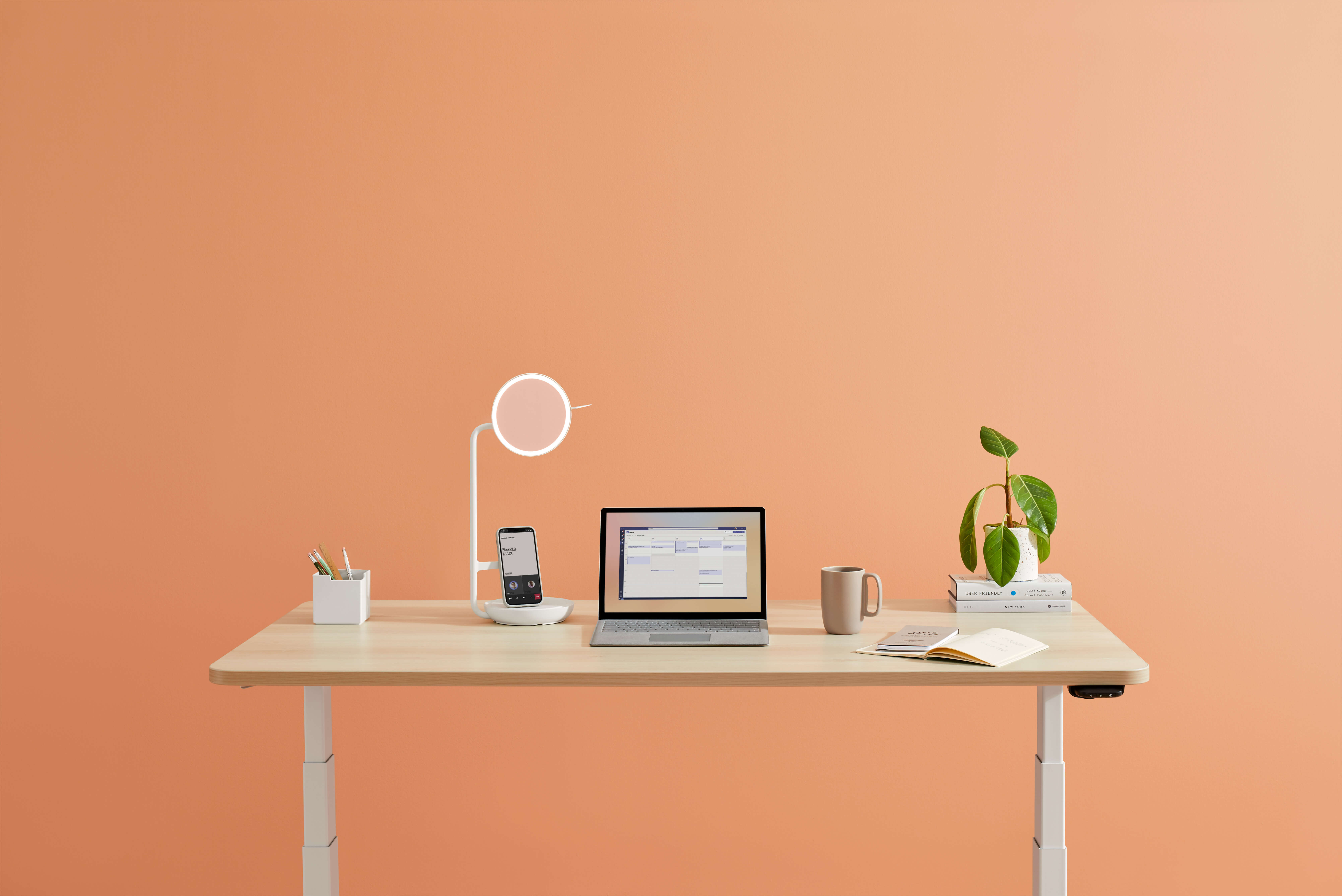 9. Steelcase Dash Lamp
The Steelcase Dash Lamp is a personal talk light that delivers a balanced light distribution to support productivity. The light automatically turns off when it's not in use, thanks to a passive infrared occupancy (PIR) sensor.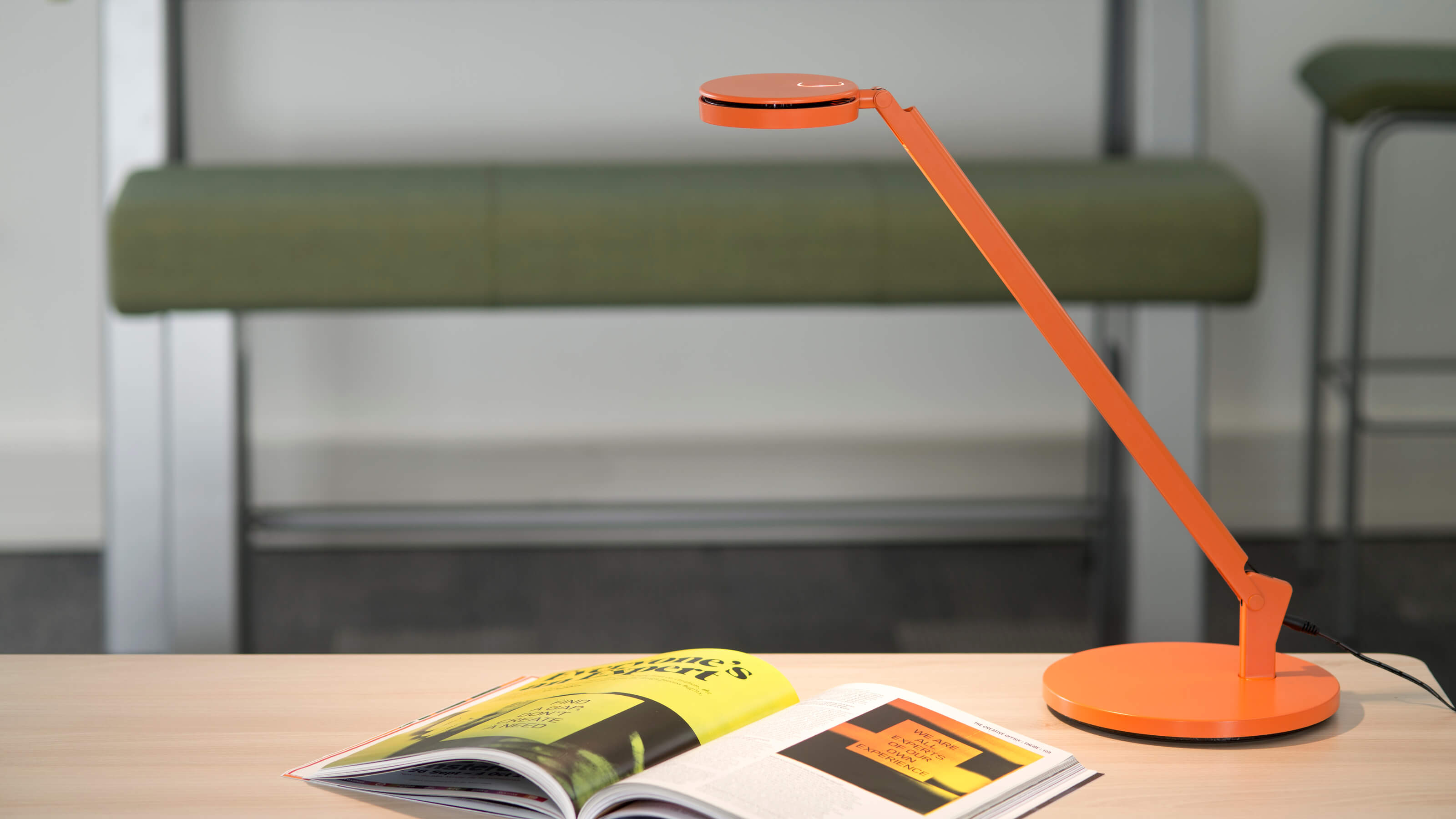 Acoustic products
Acoustic panels absorb sound and reduce reverberation, helping to create a more comfortable working environment.
10. Lintex Unit
The Unit by Lintex is an industry-leading sound absorber which doubles up as a surface for writing or pinning information. It can be easily moved around thanks to the retractable wheels, so it can be wheeled in when needed.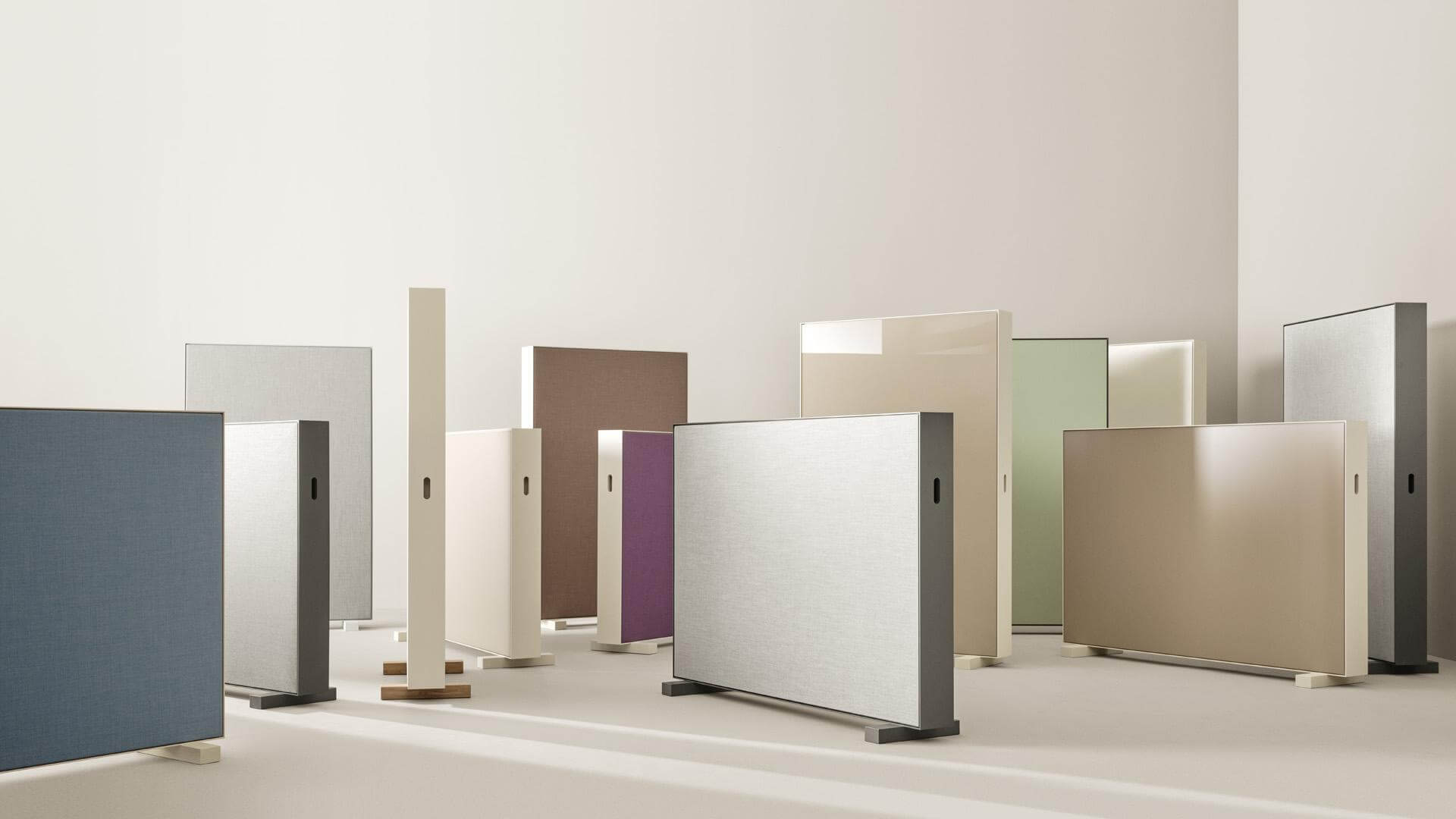 11. Arper Parentesit Acoustic Panels
The Parentesit by Arper is an acoustic wall module available in a round or square shape. Its modular format means it can be arranged in various compositions to suit your workspace.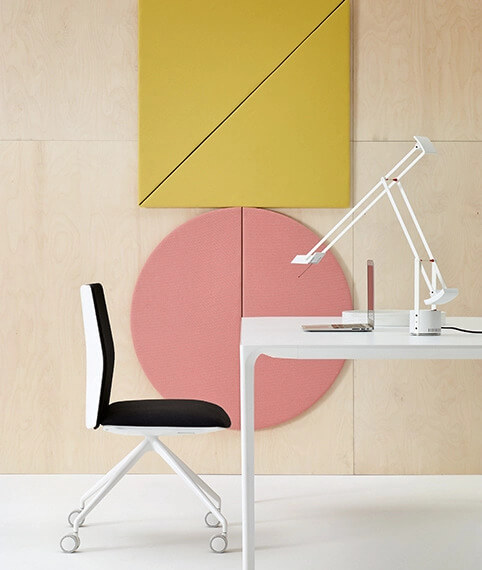 Power
Workers are no longer tethered to their desks from 9 to 5. With the workplace built up of an ecosystem of spaces to support different work modes, people are moving around more freely. But what they need to make this all possible is power.
12. Animate Qikpac by OE Electrics
The Animate Qikpac Carry battery by OE Electrics gives users the freedom to work in any possible space for an entire day. It can be mounted in or under a desk or workstation, providing instant power.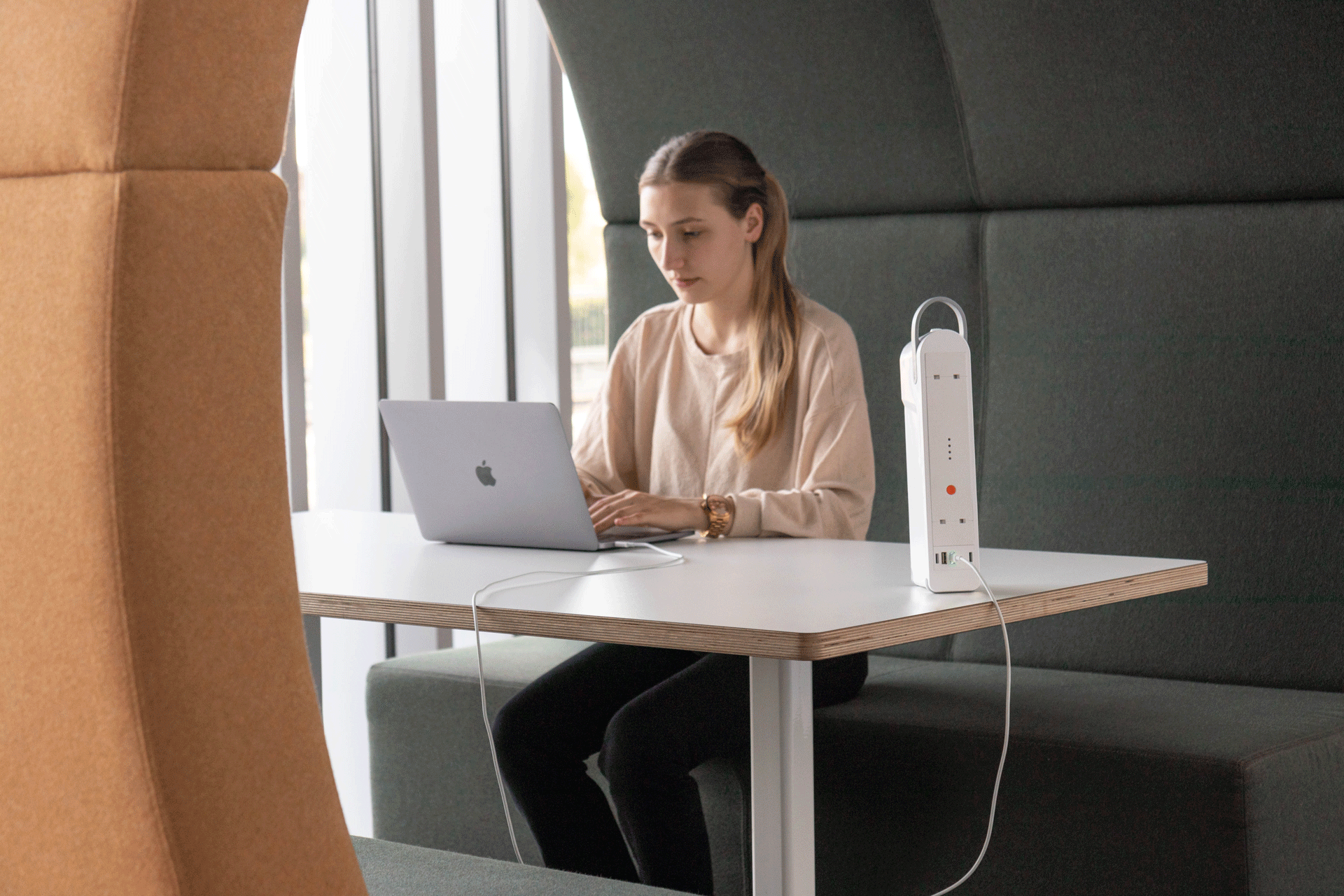 Soft furnishings
Soft furnishings like rugs are a great way to bring warmth and a relaxed atmosphere to your office space. They can also help to reduce noise levels.
13. Steelcase Bossa and Loop rugs
Steelcase's range of rugs includes the Bossa and Loop series. The Bossa handknitted rug is available in white or light grey and a range of sizes and shapes. The Loop comes in various natural colours to invite nature into the workspace.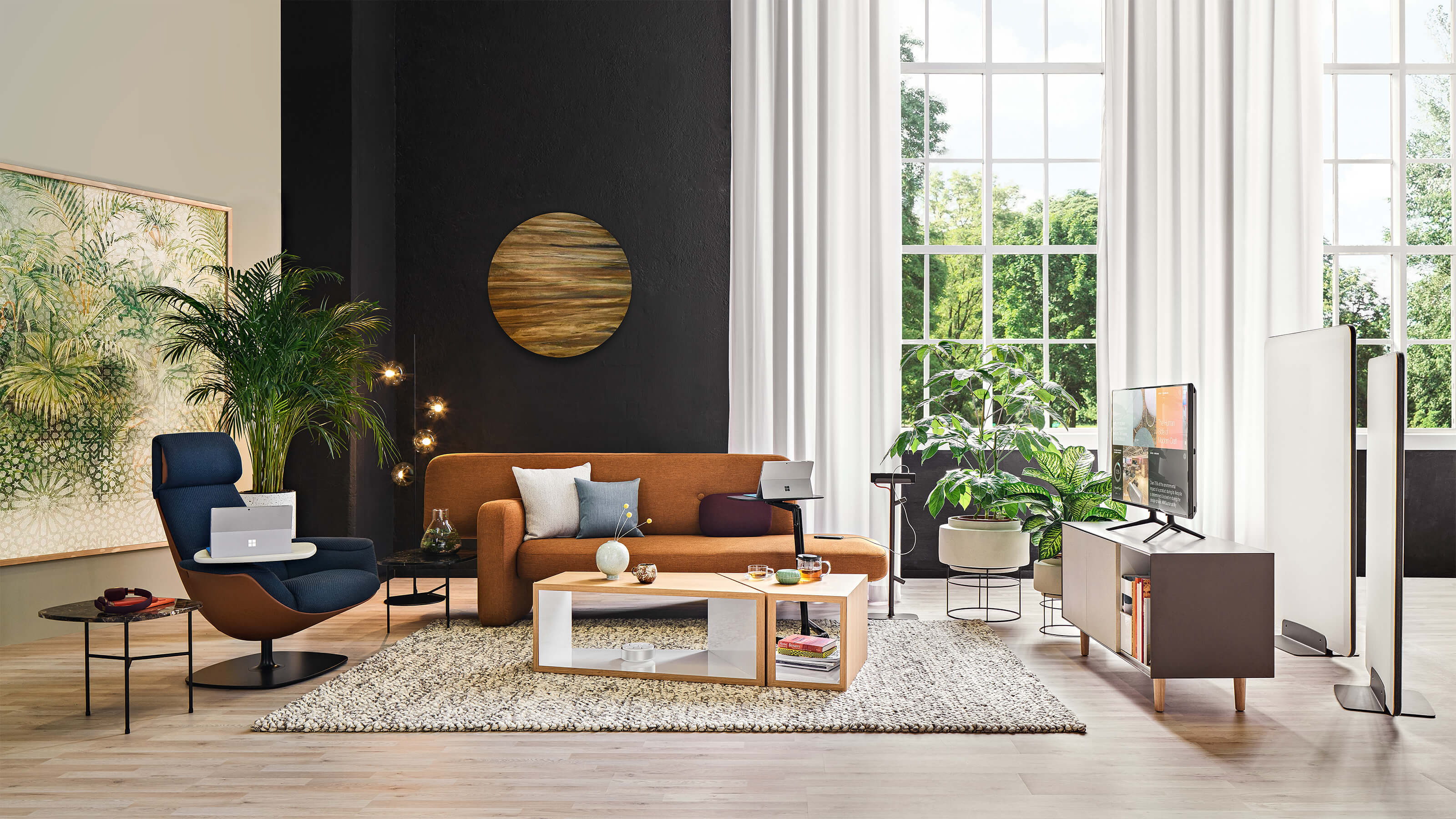 14. Clerkenwell fast track and bespoke rugs
The Clerkenwell Rug Studio offers both bespoke and fast track rugs, so there is something for everyone. All rugs are made locally and meet fire regulations and BREEAM, LEED and WELL building accreditations.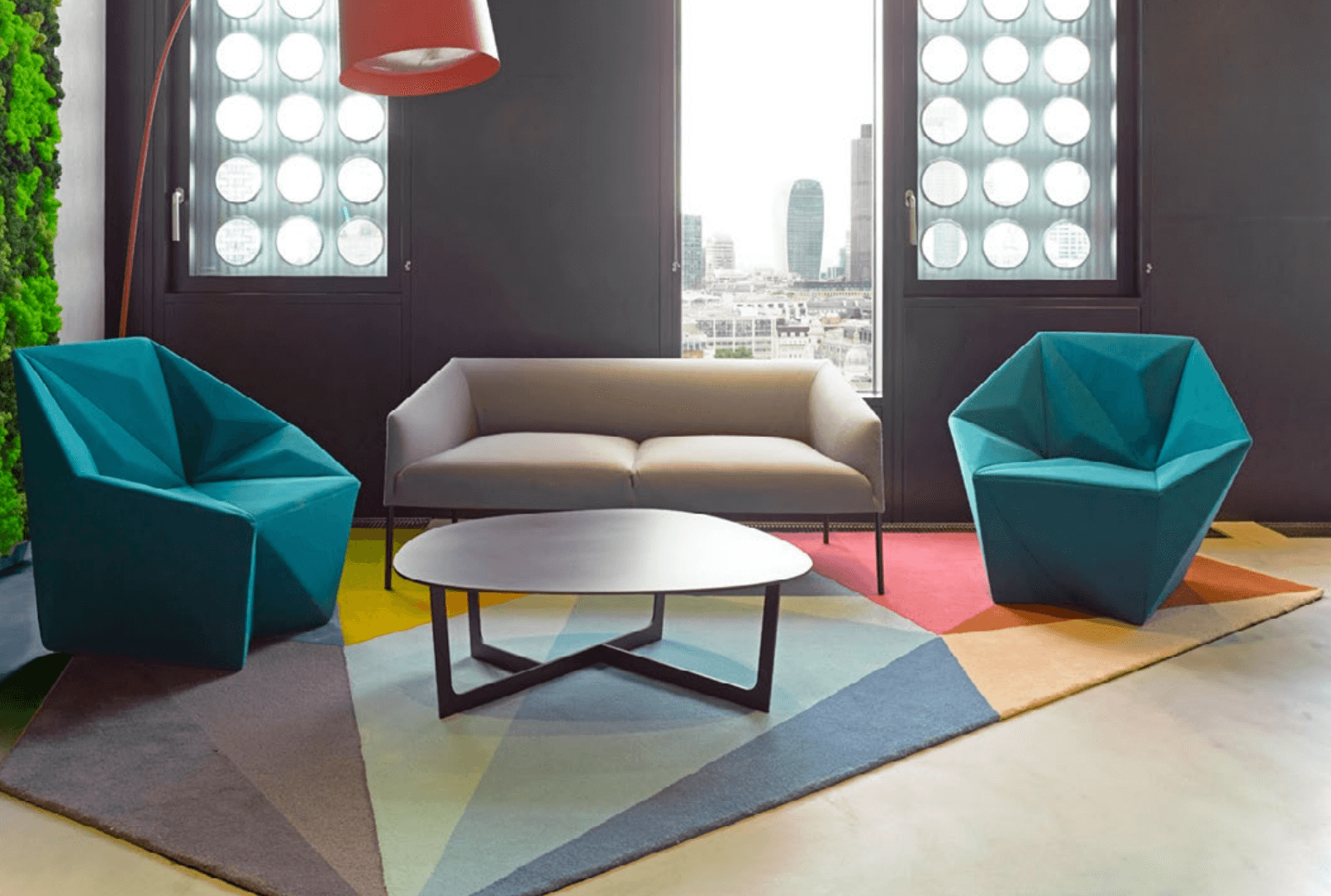 Recycling bins
Sustainability is a key priority for organisations when refurbishing the workplace. Recyclable furniture products and reusing existing assets where possible are helping companies to cut down on their carbon footprint. But one of the biggest ways you can make an impact is by ensuring responsible recycling.
15. Steelcase Volum Art Recycling Station
The Volum Art Recycling Station from Steelcase makes recycling look good. Its streamlined aesthetics and multiple surface material options fit nicely into any workspace.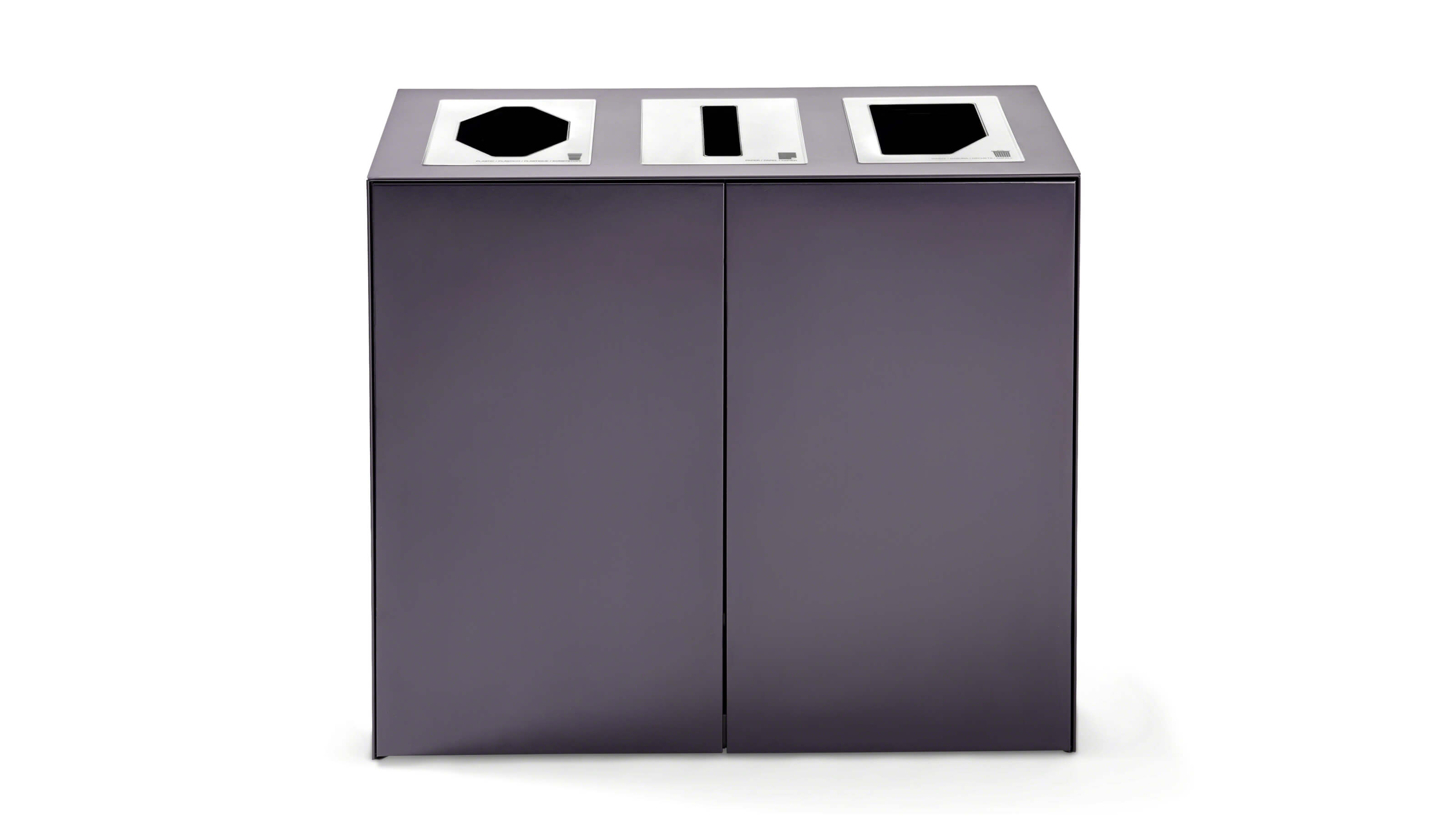 Summary
Office furniture accessories add to your office space's overall look and feel and support workers' comfort, productivity and wellbeing. If you'd like to talk to us about any of the products above or have another idea in mind, get in touch and we'll be happy to help.
For more accessories inspiration, take a look at our ideas book: