We're in Smithfield, just on the edge of Clerkenwell, the centre of the UK's vibrant furniture and design scene.
Insightful Environments moved to Cloth Fair in 2015 - just as we were evolving our brand to be an insight-led furniture and design company.
It's been an exciting journey so far. We've spent the last four years assembling a great team, building the IE brand and enhancing our strong client base.
During this time, we have made a lot of changes to our 3,000 sqft London Studio - partly because we like to show off the latest furniture trends for visiting clients. But we also know that to get the best out of our own people and to attract the best talent in our industry, we should treat our own space just as we would a client's. With this in mind we've designed our office to meet our own unique challenges, needs and goals.
This blog post explores how we shaped a relatively small space to bring out the best in people while keeping true to our core company values.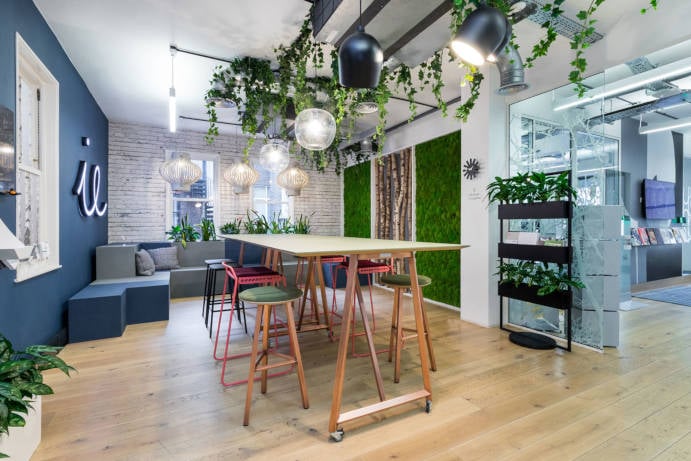 Discovery phase
The first phase of the process was to define why we needed to make changes to the spaces and what the goals for the new space were.
As Diane Karner, Design Team Leader explains:
"We led a series of workshops where literally everyone was invited. And if they couldn't make it, they could email in their thoughts. Everyone could contribute, telling us the challenges they experienced every day, what they needed the space to do for them, what they liked and what they didn't. We ended up with a vast wall of post-it notes, detailing every requirement, a huge wish list reflecting the diversity of everyone's needs."
Supporting all this were observations about the way the existing layout was affecting workers along with data from sensors that had been monitoring the usage of different parts of the office.
In a London block where space is inevitably at a premium, the team wanted to eliminate 'dead areas', which were increasing congestion in other parts of the office. Instead, the new design would make the space 'work hard' in every corner of the office. This was achieved through the clever use of furnishing, including individual work pods, booths and locker solutions, which made the most out of otherwise redundant and unusable areas of floor space.
Not only did this space need to work hard, it needed to be adaptable for a variety of uses. It's a functioning office space used every day by resident and nomadic workers, it's a space to host clients and A&D in workshops and creative sessions. It's also an event space and a space that we regularly use for furniture pilots; reconfiguring all the furniture within for clients going through the furniture selection process.
Design development
From the discovery phase we came up with a list of criteria that the new space needed to meet. Eventually we boiled it down to four main design principles:
Designed for health and wellbeing
Designed to cater for different work styles
A space to prototype, showcase and test our furniture solutions
A space to exchange ideas, collaborate and connect
The design needed to help our people do their best work - both for and with their clients - aided by flexible working spaces, the right furnishings and integrated technology.
Underpinning this was a fundamental understanding that wellbeing, productivity and creativity could only grow when everyone could find the spaces they needed to focus, collaborate, relax and reflect throughout the day. The space had to make everyone healthier and happier in their work - while helping them keep their focus on delivering better and more creative solutions for our clients.
A focus on interaction, people and wellbeing were, therefore, the overriding priorities for the office re-design.
The team then set about turning our list of demands into reality by creating floor plans and drawing on inspiration from a variety of places to turn initial ideas into concepts.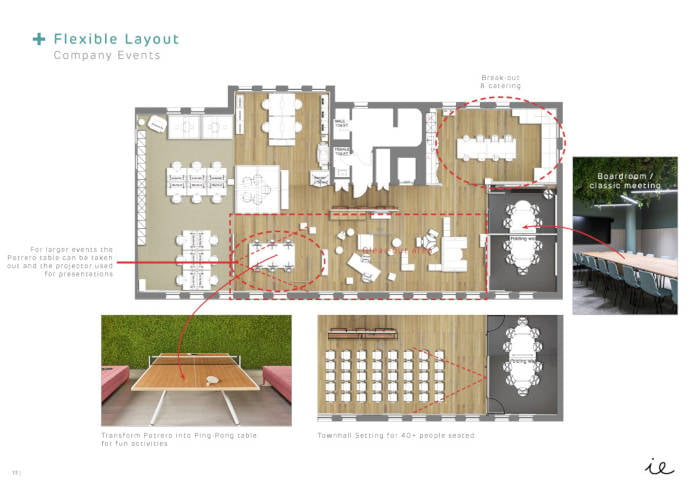 An interconnected hub of three zones
These overall needs became expressed as an interconnected hub of three zones - a work zone, a meeting zone and a flexible zone where furniture pilots and events could take place, where clients could be hosted, and knowledge and ideas could be shared.
Looking around the space now, there is a natural flow between all three; workers are encouraged and able to circulate easily between zones, with plenty of opportunities for the serendipitous meetings and creative collisions that characterise a high performing organisation.
Flow between zones
Work Zones
All workstations are sit/stand, no worker 'owns' a desk, but there are a range of booths and pods that serve the different collaborative and independent working needs of the teams throughout the day.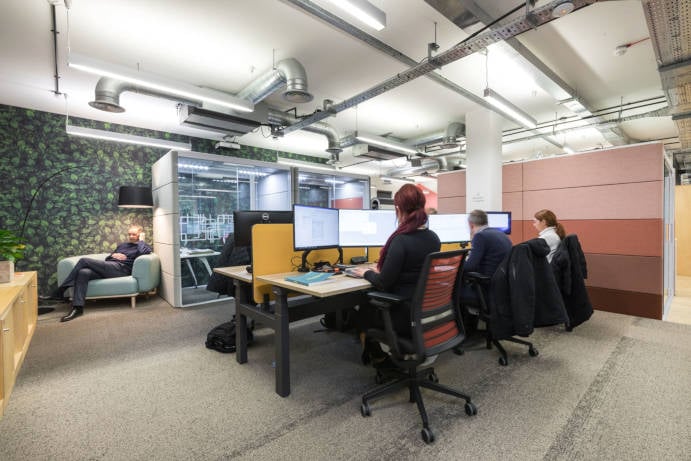 Desks in some parts of the working zone are equipped with screens and docking stations, and they are necessarily tightly packed. This was a conscious move to facilitate the interaction and sharing that teams in the throes of a project needed to maintain.
But there is space in the other parts of the office, where teams can disperse to work on their own and more reflectively when they need to. This includes touchdown spaces for 'heads down work' and two individual booths which people can occupy for privacy, silence and concentration when required.
Meeting Zone
The formal meeting room can be partitioned when needed, to create two individual meeting rooms both equipped with teleconferencing facilities that can be used separately.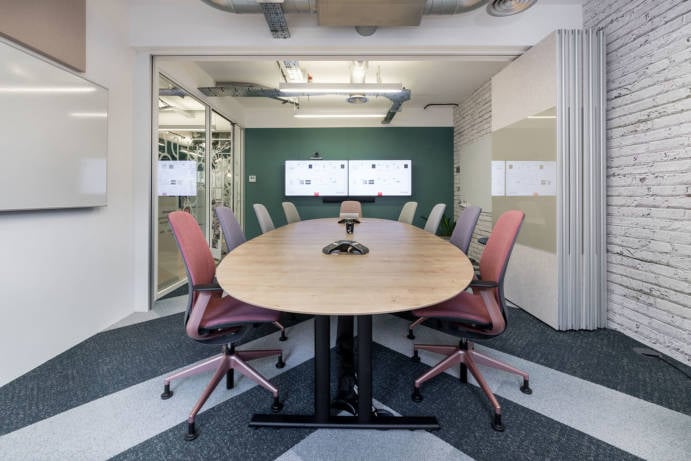 At the touch of a button, any occupants of the meeting room can be connected by video link to the offices in Rainham and Leeds.
The kitchen area has been reimagined as a 'work cafe', a place to eat, but also a place to relax, to host informal 'lunch and learns', client meetings and celebrations.
Designed with Biophilic elements it is lush and regenerative in feeling. In fact, many workers use this as a transitional space, a location to think, reflect and plan before plunging into areas where more intense and focused working activity takes place.
Flexible Zone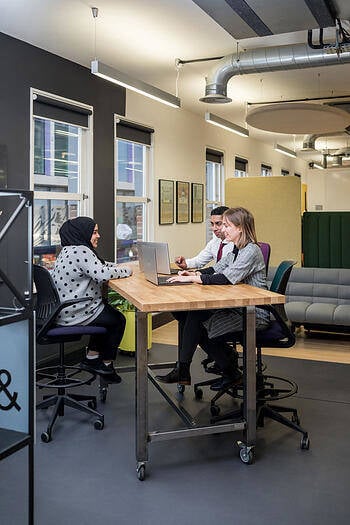 But at the centre of this office is the flexible zone; a dynamic space where clients and guests can be welcomed. This space is flexible enough to host client and internal meetings, it contains touch down spaces for IE people from all disciplines to work. But one of its most important functions is for creative inspiration through practical prototyping, product testing and exploration with clients.
On the day of the launch for example, the space was set up for a corporate client to come and experience the new Flex collection as a team in a real working setting.
Nichola Plummer - Design Director explains:
"We wanted this to be a dynamic space that constantly evolves, enabling us to test and show the latest workspace trends. A space that we could easily reconfigure for events and pilots."
The new work space at Cloth Fair exemplifies the freedom that comes from being flexible. The mobile collaborative settings are a reflection of IE's Agile and truly client-focused work ethic.
With the ability to transform their own spaces and the spaces where they host clients, they can deliver tangible project experiences to their customers.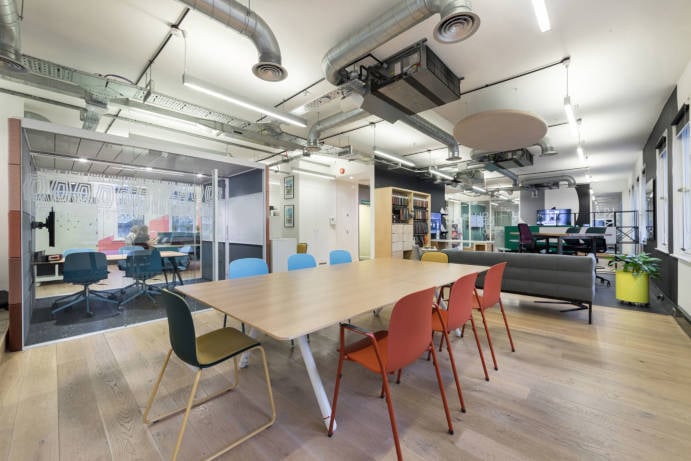 Continuous Improvement
And in the true spirit of Agile, the work on the space is a continuous endeavour. As Nichola Plummer remarks:
"IE has evolved from a traditional dealership into a design-led, people-centred business that can bring insight to other companies who are going through transitional change and looking to stay on the front foot. Furthermore, we always look to evolve, ensuring we attract and retain the best talent, and let people be their best. It's a wider market challenge our clients face daily so we're leading by example."
Come and see for yourself
According to Diane Karner, the move to 29 Cloth Fair and the redesign of the office reflects the journey of the company and their future ambitions.
"We have designed our new space to foster different behaviours & experiences. To encourage a sense of culture through designed opportunities for interaction. Whether that be through banter playing ping pong or sharing a work lunch in the cafe. These elements combined with focus spaces and quiet zone offer choice in small office footprints."
And that's what the team has found here and we invite you to come and experience it with us.
As David Revis, Head of Marketing explains:
"Here we are at the beating heart of a London that is always changing. Just by the City, but amidst the imposing architecture of the old markets and warehouses that once supplied the entire nation. Now, they're mixed in with cutting edge tech and design businesses, as well as restaurants, pubs and coffee houses. There's a really unique energy here. Creative, commercial and cultural. We want clients to come and visit us, and we've redesigned our offices specifically to host these activities - to show them how our furniture and future thinking can work for them"