Businesses are increasingly acknowledging that the vast tundra of open-plan office spaces aren't conducive either to greater productivity or better mental health. As a result, attention is turning to the way office pods and booths can create more sensitive and flexible working environments that fulfil a broader range of worker's needs.
Choosing the right style and combination of pods or booths for your business requires thinking about. If you're going to avoid plonking a large, expensive and lightless fridge in the middle of your office floor, you'll need to spend some time working out what your priorities are and what you need your investment to deliver in terms of space and comfort.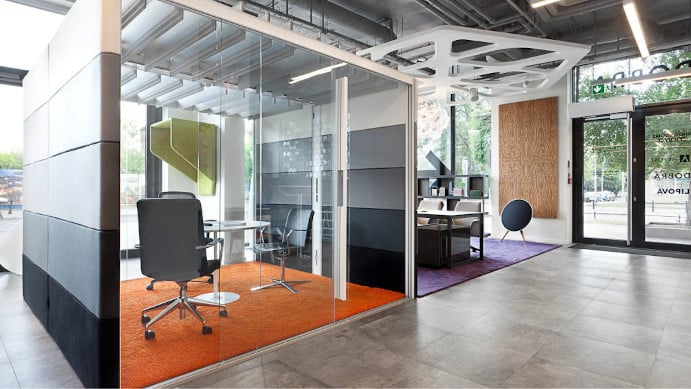 What it's going to be used for?
Meetings, video conferencing, one on ones, individual work, confidential catch ups? The answer to this question is important because it's going to have a huge impact on the kind of physical characteristics of the pod or booth you'll end up choosing:
How many people will you need to accommodate comfortably inside a pod at any given time and what furnishing will you need to fit into it?
What level of transparency and visibility should it offer between its occupants and the outside world? Is complete sound insulation imperative?
Do you want to be able to always see through the glass? Casper cloaking material can allow you to see into a pod but not see the content on the screens inside. Orangebox do a glass panel that becomes opaque at the flick of a switch .
Do you want the pod itself to offer flexible accommodation internally? Do you need it to be flexibly partitioned? Do you need it sometimes be to open-sided and, at others, fully enclosed?
Will the pod need to be shifted around in the future, and if so how often? Would a pod on wheels be useful?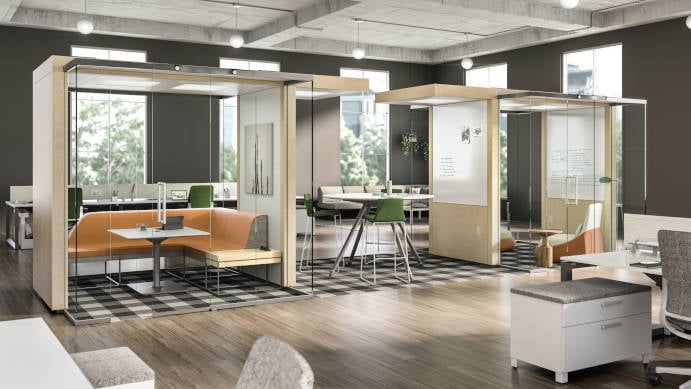 What's the quality of the experience going to be like inside?
The quality of the space, acoustics, air flow and technical connectivity offered is going to be key to how successfully the pod can be used. Think of the safe and comfortable distance you'll need between tables, chairs and walls. Can the walls support the bracketing of heavy tech equipment? What level of lighting do you need inside? For a pod to be a successful and popular addition to your workspace it will need to be a pleasurable space to inhabit, as well as one that is merely functional.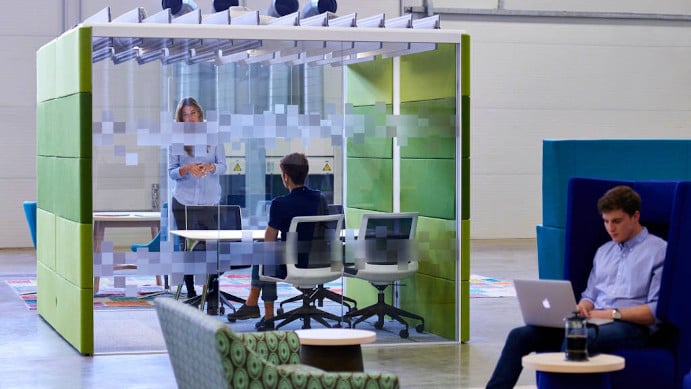 Peace in a pod?
This is certainly what is emerging from the research of pods in use. As Steelcase pod portfolio expert, Niki Watt, said in a recent interview
"I think people are discovering that they want a great user experience when they're using a pod. They want acoustics at the right level. They don't want to feel like they're in a submarine where they can't hear anything or have any sense of the outside."
Safety considerations
Of course, an office pod is not just another piece of furniture - there are important safety considerations to factor in when making your choices. The right supplier will have considered fire and other regulations in their production and when they are selling in the solution to you. These pods, for instance, are created with a beautiful louvered ceiling that opens and closes. Its default setting is open.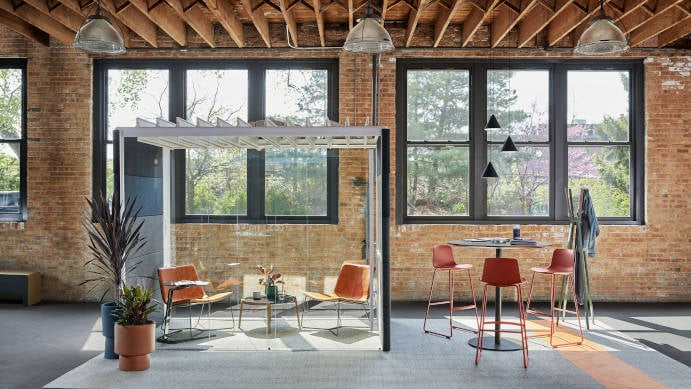 So, not only does it provide brilliant air flow, but it also means in many cases the building's existing fire suppression system will work with the pod when it is installed.
You should, however, carefully consider all the health and safety implications that introducing a new enclosed space into your office might entail. If your office real estate stretches across territories, then your procurement team should clearly understand the restrictions that might apply in each and ensure your choices comply with them.
How to stop the pod hogs
Mark Zuckerberg's famous desk sits in the middle of his hangar-like open-plan office in Menlo Park. But rumour has it he spends most of his time cocooned in the enclosed pods and private meeting rooms that his HQ offers.
Internal policing of basic office etiquette should really be enough to stop the pod hogs, but if this is likely to be a problem, maybe you should consider investing in a range of different kinds of size and style of booth.
If pod blocking is a persistent problem with one individual - then this could be an indication that their existing work station is inadequate for their privacy needs. There are lots of individual work station designs that might be better optimised for the kind of work they need to do, and will mean they don't have to retreat to shared meeting spaces to complete it.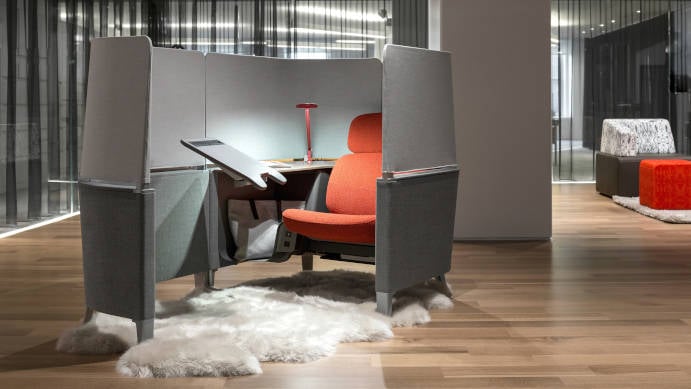 A huge array of choice
Modern booths and pods come in all shapes and sizes. They can answer different kinds of needs and be configured very rapdily for your specific requirements.
If you need to quickly set up your office for activity-based working, then they can instantly bring new kinds of spaces with different kinds of energy into play for you.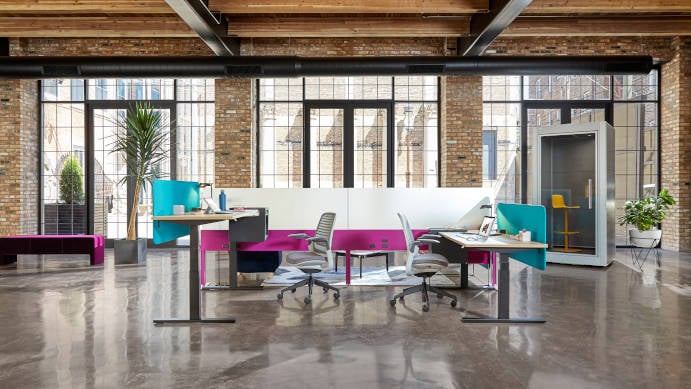 Some pods can even be installed in half a day and with the right 'plug and play' power supply options - can be operational with the minimum of disruption.