The coronavirus vaccine may have started to be rolled out across the UK, but a lot of uncertainty remains over when we will be ready to go back to the office.
One thing for sure is that the pandemic has accelerated the evolution of the office. Its role as a space to connect, collaborate and socialise is now more important than ever.
The post-covid workplace must be designed and furnished in a way that supports these activities while providing a safe environment for workers.
And your existing furniture may need to be reconfigured or repurposed to support this new iteration of the workplace.
In this blog post, we explore some of the ways you can reconfigure and repurpose your existing furniture ready for the return to work - and offer tips on what to do with furniture you no longer need.
But first, what should the post-covid workplace look like?
The post-covid workplace: a checklist
To encourage people's return, the post-covid workplace must provide an ecosystem of spaces to support different modes of working - from collaboration to focused work, to relaxation and rejuvenation - whilst also balancing the need for safety.
Collaboration has suffered as people worked from home for sustained periods. The post-covid workplace needs to reignite the creative spark amongst teams by providing spaces that allow them to come together to share ideas and solve problems.
The workplace also needs to compete with the benefits people have experienced while working from home. People need to be able to focus in the office as well as they could at home and away from distractions.
Then there are the home comforts people have been accustomed to while working from home, such as being able to move to another room to relax or seek inspiration. People need to be able to find these spaces in the workplace too.
But, a compelling workplace must be balanced against the need for safety. People won't return to the office if it doesn't feel safe. So at least in the short term, you will need to focus on ensuring you adhere to governmental guidelines.
The post-covid workplace needs to accommodate these new demands whilst ensuring people can socially distance.
Accommodating new demands
1. Reconfigure
Options for reconfiguring your furniture include:
Rearranging individual workstations to be 2m+ apart
Re-orienting workstations to 90-degree angles so workers aren't facing each other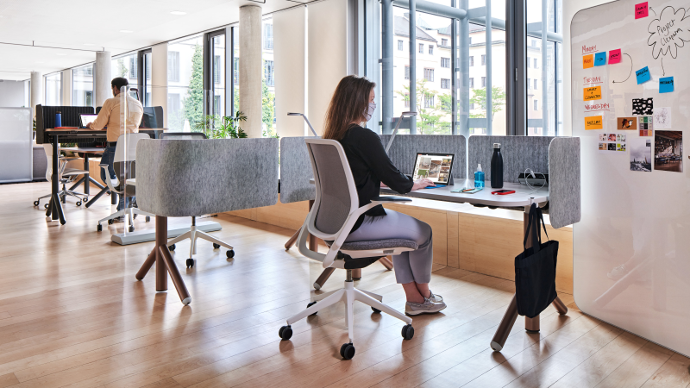 Transforming banks of desks into individual workstations
Using existing screens or perspex shields to create divisions
Repositioning screens around workstations to create comfort, security and privacy
Removing seating to reduce density in meeting rooms
Purposely placing biophilia to create boundaries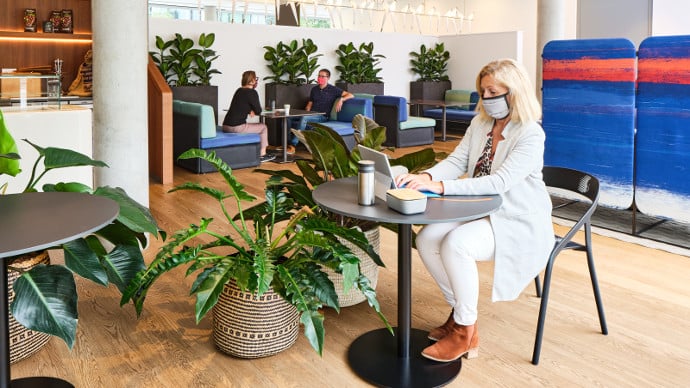 Bringing together individual chairs and tables in collaborative spaces
Staggering tables and chairs to enable social connection while eliminating direct face-to-face orientation
Moving lounge furniture away from shared spaces and using barriers to create privacy so workers have a place to relax and rejuvenate
2. Repurpose
Options for repurposing your office furniture could include:
Removing beams or altering leg frames to turn desks into collaboration tables
Adding casters to desks, screens and storage units to give people control on demand to make the space safer and support the mode of work they are doing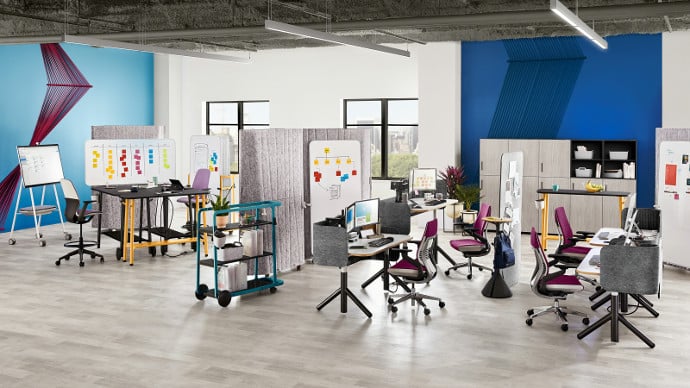 Respraying and reupholstering to prepare assets to be used in different settings
Creating removable desktops and other features for more agile office configuration
Reupholstering chairs with antimicrobial materials (helps prevent the spread of viruses and bacteria)
What should you do with any unwanted furniture?
There may be some of your existing furniture that can't appropriately be reconfigured or repurposed.
Perhaps you intend to downsize and simply don't have space for all the furniture you had before. Or maybe you wish to encourage home working and reinvent your office space as an 'innovation hub' - a club like space people visit on occasion to stimulate creativity - in which case you'll no longer require rows of desks and task chairs.
So what do you with your unwanted furniture?
Could unwanted assets be deployed to your employees at home?
Working from home triggered a surge of musculoskeletal complaints as people lacked the support and comfort they had from ergonomic chairs and workstations in the office.
If you are planning to encourage a more flexible approach to where people work, supplying unwanted task chairs to those who most need it can be beneficial for both your people and your business.
Not only will workers be more comfortable, but their productivity will increase as they are no longer being distracted by their own aches and pains.
Could they be re-homed elsewhere?
Donating your furniture, whether to a charity, non-profit organisation or another business who might need it, is one of the most rewarding ways to get rid of your unwanted assets.
As well as providing opportunities for those who may otherwise not be able to access office furniture, donating your assets will extend the life of the furniture and reduce waste going into landfill.
Approximately 1.2 million office desks and 1.8 million office chairs end up in UK landfill each year.

Simple reuse of an office desk can cut its carbon footprint by 36% and replacement of just the desktop cuts its footprint by 18%.
If donating your assets isn't something you can afford to do then why not sell them on? This will allow you to recoup some of the money you invested, which can be used to contribute towards any additional furniture you might need, such as screens and partitions.
Or recycled?
However, it could be that your assets are not suitable for re-use - maybe they are damaged beyond repair. Recycling your assets may be the best option. If you choose to take this route, be sure to do it in the most sustainable way. Your local council will be able to advise you on this front. You may need to take your furniture to a tip or get it collected by a waste removal company or the council.
How you could benefit from an office furniture audit
An office furniture audit can help you determine how your assets can be best be deployed to help transform your workplace. There may be more options for reuse than you thought. Each asset will be assessed for condition, releasing and repurposing potential. This process will give you the insight you need to design to move forward.
Insightful Environments offer a free of charge furniture audit survey, followed by a one-hour consultation with one of our workplace experts. If you're interested in finding out more, click here.