As lockdown ends we're all desperate for a return to some 'normality' in our working lives. But what will that mean? Back to the office? Back to the cafe on the corner when we can't face the office? Is there an alternative? How can we go back to better?
In this latest phase of lock-down, it's become abundantly clear that full-time home working just doesn't work for everyone. Those who have dragged themselves down for that first Zoom call of the day with a growing sense of pointlessness and dread can testify to that. But the thought of a fully-fledged return to the office and a commute to a space that isn't fulfilling our needs, isn't exactly filling people with delight either.
Booths in shopping malls?
Constant home working has been difficult - and many people want out.
And in Singapore, it turns out, workers desperate for day release from the home office have been hiring purpose-built booths by the hour in shopping malls for a taste of freedom.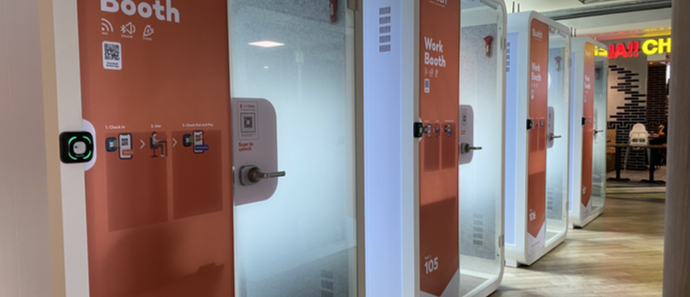 As one BBC journalist put it:
"The booth is a reasonable work space, if a little utilitarian, and very compact. The wi-fi works, and so does the fan. The chair is okay, but unremarkable. The overhead light isn't overpowering. The grey and white colour scheme isn't very exciting, but nor is it distracting.

But the main selling point for me is that it's not my living room.
Even before the lockdowns, though, these booths made by the company Switch, were proving popular for workers who needed a retreat from the distracting demands of the workspace but wanted to keep home at arm's length, too:
"Part of the value proposition [of the booths]," says the founder of Switch, Dominic Penaloza. "is that psychological separation that is created by a physical separation between work and home,"
As a quiet place to work and take calls, with the inevitable Starbucks close by, they're a good compromise between working all day in a busy coffee shop and shutting yourself away completely at home. Although it's, perhaps, a little weird that everyone in the mall is staring at you while you work in your pod.
Coffee shops - the spiritual home of the digital nomad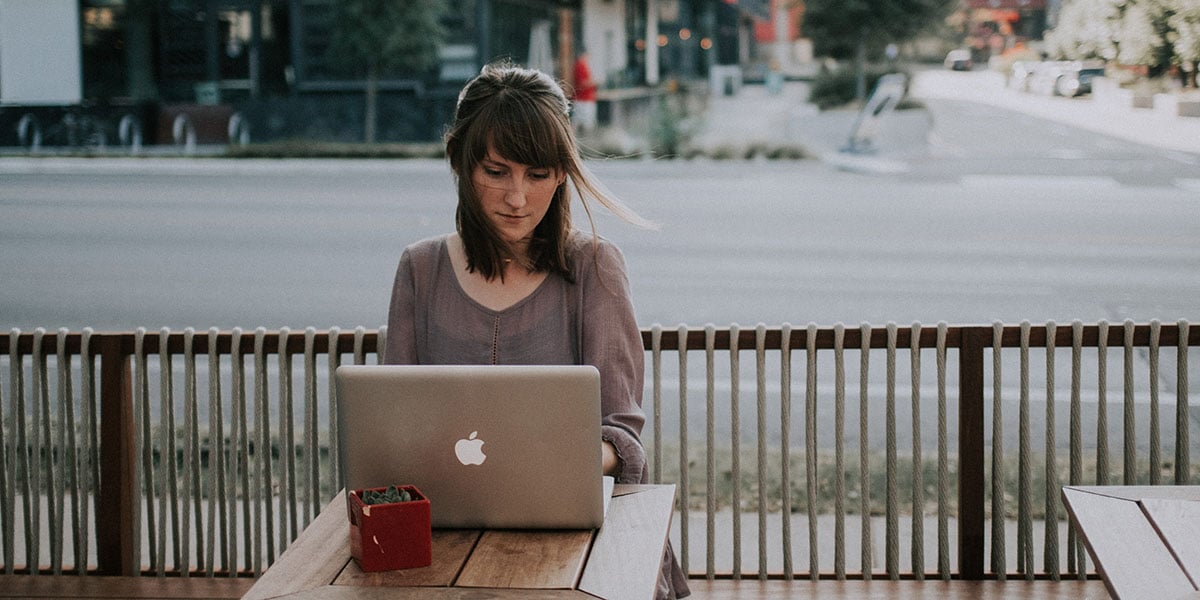 But over the last 10 years, it's become clear that the digital nomads of the knowledge economy need access to more of these 'inbetween spaces' to work to their full potential.
One architect we interviewed for this blog last year admitted that he frequently left their beautifully designed practice building to seek sanctuary in a local Shoreditch cafe and 'actually get some work done'.
Coffee shops have become the solution for many wanting to find new places and modes for work. For some, the more artisanal they were the better. But for others it was just a matter of who would let them nurse a latte for three hours and had wi-fi that wouldn't let them down.
Coffee shop or 'third place'?
But the 'retreat to the cafe' represents more than an opportunity to 'hide from colleagues' and hijack a digital highway.
Research has found these kind of 'in-between' or 'third places' (which traditionally include coffee shops, pubs, club houses, libraries and the like) have a special function in our culture.
According to the socioligist Ray Oldenburg they are places with a unique power to bring communities together and learn from one another in profound and lasting ways.
In his book 'The Great Good Place", Oldenburg sets some criteria for what constitutes a 'third place'. He says they are
Located on neutral ground
Act as a social leveller
They are accessible and accomodating
They have regulars
They keep a low profile (they're comfortable but understated)
The mood is playful
They are a home away from home
Conversation is their main activity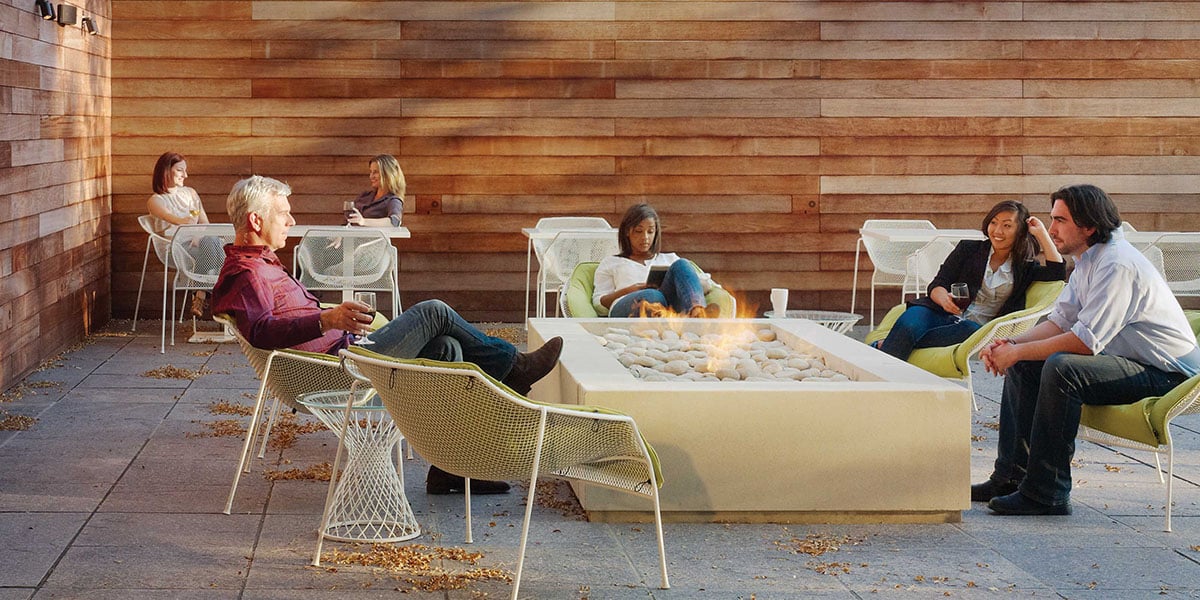 The need for Alternative Workspaces
Now, as 'hybrid working' is taking hold it seems offices are going to become more creative, meeting and cultural hubs rather than destinations for heads-down work.
And it's exactly the qualities of the 'third space' that office designers need to harness to make this happen.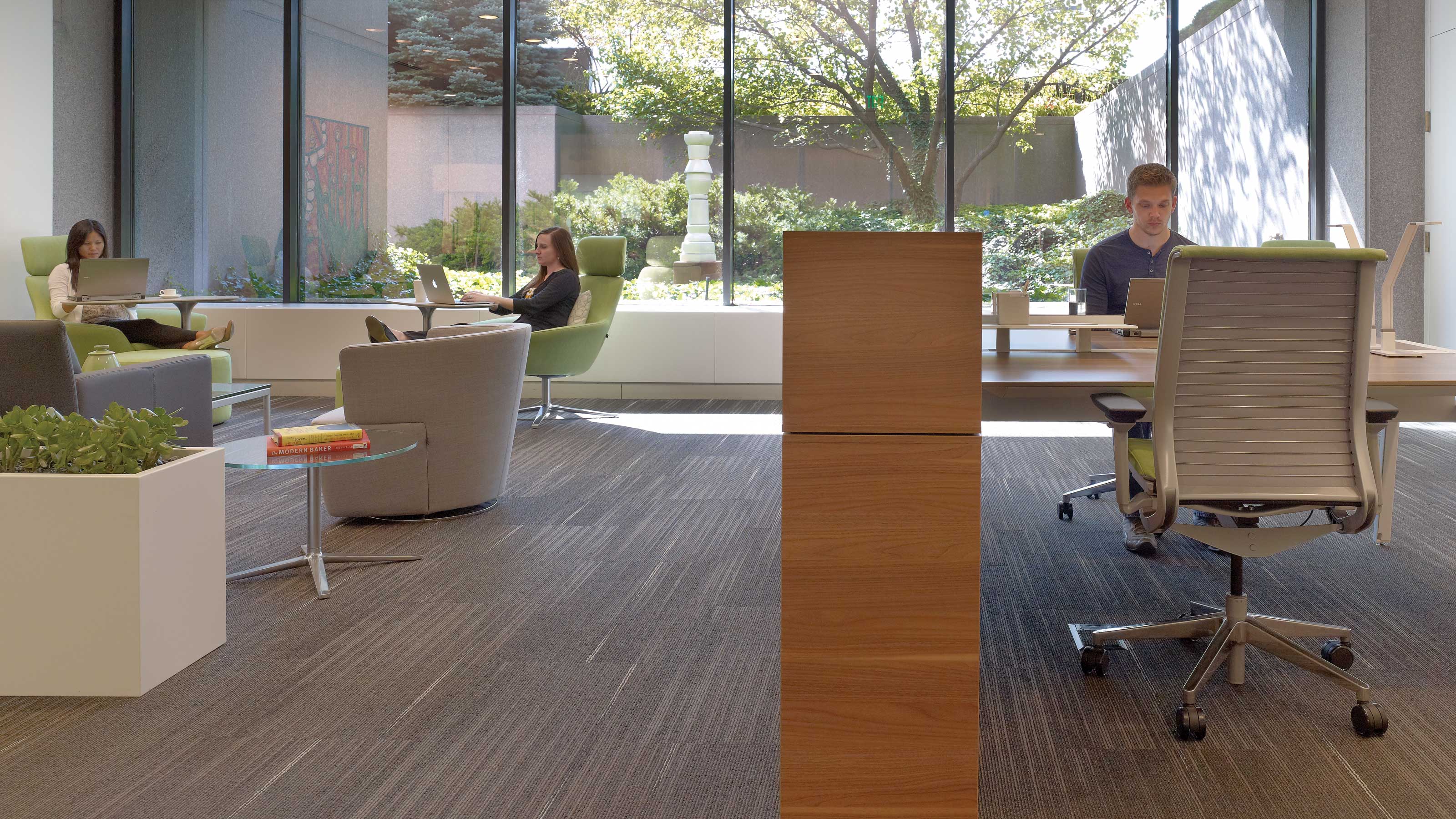 But inspiration for this is going to lie more in the world of hospitality than the old corporate design solutions.
The office as a hub and a haven
Workers need office spaces that are 'nourishing destinations' - places where we can go for specific experiences rather than for the 'daily grind'.
These are locations (such as Oldenberg describes) with fewer of the formal 'barriers' of the traditional office and where a variety of connections and work postures are possible:
Where we can meet familiar faces
Where we can connect and create
Where different configurations of people are possible
Where we can gather as teams
Where we can talk and inspire each other
Where serendipitous encounters are possible
Where we can 'disappear' into an armchair for an hour or two
Where hierarchies are forgotten
Where we can be playful
The workcafe - a classic third place
Steelcase's classic work cafe is a great example of an office being reinvented to support just these kind of aspirations.
"With a bistro ambience and high-functioning work settings, it's immediately become a destination of choice throughout the day for building residents, and mobile and visiting employees."
Here, different meeting spaces are clustered around food outlets from which more or less formal and informal work activities can spin out and happen as required.
If necessary workers can lose themselves in quiet study and lounge areas - but re-emerge into a central hub to re-connect with colleagues when they need to:
"The WorkCafé supports almost anything employees want to do – catch up on work, catch up with colleagues, catch up on news and, of course, eat. There are a variety of spaces, including open and closed meeting spaces, areas that accommodate stand-up, sit-down or perch postures as well as indoor and outdoor options. Choices range from places designed for focus to an open lounge with a Starbucks and a stand-up bar for quick, passing-by connections."

The Worktel - the next step?
And latterly even more radical concepts like the Worktel (a hybrid office and hotel) building on the workcafe concept have begun to gain currency:
"Representing the hybridisation of the office and the hotel, the Worktel is a space for people to work, play - and stay. Socially focused lobby spaces equipped with flexible workstations will sit alongside areas designed for impromptu team huddles and fully private rooms. Hospitality will run through these spaces, providing workers with food and drink options throughout the day, and thought-provoking entertainment in the evenings."
What's it all about?
As Beatriz Gonzalez, Interior Designer at Scott Brownrigg, explained to us last year, the desire to rethink workplaces in this way, is a way of keeping relevant in a world of competing attractions:
"We've seen more companies wanting to create experiential spaces for their employees. In hospitality, people go to hotels or travel to get an experience. And organisations want to offer a similar experience for their employees. By experiential spaces, I mean lots of immersive environments; spaces for stimulation, for concentration, tranquillity, and re-energising environments."
Alternative workspaces, modelled on third space thinking are at the heart of much of Post-Covid office design. As the BBC reported earlier this year, PwC is spending £75m to redesign their offices with hospitality and cafe inspired meeting areas to encourage collaboration when staff are in the building.
In a world where we're in hybrid teams more of the time - designs like this are making the moments when we can all come together in our shared workspaces more celebratory, significant and purposeful.