Workers have never been more aware of what they want from the workplace. And many desire a better experience than the one they left at the start of the pandemic.
For organisations wanting to bring people back to the workplace, employee health and wellbeing needs to be at the top of the agenda. And not just from a safety standpoint.
Steelcase research highlighted five critical employee needs that will change the overall work experience:
Safety
Belonging
Productivity
Comfort
Control
And the WELL Building Standard provides a framework to reinforce the adoption of these principles.
The WELL Building Standard - putting health and wellbeing first
"The WELL Building Standard is a vehicle for buildings and organisations to deliver more thoughtful and intentional spaces that enhance human health and wellbeing."
The WELL Building Standard, first launched in 2014 by the International WELL Building Institute (IWBI), was the world's first building standard to focus on enhancing people's health and wellbeing through the built environment.
Now, at a time where organisations are focused on creating a better workplace experience for their people, its relevance is even more apparent.
The latest version of the WELL Building Standard - WELL v2 - officially launched in September 2020. The performance-based rating system draws on expertise from a diverse community of WELL users, practitioners, public health professionals and building scientists around the world.
WELL v2 is centred on 10 concepts that impact human health and wellbeing:
Air
Water
Nourishment
Light
Movement
Thermal Comfort
Sound
Materials
Mind
Community
So how can the concepts outlined in WELL v2 help organisations to meet the critical needs of employees as they return to work?
What can you learn from these concepts to create a better workplace experience for your people?
Safety
People returning to the office need to be safe and feel safe.
Air quality is one of the most important safety considerations for organisations bringing people back to the workplace.
Covid-19 may have brought it to the forefront, but air quality has been impacting worker sickness for years.
Building materials, furniture and fabrics can emit volatile organic compounds (VOCs) into the air. Inhaling these air pollutants can lead to a variety of negative short and long-term health and wellbeing outcomes, from nausea, fatigue and headaches to respiratory and cardiovascular disease.
Formaldehyde is one particularly concerning VOC that is often found in foams, glues, paints and treatments used during the production of office furniture.
The WELL Air concept seeks to promote clean air and minimise exposure to harmful contaminants in order to maximise benefits to health and wellbeing.
Key features of the WELL Air concept include:
Air Quality - Buildings must provide acceptable air quality levels, as determined by public health authorities
Ventilation Design - Fresh air from the outside must be brought in through mechanical and/or natural means in order to dilute human and product-generated air pollutants
Enhanced Supply Air - Buildings should use supply air that is not recirculated or that is treated with carbon filters (that can remove VOCs and ozone from the passing air) and/or hepa filters (which can remove virus particles to prevent transmission)
The WELL Materials concept also advocates the use of materials and furniture with low or no VOC emissions to prevent worsening air quality.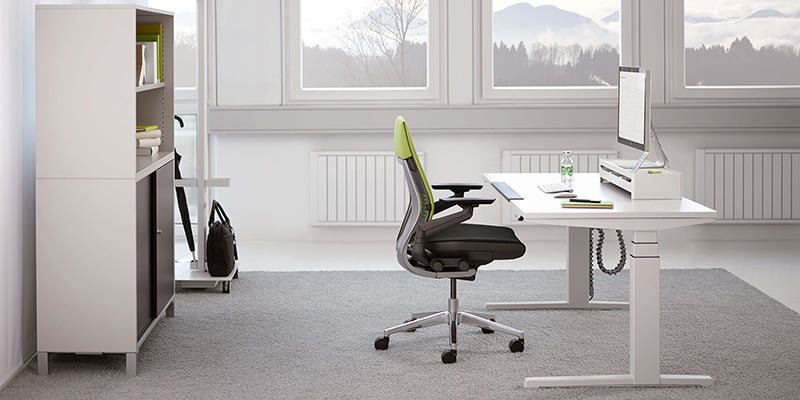 Belonging
The need to belong is hardwired in our DNA. Covid-19 has left people feeling isolated, and the need to feel part of a community at work has never been more important.
What's more, people feeling part of a community is a top predictor of productivity, engagement and innovation.
The WELL Community concept aims to build a culture of health that accommodates diverse needs and establishes an inclusive, engaged community of workers.
Creating a workspace that enables everyone to feel a sense of belonging involves creating spaces that work for all.
This requires having a range of spaces to support how individuals want to work based on their personal preferences.
Creating spaces for individual work within an open-plan setting, with acoustic screens and barriers, gives those who prefer to work in a quiet and private place just what they need - whilst still enabling them to feel connected to their colleagues.
Of course, spaces that foster social interaction, such as the work cafe or kitchen and informal zones with relaxed seating, will also be key for creating a community feel.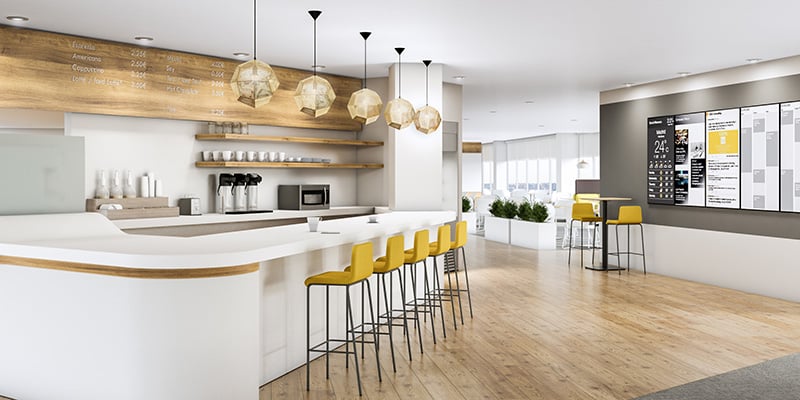 Productivity
Returning to the office, workers need spaces to support both individual focused work and collaboration.
But to encourage people back to the office, these areas need to be higher performing than they were before.
The WELL Mind concept encourages the use of nature and design that 'inspires human delight'. Integrating biophilic elements such as plant life, for example, has been linked with decreased levels of depression and anxiety, as well as increased attentional capacity and psychological wellbeing.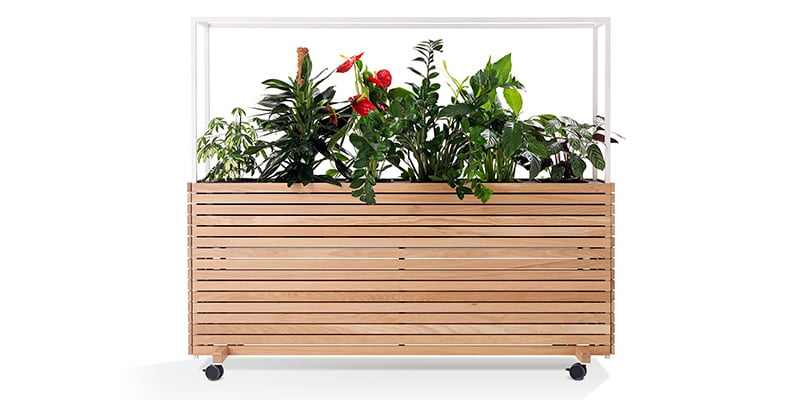 The WELL Light concept aims to provide a lighting environment that positively impacts productivity. For example, positioning workstations near windows increases daylight exposure. The concept also promotes developing a lighting strategy that considers the age of workers and the tasks conducted.
Other WELL concepts, including Air, Materials, Sound and Thermal Comfort, also promote strategies for improving workers' productivity levels.
Comfort
Workers are more aware than ever of their physical, cognitive and emotional needs for comfort. They know what they need to feel good. And they expect organisations to meet those needs when they come back to the workplace.
Ergonomic discomfort, in particular, is a common issue many workers have experienced working from home in less than optimal setups.
The WELL Movement concept aims to promote movement and discourage sedentary behaviour. It highlights the importance of adjustable workstations for maximising comfort and reducing musculoskeletal disorders.
WELL v2's Ergonomic Workstation Design feature specifies that at least 25% of all workstations should be adjustable for both seated and standing work, through one of the following:
Manual or electric height-adjustable work surfaces that provide users with the ability to customise workstation height at both seated and standing positions
Supplemental solutions (e.g. stand) that allow all or part of the work surface, monitor and primary input devices (e.g. keyboard, mouse) to be raised or lowered to seated or standing heights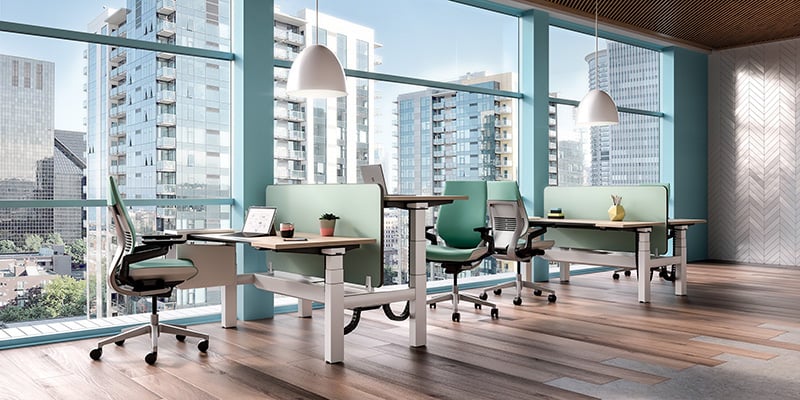 The WELL Thermal Comfort concept aims to provide a 'maximum level of thermal comfort' through improved HVAC system design and control and by meeting individual thermal preferences.
Many of the other WELL v2 concepts also reinforce adoption of measures to improve worker comfort, including:
Air - Ensuring access to fresh, outdoor air through windows or recirculated air treated with a carbon filter
Light - Choosing appropriate light fixtures for the space to manage glare
Sound - The use of acoustic materials that absorb and/or block sound, e.g by installing acoustic screens and barriers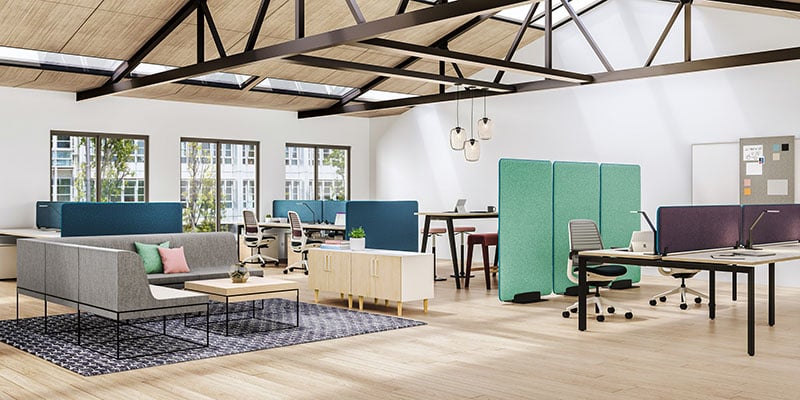 Control
Working from home has given workers more autonomy than they've had before. They can choose to work from the sofa, the garden, or a dedicated office space.
This level of control and flexibility isn't something they'll be willing to give up. Workers will crave this same level of control over their environment in the office.
WELL v2 promotes a number of features that help to increase a worker's control over their environment:
Air - Operable windows allow people to increase the supply of outdoor air as and when they desire
Lighting - Innovative lighting strategies, including the customisation of a worker's immediate environment, can contribute to their satisfaction with the space
Movement - Ergonomic workstations and chairs with adjustable features allow workers to set up their environment to meet their own personal preferences
Thermal Comfort - Implementing individual thermal control devices, such as user-adjustable thermostats, desk fans and chairs with a mechanical cooling system, help to support individual thermal preferences
Summary
The Covid-19 pandemic has provided organisations with an opportunity to create better workplace experiences for their people. The companies that put the health and wellbeing of their employees at the forefront when designing and furnishing their workplace will be more likely to thrive. Regardless of whether you wish to get a rating for your project or not, WELL v2 provides helpful guidance and a framework for making positive change.