Just as workplace design has changed dramatically since the turn of the 21st century, so has hospitality design. Hotels and restaurants have shifted their focus from conveying their brand to designing more inspiring and memorable spaces for their guests.
And as modern businesses follow suit and shift their focus from the employer to the employee, the trends and concepts synonymous with hospitality design are also filtering into our workspaces.
The rise of hospitality-driven design
Just as hotels and restaurants aim to create an experience for their guests, organisations are looking to create a better experience for their employees.
This shift in perspective comes as organisations attempt to attract and retain top talent in an increasingly competitive market and amongst rising employee expectations of what the workplace should be.
As Beatriz Gonzalez, Interior Designer at Scott Brownrigg, explains;
"We've seen more companies wanting to create experiential spaces for their employees. In hospitality, people go to hotels or travel to get an experience. And organisations want to offer a similar experience for their employees. By experiential spaces, I mean lots of immersive environments; spaces for stimulation, for concentration, tranquillity, and re-energising environments."
So what are the hospitality trends inspiring workplace design?
Connection to the local culture - making the most of locality
One of the biggest trends in hospitality today is regional-based design or locality, and it's emerging in the workplace too.
It wasn't long ago that hotel interiors looked the same wherever you were in the world. It wouldn't matter if you were in Paris, Hong Kong or Chicago - the space would feel exactly the same.
But now, hotels are offering experiences specific to their location. And this connection to the local area is extending to the workplace too.
Tim Hookham, Associate Director & Interior Designer at AXIS Architecture, predicts we'll start to see more workplaces making the most of the locality in 2020;
"There was a stage where you could go into any office anywhere in the world, and the meeting rooms would be named Hong Kong, Dubai and Chicago. They weren't necessarily named Barnsley, Wakefield and Shipley - the space wasn't about the people and where they work. But there's been a real shift in recent years towards creating your own culture. People are proud of where they're from, and I think we'll start to see that much more in office environments."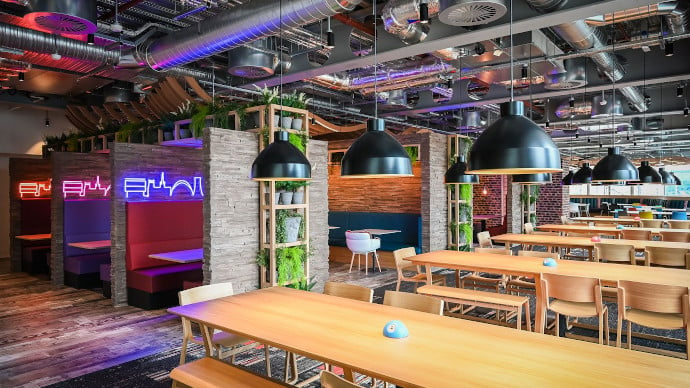 HSBC Grosvenor House in Sheffield features a nod to the city's skyline
Biophilic design - inspiring spaces
In the hotel sector, bringing the outdoors in is just one way to create a more inspiring space for the bright-eyed and curious traveller.
In a bid to compete in the rising experience economy, hotels began to move beyond just vases of flowers to create entire atriums and living walls in their spaces.
And workplace design has followed suit, with biophilic design being used to spur productivity, creativity and wellness in the workplace.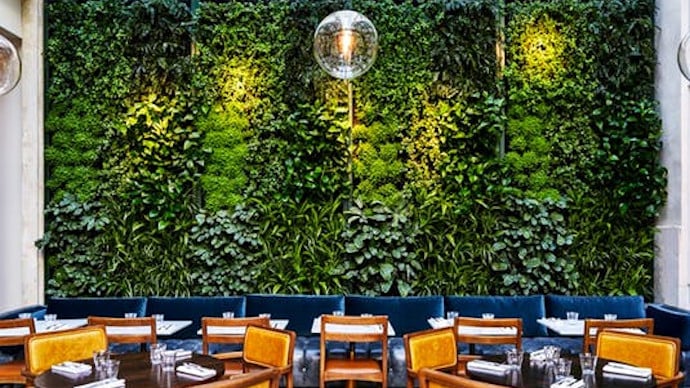 The living wall in the restaurant of The Hoxton, Paris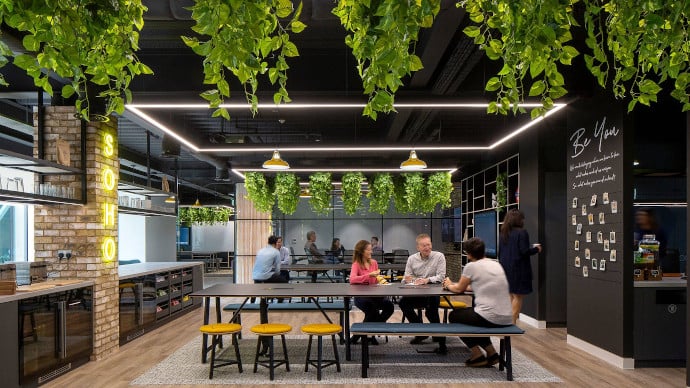 Biophilia is a prominent feature of this contemporary workplace for technology company ServiceNow
Welcoming reception - complete with concierge service
Hotels have always placed high importance on creating a welcoming and pleasant reception area for guests. After all, first impressions count.
But now, hotels are doing even more to secure that positive first impression. Some are trying out seated check-in, where a host sits with a guest in the comfortable lobby and checks them in using an iPad. They may even be offered a drink or a snack.
This trend is beginning to emerge in the workplace too. The office receptionist is becoming more like a concierge who is there to help, answer questions and get employees set up within the agile workspace.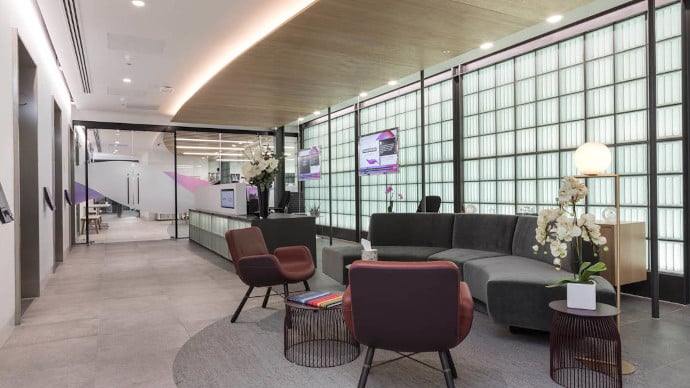 The reception at global Fintech leader, Finastra, is a welcoming space with comfortable seating
Social hubs - bringing people together
"Over the next decade, designers and architects will create hospitality-inspired workplaces that bolster workers' expectations of convenience while satisfying their innate human desire to feel part of, and identify with, a community."
Just as hotels have lobbies, bars and restaurants to encourage connection and socialising, the same idea has been implemented in the workplace to promote collaboration and more social connection.
Breakout areas, collaborative zones and wellbeing areas in modern offices foster greater interaction that strengthens bonds and prompts innovation. These design trends have deconstructed the traditional office space to create a stronger sense of community and belonging.
Co-working spaces are an obvious example. Co-working spaces emphasise community and creativity, and we've seen how they've influenced corporate workplaces in the last few years.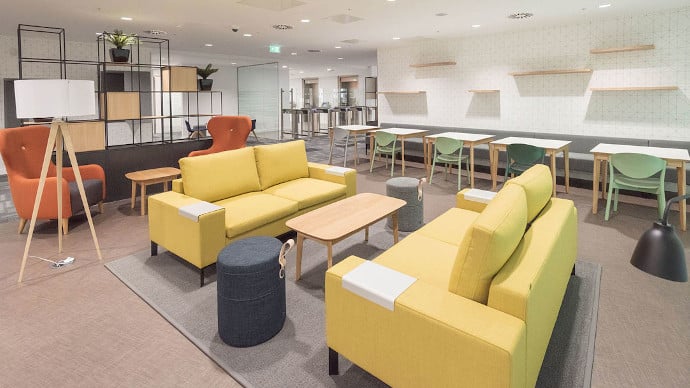 The breakout space in the offices of this UK bank brings workers together and offers different seating options to suit their shifting needs
Lo-co working is predicted to be the next step. Perth company My Hustle turns small bars into casual weekday co-working spaces. And according to the Workplace Future report;
"By 2030, Lo-co workspaces will be dotted up and down local high streets, sitting both alongside and inside stores and cafes too, providing the Fluid Workforce with flexible, community-based working solutions."
Worktels - hybridisation of the office and the hotel
"Representing the hybridisation of the office and the hotel, the Worktel is a space for people to work, play - and stay. Socially focused lobby spaces equipped with flexible workstations will sit alongside areas designed for impromptu team huddles and fully private rooms. Hospitality will run through these spaces, providing workers with food and drink options throughout the day, and thought-provoking entertainment in the evenings."
We're seeing the lines between hotel and workplace become increasingly blurred, and Worktels take this to a whole new level.
Take hotel-chain The Hoxton's new workspace, for example. They've created two co-working spaces-come-hotels in Chicago and London. The WorkingFrom_ building in Southwark is home to over 700 desks, interspersed with meeting rooms, kitchens and hotel rooms.
Over the last few years, we've become accustomed to walking into a hotel and seeing people dotted around the lobby or cafe areas with a laptop in front of them. Worktels simply formalise how people are already behaving.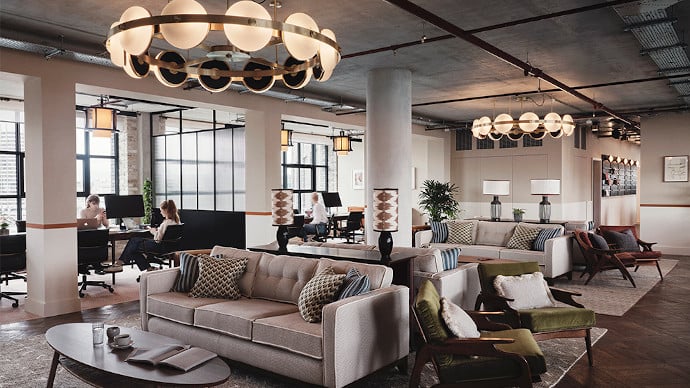 An image from The Hoxton's WorkingFrom_ building in Southwark
Summary
There was a time when hospitality design was more exciting and alluring than its counterparts in the corporate world. But as organisations increasingly focus on attracting and retaining the best talent and promoting the wellbeing of their staff, they are increasingly drawing on influences from the world of hospitality.
But it works both ways; hospitality and workplace design both influence each other, as Worktels demonstrate.
Both offices and hotels are being reimagined as multipurpose, agile spaces that suit the shifting needs of the people who use them.