This Recycle Week, we share tips on recycling your unwanted office furniture and how IE can help you to achieve your sustainability goals.
The theme for Recycle Week 2022, which runs from 19th to 25th September, is 'Let's Get Real'. The event aims to challenge misconceptions around recycling and improve recycling behaviours.
As a nation, we seem to be getting better at recycling than we used to. According to WRAP, 52% of us recycle more than we did a year ago.
But we've still got a way to go. The UK currently ranks 18th on the Global Waste Index, which considers the amount of waste generated and how much is recycled, incinerated or sent to landfills.
There's still too much office furniture ending up in landfill
Every UK business is legally required to dispose of their waste responsibly, so naturally, when refurbishing your office, what to do with your unwanted furniture will be a point of discussion.
The trouble is, too often, unwanted desks and chairs end up in landfill. The latest figures indicate that as many as 1.2 million desks and 1.8 million office chairs end up in UK landfills each year. In Europe as a whole, it seems, 80-90% of all furniture ends its life in this way.
And it's not just the environmental impact organisations disposing of unwanted furniture in this way need to worry about. There are the costs of corporate waste disposal too. And in the future, governments will be more likely to fine and sanction companies sending more equipment to the dump.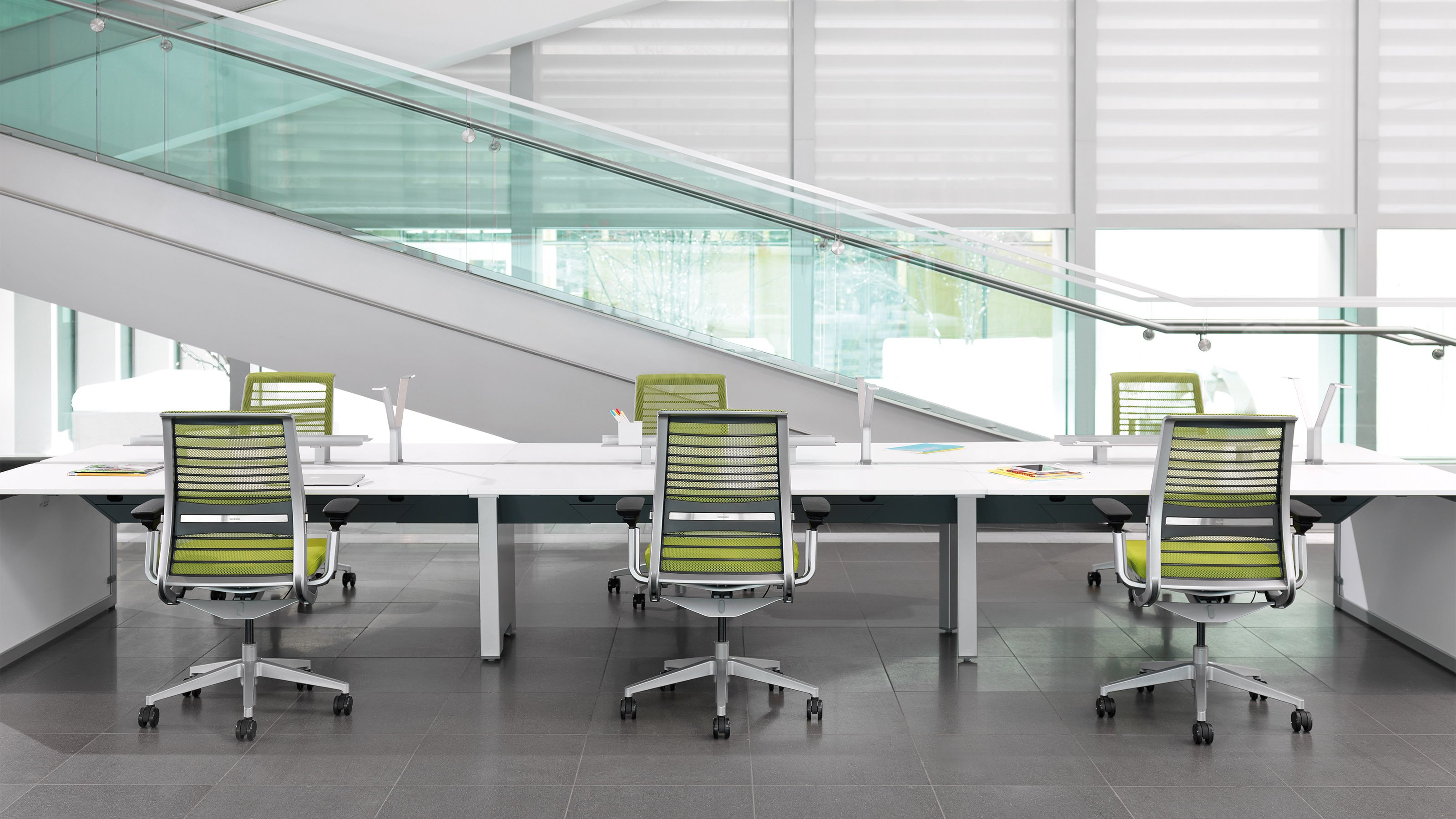 Getting rid of your unwanted furniture: what are your options?
Let's imagine you're downsizing your office or switching up your layout from rows of desks to a mix of more eclectic workspaces to support a range of tasks and activities.
You now have 100 task chairs that you no longer need.
So, what are your options?
Re-use - Could re-use the chairs elsewhere across your real estate? Could another of your offices benefit from them? Or could you donate them to your employees to use when working from home?
Repurpose - Could the chairs be used elsewhere in your office? You may not need 100, but maybe you could use 30 of them. Perhaps they just need a bit of love. You could reupholster seat covers or replace old tired wheels and have them looking as good as new.
Re-sell - You might not need those chairs, but could someone else benefit from them? Your unwanted items could be re-sold or even donated to release the value and real estate space they occupy. The carbon will be offset because that someone didn't have to buy new chairs, each of which would have created another 72 kilos of CO2 (the average carbon emissions of a task chair).
Recycle - And of course, there's the option to recycle your unwanted assets. This involves stripping them back to their component parts, recycling materials and introducing them back into the supply chain (e.g. through remanufacturing).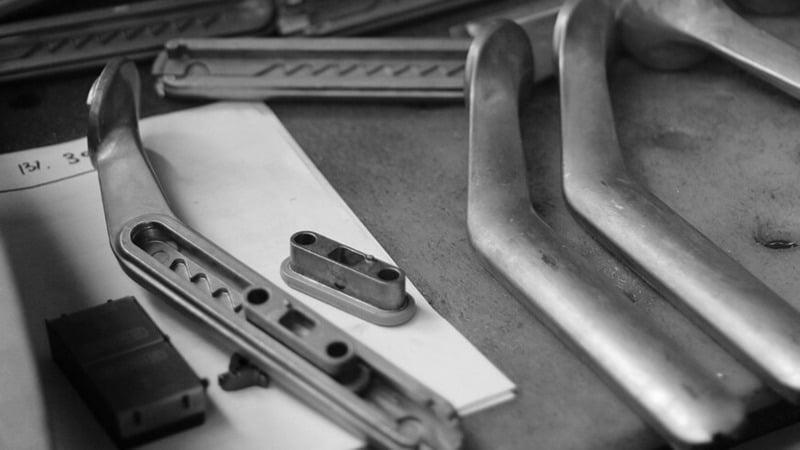 The best option for you will depend on the needs of your specific project, but ultimately, there is no reason for your unwanted office furniture to end up in landfill.
Companies today are being judged on their sustainability credentials. And those aiming to achieve environmental building certifications will need to take extra care as these assessments often include criteria around furniture recycling.
For example, SKA specifies that at least 80% of all removed chairs must be re-used either on or off-site or recycled through a closed loop scheme (e.g. manufacturers take back scheme). The remaining 20% must be diverted from landfill.
How to recycle your unwanted office furniture
Some furniture clearance companies can take care of recycling your office furniture for you. They will take the assets off your hands, and any that can be sold on will be. They will then recycle the materials from any furniture not sold to avoid anything going into landfill.
An office furniture consultancy can also take care of this for you. The benefit of using a consultancy over a furniture clearance company is that they can help you with your entire office refurbishment. If you're already working with a consultancy, it makes sense to get them to take care of it for you, so you don't have to employ a separate third party.
How IE can help you
At IE, we help our customers achieve their sustainability goals on every project we undertake. Every project has different requirements, but we take a common approach to maximising the re-use of any existing furniture assets first, keeping them within the circular economy if at all possible.
And when new furniture is required, our extensive market knowledge means we can source the most appropriate products to suit your needs.
Some of the services we can help with include:
Furniture audits - We will measure, track and assess your current furniture to see what assets still hold value and can be re-used, refurbished, resold or donated, and what assets need to be recycled.
Adapt and re-use - Tired assets can be cleaned, refurbished, or reinvented to look new and serve different purposes. It's great for the environment and can save you money.
Leverage the value in your surplus furniture - We can buy back the used furniture from you to offset project costs. Or, surplus assets can be stored, donated or recycled to release the value and real estate space they occupy.
Sustainable procurement of new furniture - We will find the perfect furniture to achieve your sustainability, design and budget goals. We have access to more than 300 suppliers with a growing database of products graded by certification and carbon footprint.
Reducing packaging - We can also help to reduce the amount of packaging bought to site when refurbishing your office. We do this by getting suppliers to take back and re-use packaging, having them complete direct deliveries, having products delivered un-assembled, and carrying out a packaging review.
Get in touch if you'd like to learn more about any of the above services.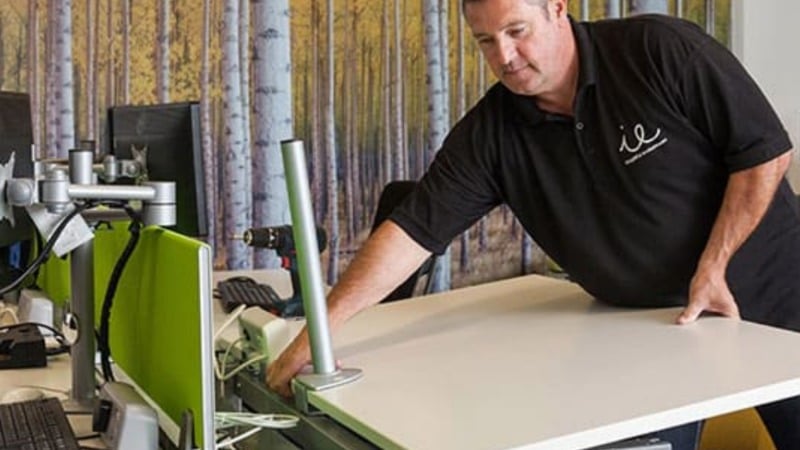 Thinking ahead - tips for buying new furniture
When buying new furniture for your office and evaluating items, it's a good idea to think about the following:
Can it be recycled at the end of its life and re-introduced back into the supply chain?
Can it be effectively maintained (cleaned, replaced with spare parts, reupholstered etc) to reduce the frequency of replacements and extend its lifespan?
Is it made from recyclable materials?
Does it come with minimal packaging waste or packaging made from recycled materials? How will you recycle this packaging?
At IE, we can identify the products that meet these requirements for you. Choosing sustainable office furniture solutions can, at times, be a minefield. With so many products available, it can be challenging to decipher between what is truly a sustainable option and what is clever marketing. Working with us will give you peace of mind that your products meet your sustainable criteria and work for your space and your people.
With manufacturers and suppliers doing more to facilitate responsible decision-making to drive less damaging choices, finding suitable furniture at the right price points for your budget is becoming more and more achievable.
Many office chairs today are designed with recycling in mind, and one such example is the Think chair from Steelcase. The Think chair has been designed to be quick and easy to disassemble in just 5 minutes with common hand tools. Plastic parts are also clearly labelled, making it easy to identify pieces for recycling.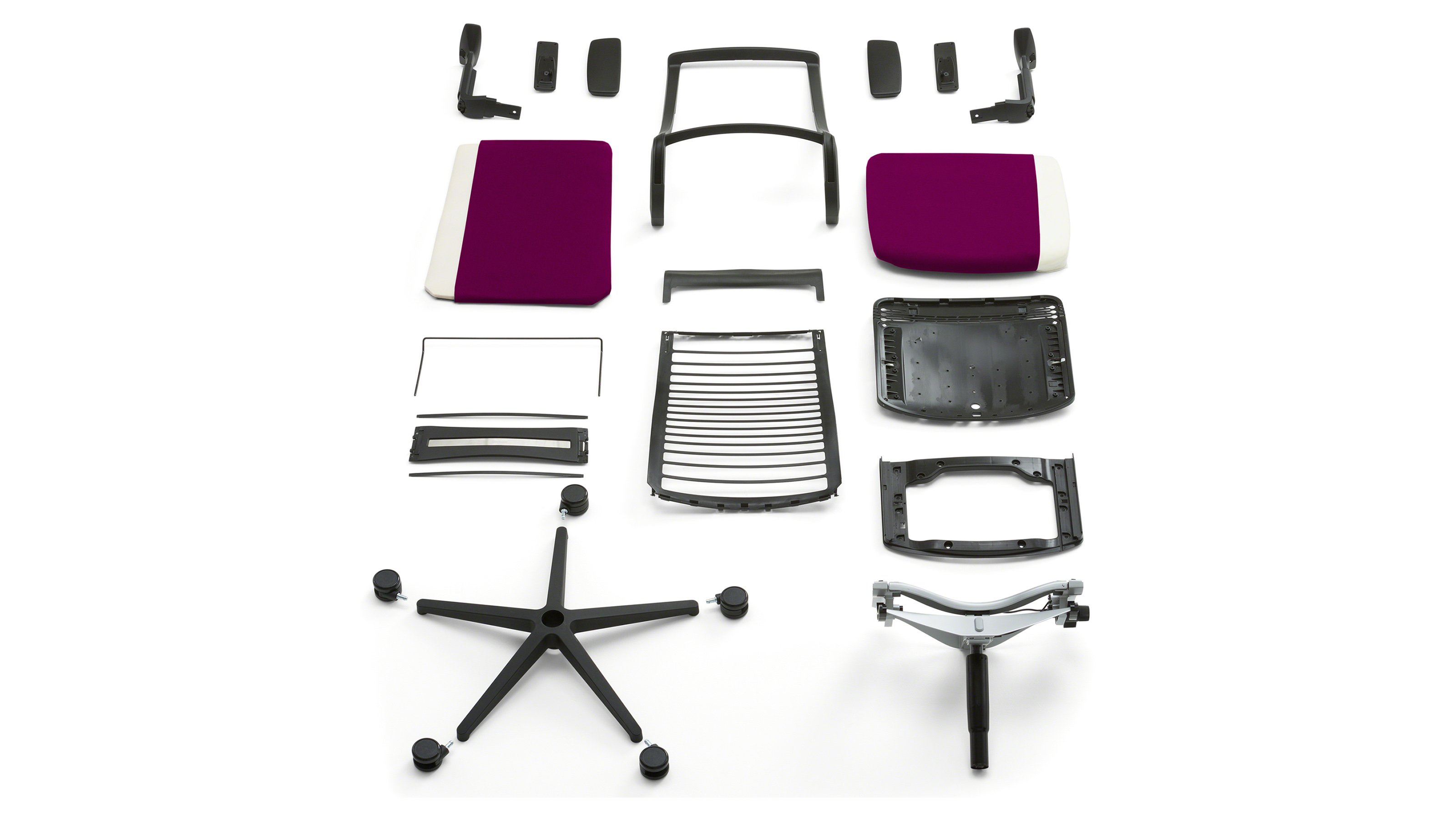 Summary
There are many benefits of recycling. It can help reduce your carbon footprint, but it also helps reduce the need for harvesting raw materials, saves energy, reduces greenhouse gas emissions, prevents pollution, and more.
Taking a proactive approach to re-using and repurposing office furniture where possible, and recycling those assets that can't be given a second life, will benefit both the environment and your business.
Get in touch to find out more about how we can help you recycle your unwanted office furniture and help you to meet your sustainability goals. You may also be interested in reading about our commitments to sustainability on our ESG Hub.