Sustainability is fast becoming a priority factor for organisations refurbishing or updating their office space.
But with so much noise in the market, procuring truly sustainable products can be overwhelming.
So to help cut through the noise, the IE design team share their top five tips on how to procure office furniture sustainably.
1. Reuse your existing furniture where possible
"Look to your existing office furniture and identify what can be reused or restored. For example, chairs that can be upholstered or parts replaced to bring them back to life."
The most sustainable furniture items are those that already exist. So look to your existing furniture to identify what can be reused or repurposed to contribute to your workplace goals. Tired assets can be refurbished or reinvented to look like new and serve different purposes.
Making the most of your existing furniture is not only great for the environment, but it can also save you money.
An office furniture consultancy can support you by carrying out a furniture audit to assess the condition of the furniture and identify any items that can be reused or repurposed.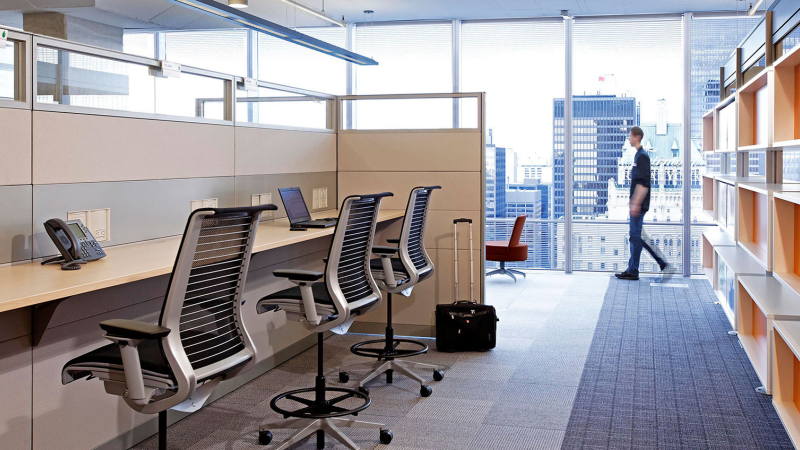 It's also important to think about the reuse potential of any new furniture products you procure. Choosing furniture that can be extended, adjusted or reconfigured to support different kinds of use will ensure they're able to adapt with you as your business needs change and office evolves in the years to come.
2. Consider the material content of new products
"When buying new, look into the material composition of the product and where possible choose items made from natural renewable materials like wood, wool and bamboo."
Looking into the specification of any new furniture items will help you to understand just how sustainable they are.
Here are some things to consider when doing your research:
Avoid furniture made from virgin plastics and choose items with a high content of recycled plastics instead. For example, The Kirn by Orangebox (below) is primarily made from 100% recycled polymer feedstock, a durable, high-quality material that produces 97% less CO2 in its processing than virgin plastics of the same type.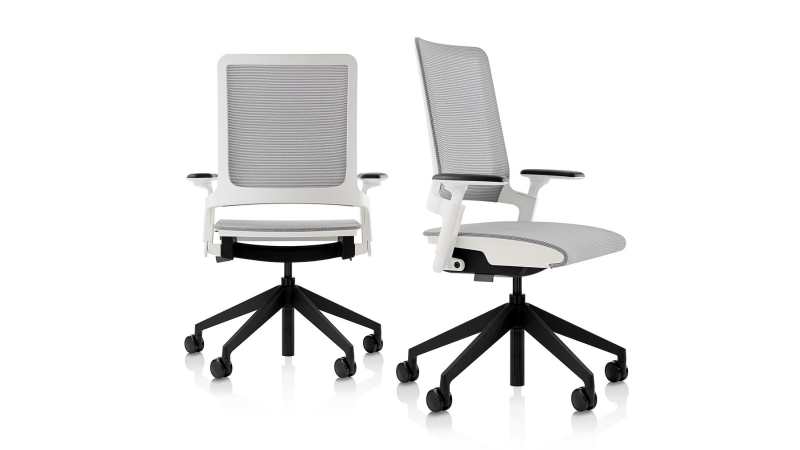 Opt for natural renewable materials like wood, but be mindful that engineered timber like particleboard, MDF and plywood can emit harmful gases during the manufacturing process so it's worth checking with the supplier if they achieve a "low-emitting" target.


The use of environmentally friendly fabrics and upholstery is equally important. Wool has been used as a sustainable material for a long time. As well as being a renewable material, it is also naturally flame retardant and heat regulating, so offers numerous benefits for office furniture. Other natural materials like latex, cotton and hemp are also biodegradable.


In general, it's also a good idea to check out the sustainability credentials of the manufacturer themselves.
Comparing furniture items based on their material content can sometimes feel like a mammoth task. This is where an office furniture consultancy can help.
They will have extensive knowledge of sustainable products from a range of reputable manufacturers and can recommend the most environmentally friendly options for your needs.
3. Check out the recyclability of the product content
"Look into the recyclability of the product content. Ideally, the product will come with an environmental product declaration (EPD) that will provide you with this information."
One of the biggest problems with the 'fast furniture' culture is the amount of waste that ends up in landfill. In the UK alone, millions of office chairs and desks are dumped in landfill each year. That's why it's important to choose products that are made from recycled materials and that can be easily disassembled at end of life and reintroduced back into the supply chain (recyclablity).
If you're looking for a good benchmark to aim for, it really depends on what products you're looking at. Aim as high as possible but for example, one of our customers who had targeted a SKA rating decided on a minimum of 40% recycled content and 90% recyclable content for chairs and 80% recycled content with 100% recyclable content for desks.
Even if you're not looking for accreditation, setting this kind of benchmark will help you when reviewing products.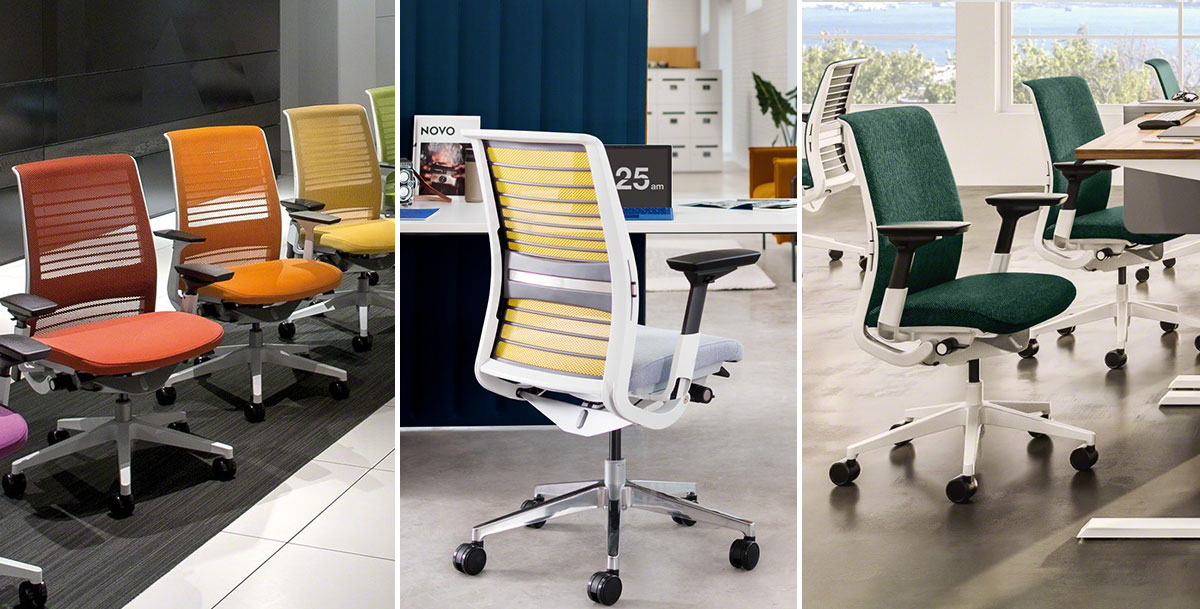 The most important thing is to educate yourself and make sure you know exactly what you're buying. Be aware that just because a product has an EPD, it doesn't mean it's sustainable. It may be that an item is made from just 10% or 20% recycled content, so make sure you read the declaration itself. Your office furniture consultancy can also simplify this process for you.
4. Opt for products with a longer warranty period
"The longer the warranty of the product, the more sustainable it is."
Paying attention to the warranty of office furniture products can help you choose higher-quality items that will last longer and provide more value. Furniture products with a one or two-year warranty can't be expected to last much longer than that period, meaning you'll end up having to fork out again and again. A lifetime warranty, on the other hand, indicates that a product is built to last.
Orangebox products come with extended warranty periods and service plans to encourage responsible use. While Steelcase products often come with lifetime warranties. Parts can be replaced over time, ensuring continuity and adaptability as your workplace needs change and evolve.
Ultimately, the average task chair generates 72 kilos of CO2 during manufacturing. Having to replace it more frequently repeats those emissions in a vicious cycle. But by choosing items built to last, you can significantly reduce your carbon footprint.
5. Review the quantities
"Only buy what you really need."
Finally, be sure to consider how many products you actually need. Do you really need 500 chairs? Do you need all those desks? Spaces can feel cramped when you procure over and above what's required.
If you're worried about giving your workers choice and control, look for flexible furniture solutions that individuals can adapt to suit their working preferences and task requirements throughout the day.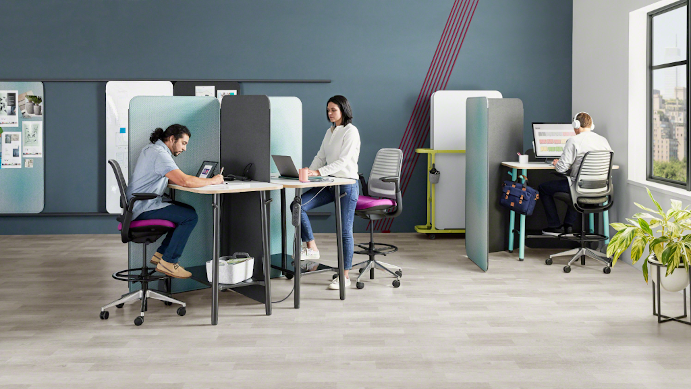 An office furniture consultancy can help you plan your space and identify the furniture you need to create an optimal workplace for your people.
Working with an office furniture consultancy
Choosing sustainable office furniture solutions can, at times, be a minefield. There are so many products available in the market today, making it difficult to decipher between truly sustainable options and clever marketing.
This is where working with an office furniture consultancy can be really valuable. They will help you to make the most of your existing assets and with their extensive knowledge of the market, offer product recommendations that both meet the sustainability criteria and work for your space and your people.
With a dedicated team to guide you through the procurement process, from strategy and design all the way through to delivery and install, you'll have peace of mind that your project is meeting your sustainable requirements.