More than three-quarters of UK employers have embraced hybrid working. This shift has prompted a dramatic change in the way we meet with colleagues. Hybrid meetings attended by both in-person and remote participants have become the new normal.
As many of us have experienced over the last few years, hybrid meetings are harder to get right than face-to-face meetings. But with this new way of working here to stay, we need to be able to conduct hybrid meetings well.
In this blog post, we have compiled 5 hybrid meeting best practices to follow.
1. Make remote participants life-sized
The biggest challenge with hybrid meetings is ensuring equal engagement for both remote and in-person attendees. It's easy for remote participants to feel like second class citizens if most of the team is there in person. And those in the room can get caught up in conversations and forget (unintentionally) about those on the other end of the screen.
To avoid this problem, give remote workers a life-sized presence within the room. Think large screens or additional monitors that display remote participants as life-sized panes within the room.
Solutions include the Steelcase Roam Collection of mobile stands, which easily brings remote participants into the physical meeting space.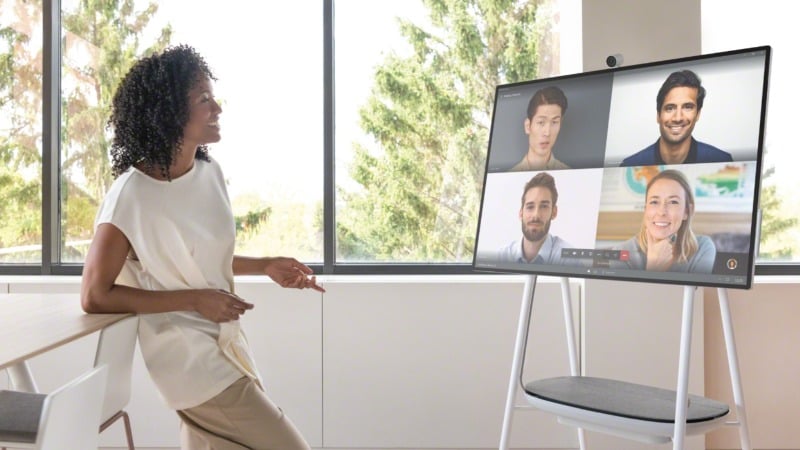 Google's 'campfire' conference room concept also features large wall screens for participants joining remotely so everyone is on the same footing.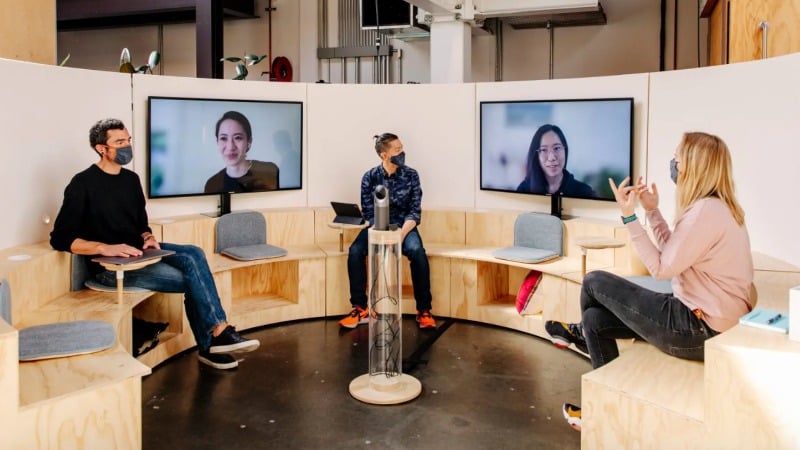 Image source: The New York Times
If possible, try to ensure the voices of remote participants come from the same monitors as their faces. This will make it easier for in-person attendees to interact with them as if they're in the same room.
2. Select a facilitator ahead of time
Managing hybrid meetings is harder than when the whole group is physically in the same place. Assigning a facilitator is therefore especially important when managing meetings with employees in multiple locations.
The facilitator will help to guide the conversation, keep the meeting on track, and ensure remote participants are fully involved. Despite all the best intentions, it's too easy for in-person participants to dominate the discussion. The facilitator can help draw remote attendees in by asking them questions and ensuring their voices are heard and not talked over.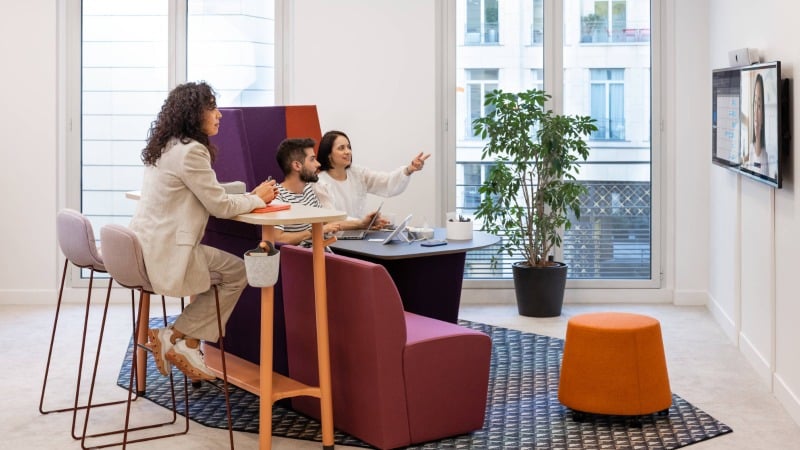 3. Invest in technology
Ensuring engagement is equal across in person and remote participants starts with technology.
"Now more than ever businesses are looking for technology that helps recreate the energy and connection we feel when we're in a room together."

Robin Seiler, Corporate Vice President for Microsoft Devices
New technologies are being introduced all the time to better enable hybrid meetings, from features that improve interaction between remote and in-person attendees to the cameras, microphones and monitors that make it easier to see and hear each other.
Depending on your current setup and needs, it may be that you need better video conferencing technology, better cameras, or more tools to support collaboration, like virtual whiteboards.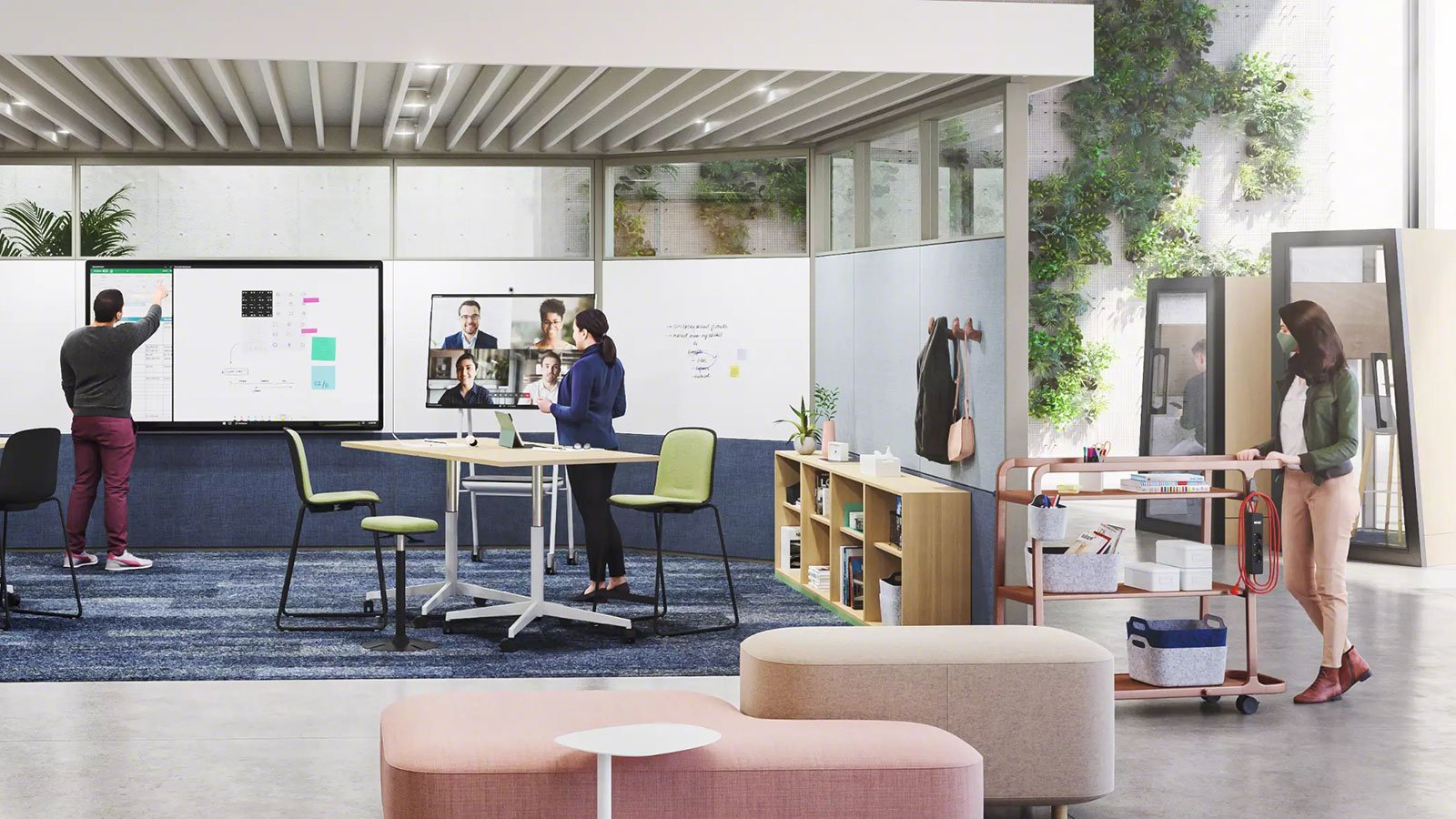 Microsoft has introduced a number of solutions to make hybrid meetings more effective. For example, Teams Rooms allows everyone to be seen, heard, and fully participate from anywhere.
Meanwhile, Microsoft Mesh enables all participants to connect as avatars in immersive virtual spaces. This is just one of many solutions leveraging virtual reality to improve the hybrid meeting experience. We explored this in detail in a recent blog post.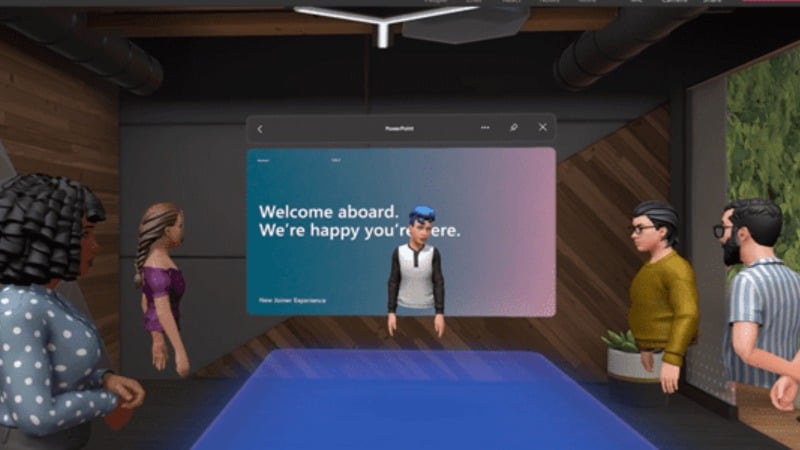 Image source: Tom Talks
Microsoft has also launched conference rooms with curved tables, projection equipment and specialised microphones and cameras that make those in the room feel remote workers are physically there with them and those working from home feel like everyone's remote.
4. Test your setup in ahead of the meeting
There's nothing like a glitch in the sound or a frozen screen to kill the flow of your meeting. So before the meeting starts, test the audio-visual set up to ensure its working for both in-person and remote attendees.
For particularly important meetings, you may want to schedule a 15-minute dry run to ensure remote participants can see and hear everything in the meeting and review any tools and features they'll be asked to use. It's only a brief amount of time and will be worth it if for a smooth and productive meeting.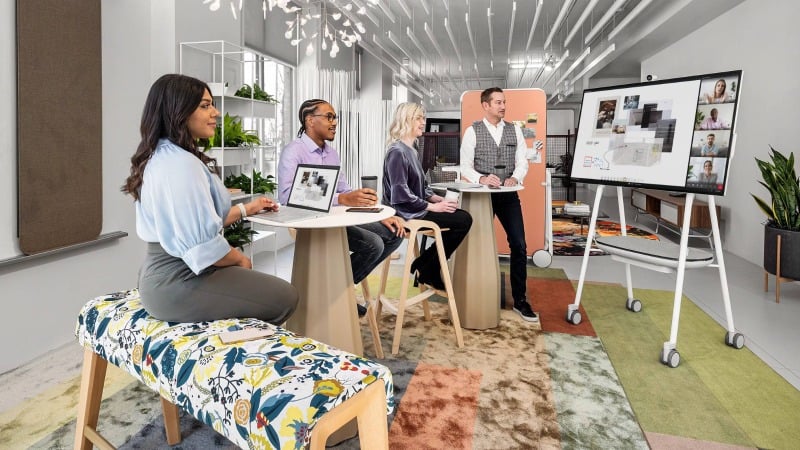 5. Include everyone in everything
Ensuring equal engagement for all participants should extend to break out sessions too. Remote attendees should have access to everything that in person attendees do. If you schedule time for a break out session, use the breakout functions available with most video platforms, including Zoom and Microsoft Teams. And ensure all attendees know how to use them ahead of the meeting.
The same applies when it comes to the tools you use in the meeting. For instance, if you're brainstorming ideas, use a virtual whiteboard system rather than physical flip charts. And if you're discussing something on a screen make sure it is fully visible to everyone. Moveable trolleys like those in the Steelcase Flex collection enable you to move stimuli around so it can be seen by everyone.
Summary
Hybrid meetings have become a permanent part of how organisations function today. By leveraging technology and tools and providing strong facilitation it is completely achievable to create hybrid meetings where all participants feel engaged and valued, wherever they are joining from.