In recent years, many companies across the globe have pledged to become carbon neutral to help tackle climate change. One study found that half of UK businesses are targeting carbon neutrality by 2030.
But now, we're seeing some companies go one step further. Steelcase, Microsoft and IKEA are just a few of the big companies who have announced plans to become carbon negative by 2030.
In this blog post, we explore how companies are planning to become carbon negative, what the carbon negative office might look like, and how you can reduce your business's own carbon footprint.
Carbon negative by 2030
Companies are carbon neutral when the carbon emitted by their day-to-day operations are effectively cancelled out. But to be carbon negative, or 'climate positive', they must remove more carbon from the atmosphere than they emit.
So, how are the likes of Steelcase, Microsoft and IKEA planning to become carbon negative by 2030?
By slashing their carbon emissions and ramping up their use of renewable energy.
Steelcase is using science-based targets to reduce its emissions by half. They've already identified over 40 opportunities, including converting facilities to LED lighting and installing solar panels in some of their locations to produce clean and renewable energy onsite.
Maeve Tropf, Supervisor of Energy, Climate and Renewables at Steelcase says:
"Our targets are aligned with the most ambitious recommendation of the Paris Agreement to limit global temperature rise to no more than 1.5 degrees Celsius. It's important to recognize this is a tremendous undertaking, and we believe setting science-based targets is the most important component of our strategy and translates to a 50% emissions reduction by 2030."
Microsoft has devised an aggressive approach for the next decade to get them to carbon negative status, which includes shifting to 100 per cent supply of renewable energy and pursuing zero-carbon certifications for their Silicon Valley Campus and Puget Sound Campus modernisation projects.
And by 2050, they aim to have removed from the environment all the carbon the company has emitted directly or indirectly since it was founded in 1975.
In a press release, Microsoft said:
"While the world has to hit net zero, those of us who can afford to move faster and go further should definitely do so. That is why today we announce an ambitious goal and a new plan to reduce and ultimately remove Microsoft's carbon footprint."
The carbon negative office
If the future is carbon negative, what might the carbon negative office look like?
The carbon negative office generates more energy via renewable and carbon neutral sources than it needs to meet its own energy demands.
One example is the Powerhouse Telemark office in Norway. The building is highly insulated with a large photovoltaic canopy covering the roof and a south-facing facade which generates 56,000 kilowatts of energy each year. According to the designers, Snøhetta, this means it will produce enough surplus renewable energy to compensate for the carbon consumed by the office over a 60-year lifespan.
Inside the office, there is a mix of spaces to support different modes of work, including traditional enclosed workspaces away from sun-exposed areas to reduce overheating and dependence on artificial cooling. All materials, furnishings and fixtures have been carefully selected to reduce waste.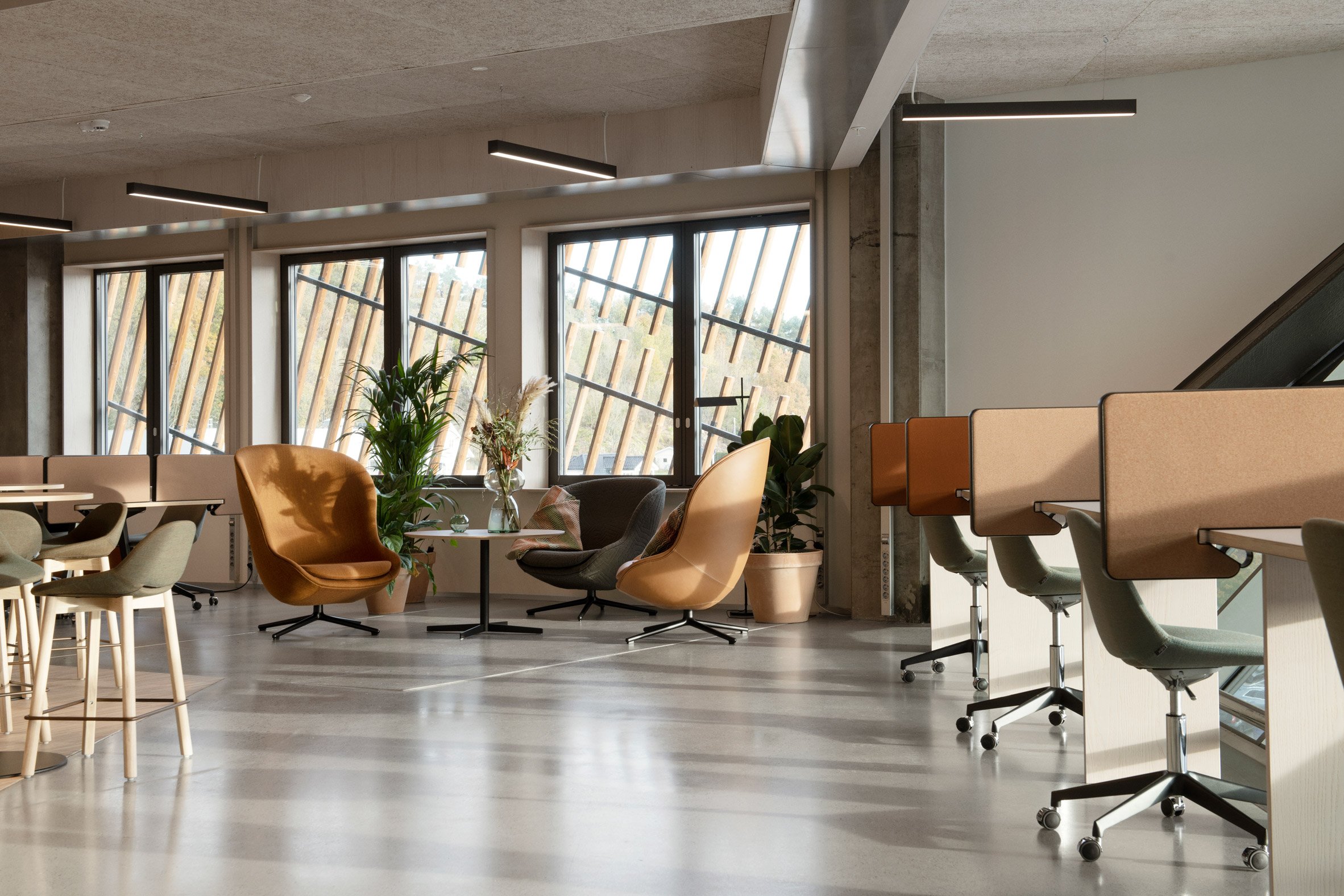 Source: Dezeen
In the UK, Watermead Business Park uses so little energy it has been possible to make it carbon negative by installing photovoltaic panels on the roof.
And architecture firm Fielden Clegg Bradley Studios recently designed a cross-laminated timber office named Paradise, which will be carbon negative.
Carbon negative office furniture
What about carbon negative office furniture? Does it exist?
The world's first carbon negative chair was made with AirCarbon™ - a revolutionary thermoplastic developed by Newlight Technologies. According to the CEO Mark Herrema:
"By using carbon that would otherwise be in the air we are breathing right now, AirCarbon turns everyday goods into products that actually improve the environment."
In 2020, the Connected virtual exhibition for London's Design Museum saw nine designers craft carbon negative furniture for their own home offices. Each design was made from a choice of three sustainable American hardwoods.
London designer Thomas Heatherwick designed a table with planters as legs: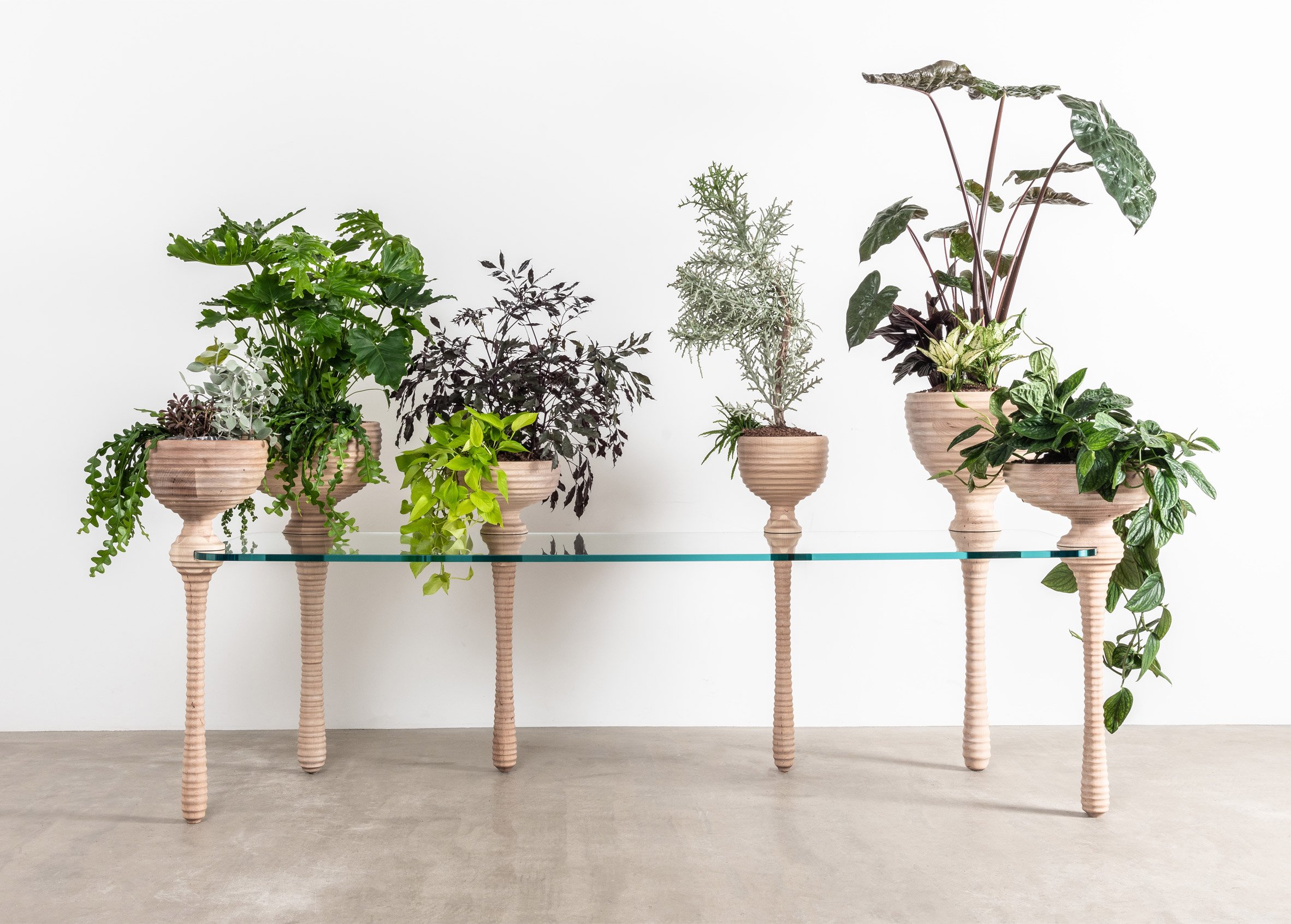 Source: Dezeen
While Sabine Marcelis designed a work-from-home cubicle with bright yellow interior: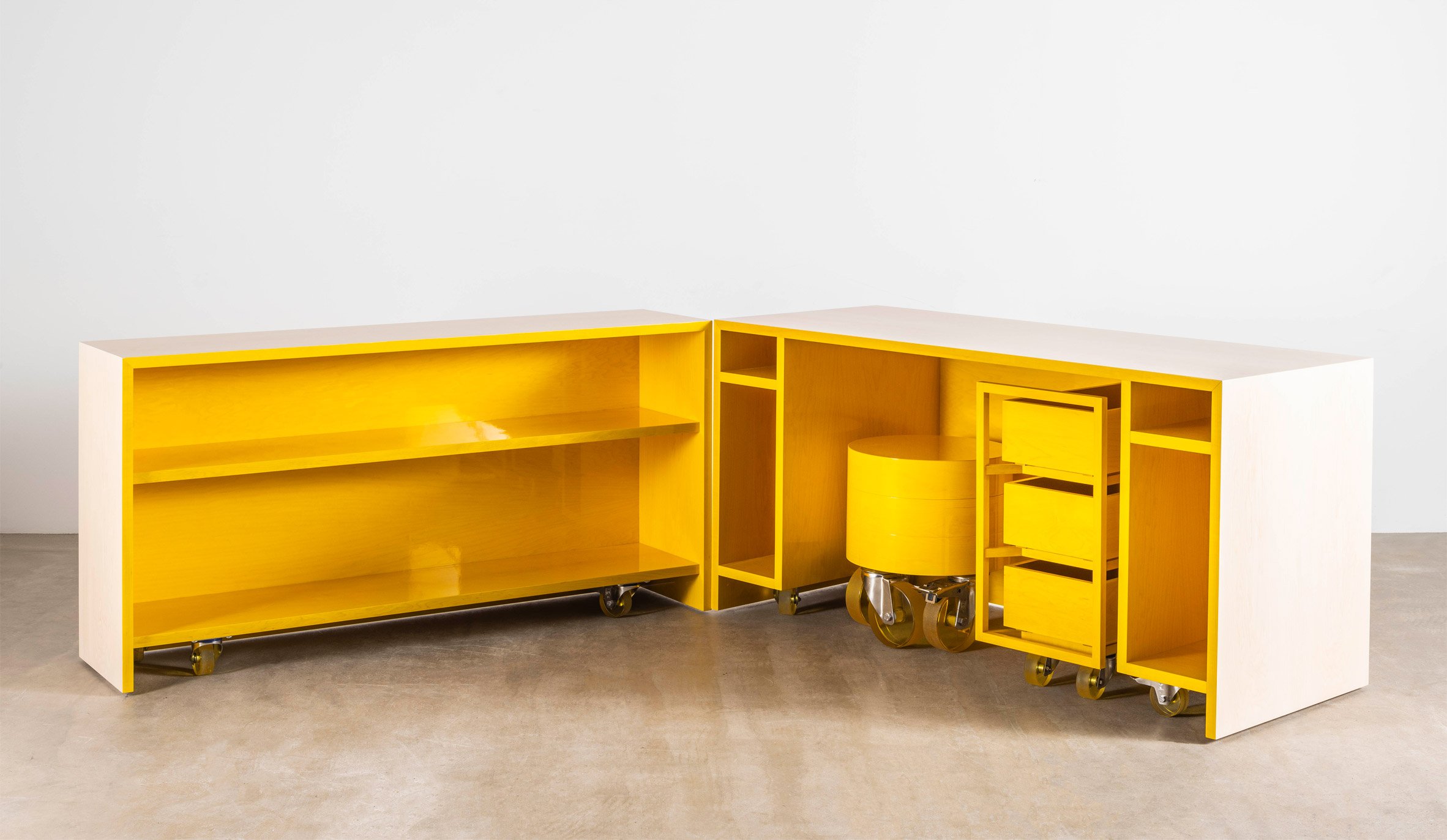 Source: Dezeen
The exhibition commissioners American Hardwood Export Council (AHEC) said:
"When considered as a group, the Connected designs are better than carbon neutral. The total global warming potential (GWP) – often referred to as the 'carbon footprint' – of the nine Connected designs is minus 342 kilograms of CO2 equivalent.

It takes a little over 10 seconds for the hardwood logs harvested to manufacture all the Connected designs to be replaced by new growth in the US forest.

The full environmental Life Cycle Assessments on each of the nine projects prove that these pieces are environmentally sound, going beyond carbon neutrality and leaving a negative carbon footprint."
Reducing your own carbon footprint
Very few companies have the means to take such significant strides in the fight against climate change and pledge to become carbon negative.
But when it comes to choosing office furniture, there are choices every company can make to cut down their carbon footprint and reduce waste.
The estimated carbon footprint for an office task chair is 72 kgCO2eq. So choosing high quality chairs with stronger materials that will have a longer lifespan - rather than a low quality one that may only last 6 months - is one way you can reduce waste.
Office furniture manufacturers are creating more sustainable furniture products that recycle and reuse materials in innovative ways to reduce the carbon footprint.
For example, Steelcase has pioneered sustainable design and build practices, including building products with oak and walnut pieces leftover from other processes ('planked-veneer') that cannot be used in other products.
Here are some things to think about when choosing office furniture:
Can it be recycled? - if a piece of furniture or a component of it cannot be recycled then it could end up landfill which will be damaging to the environment in the long run
What is it made from? - look for products made from recycled materials, that use sustainable wood materials such as timber and bamboo, and opt for fabrics with higher wool content or other natural fibres over man-made materials
How is it packaged? - certain types of packaging are not able to be recycled, such as styrofoam and plastics, so make sure you choose items with recyclable packaging
A world where all companies are carbon negative is a long, long way off. There's a long road ahead even to achieve carbon neutrality. But, it's an exciting prospect. And there are plenty of choices you can make now to help cut down your emissions - ensuring your workplace is as sustainable as possible is one of them.