Choosing the right task chairs for your office is an important decision. After all, your workers' could spend up to 40 hours each week sitting in them.
And with workers increasingly moving around the office to find places to work alone and to work with others, you need chairs that will support them in every activity.
So, where do you start?
Balancing comfort and practicality
First, the basics:
No-one spending a third of their life in the office wants to sit on a chair that causes them discomfort. And research shows that comfortable employees are healthier, more productive and engaged as a consequence.
A good, supportive task chair can prevent back strain, fatigue and discomfort, so ergonomic considerations should always be given priority in selection criteria - particularly for those whose occupations are largely sedentary.
A good chair should have enough cushioning to support the person sitting in it without feeling the base of the chair through the cushion.
But the type of cushioning you choose, should be set against the practical requirement for cleaning and maintenance, plus your ability to do that at the necessary scale.
Fabric, mesh, and leather all offer different comfort and ventilation levels for users, but require different levels of upkeep to be sanitary and presentable.
How will your chosen chair respond to wear and tear? Will that weathering dramatically change its aesthetic appearance or even impede its performance?
Big heavy, squashy swivel chairs in the deepest leather may exude status but are they easy to move around, height-adjustable, and suitable for different kinds of focus and work?
The chair that feels 'just right'.
How comfortable a chair is will often depend on how well it fits the user. And every user is different. Almost all office chairs allow for height and arm adjustments, but these aren't the most important adjustments to look for.
You should be looking for chairs with adjustable lumbar support that allows users to fit the chair to their lower back for maximum comfort. For example, sliding lumbar support will provide additional support to a person's lower back muscles.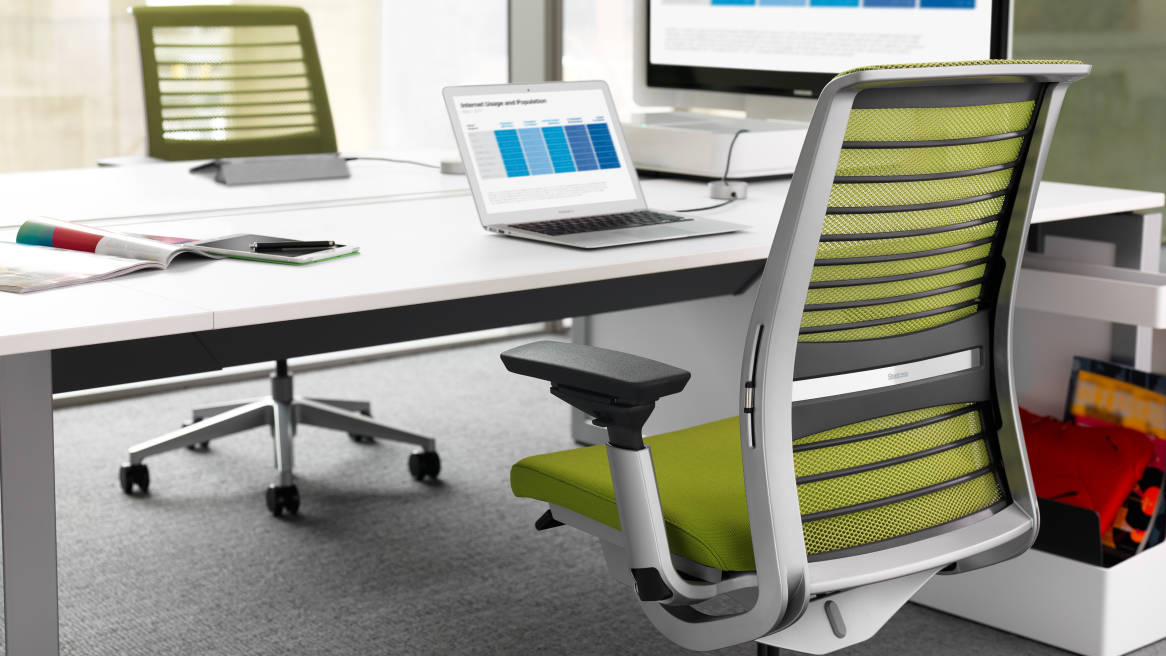 Other adjustable features to look out for include; arms that rotate and are height, width and depth adjustable, seat depth adjustments, and a synchronous mechanism (the backrest and seat pan recline at a different ratio as you lean back), with either an automatic backrest tension or an individual tension control.
Make sure all adjustment controls can be reached from a seated position too, and that you don't have to strain to get them. It should be so easy for workers to adjust their chair that they don't have to make a conscious effort to do so.
Chairs that adjust intuitively
There are now chairs that are intelligent enough to understand how you sit and adjust themselves intuitively, offering maximum comfort and productivity with very little thinking required.
You workers may be sitting at their desk facing the computer one minute and then swivelling and leaning back to chat to a colleague the next, and a task chair must be able to adapt accordingly.
Steelcase's Think chair intuitively adjusts as a user moves, allowing them to get to work faster, and in comfort. It requires very little thinking to use, and fits everywhere.
"The Think chair adjusts cleverly to your natural movements. It has a flexible seat edge that automatically flexes to release pressure on the backs of your thighs as you move in your chair." Steelcase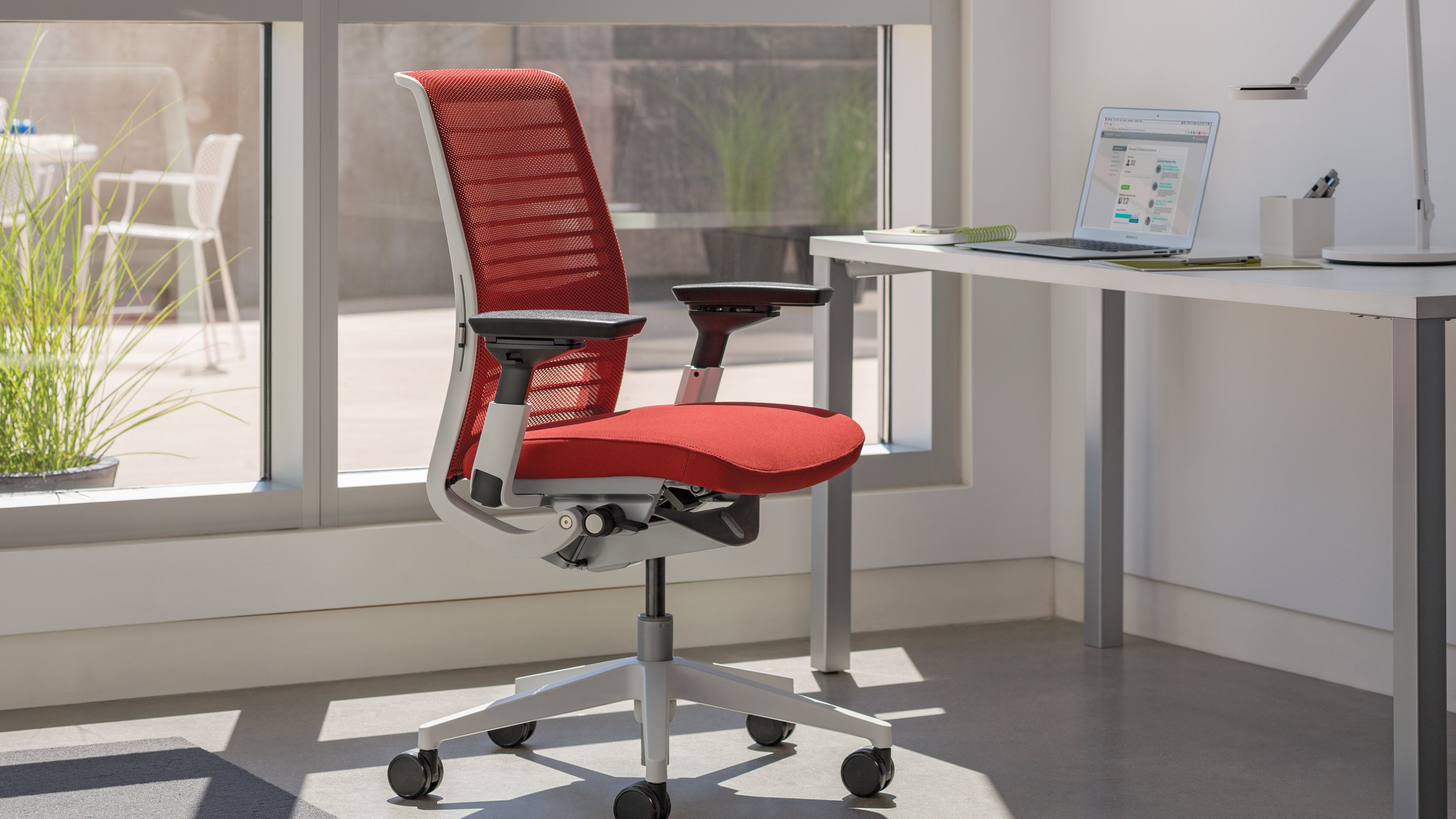 Steelcase's Series 1 chair range also offers intuitive adjustments.
"Steelcase Series 1 was thoughtfully designed with integrated LiveBack technology, adaptive bolstering and 4D adjustable arms." Steelcase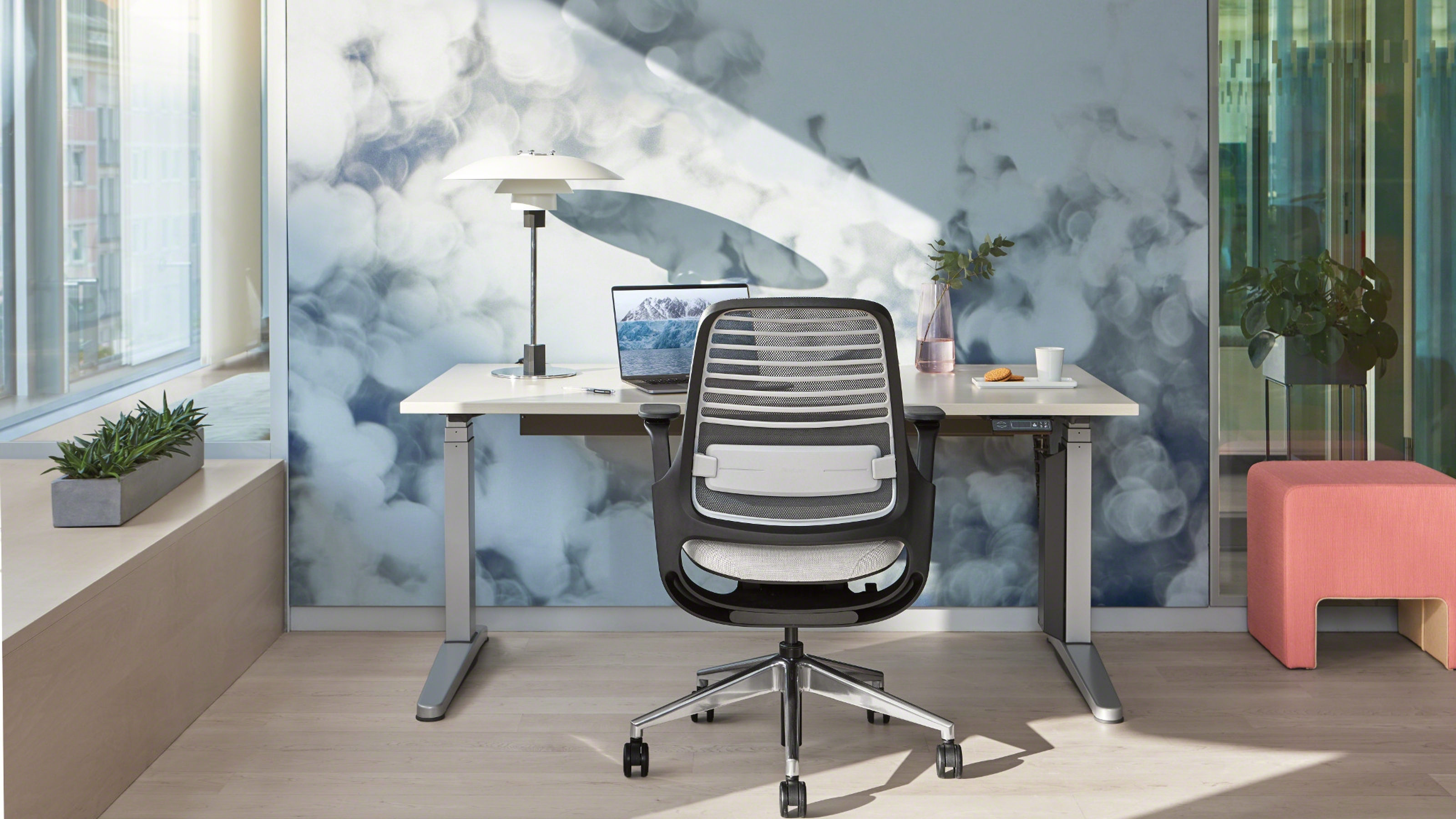 'Agile' chairs
Workers are increasingly moving around the office to find places to work alone and to work with others. But they aren't adjusting their chairs when on the go because they want to get right to work. In an Agile workspace, workers need to be supported with the best ergonomics wherever they are.
Steelcase's Gesture chair was designed to support people's interactions with today's technologies. As work has become more collaborative and mobile our postures have shifted, and the chair has been designed to support the greatest range of postures in three ways: through the back, the seat and the arms.
"Gesture supports movement between devices and healthy postures when interacting with technology. The Gesture 360 arm moves like the human arm, which allows users to be supported in any position. Arms and shoulders remain supported when texting on a smartphone, typing on a keyboard or swiping on a tablet, helping to prevent "Text Neck™"." Steelcase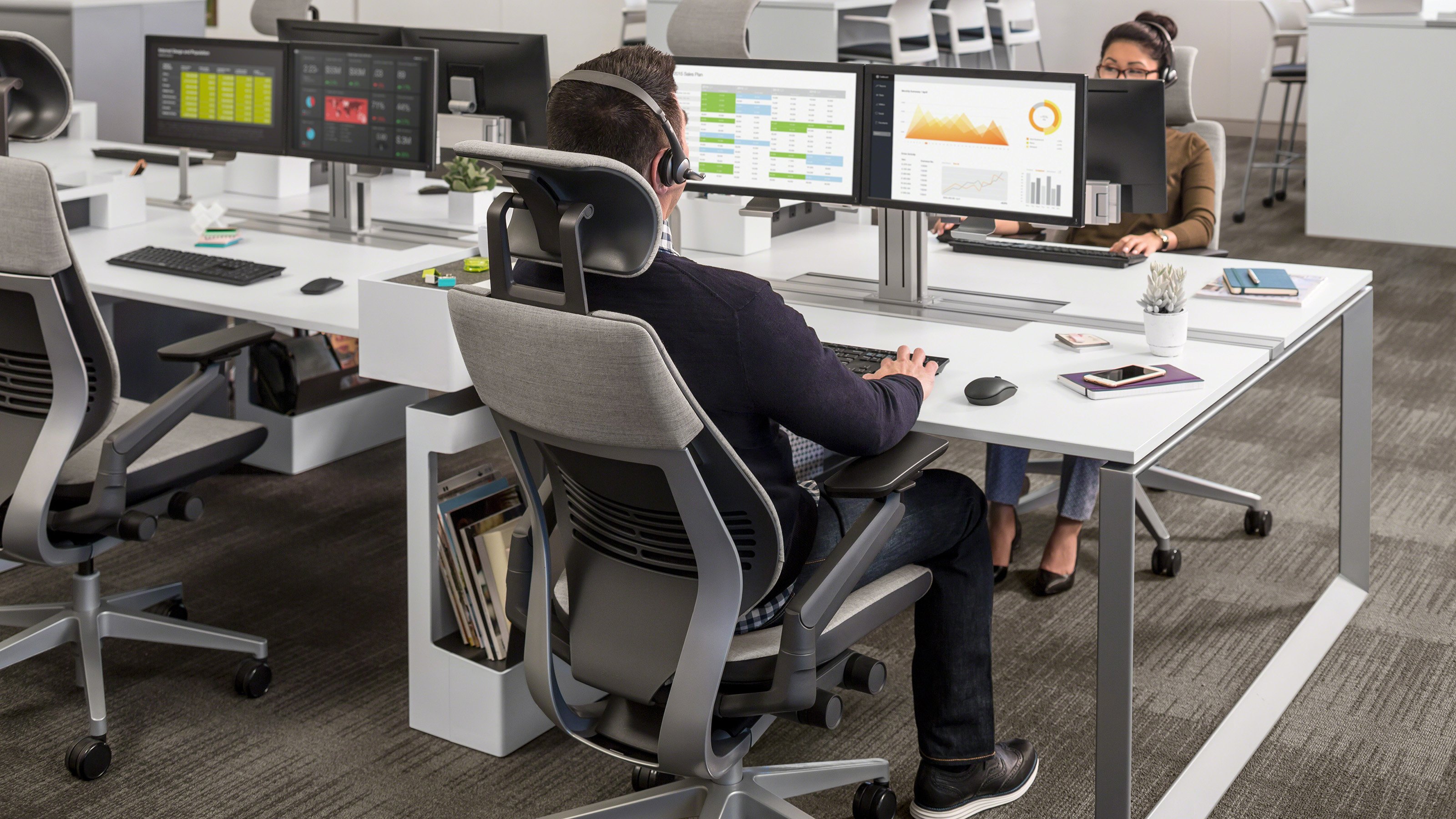 Steelcase's Leap chair provides a range of adjustments to support various body shapes and sizes, allowing it to offer the perfect fit. If you recline in a traditional chair, the distance between you and your work can increase, which can strain your eyes, arms and neck. Vision and reach impact your posture, and leap was designed with this in mind.
"Changes in posture help you stay comfortable and more attentive. Leap office chair's Natural Glide System™ enables you to comfortably recline without straining your eyes, neck, or arms." Steelcase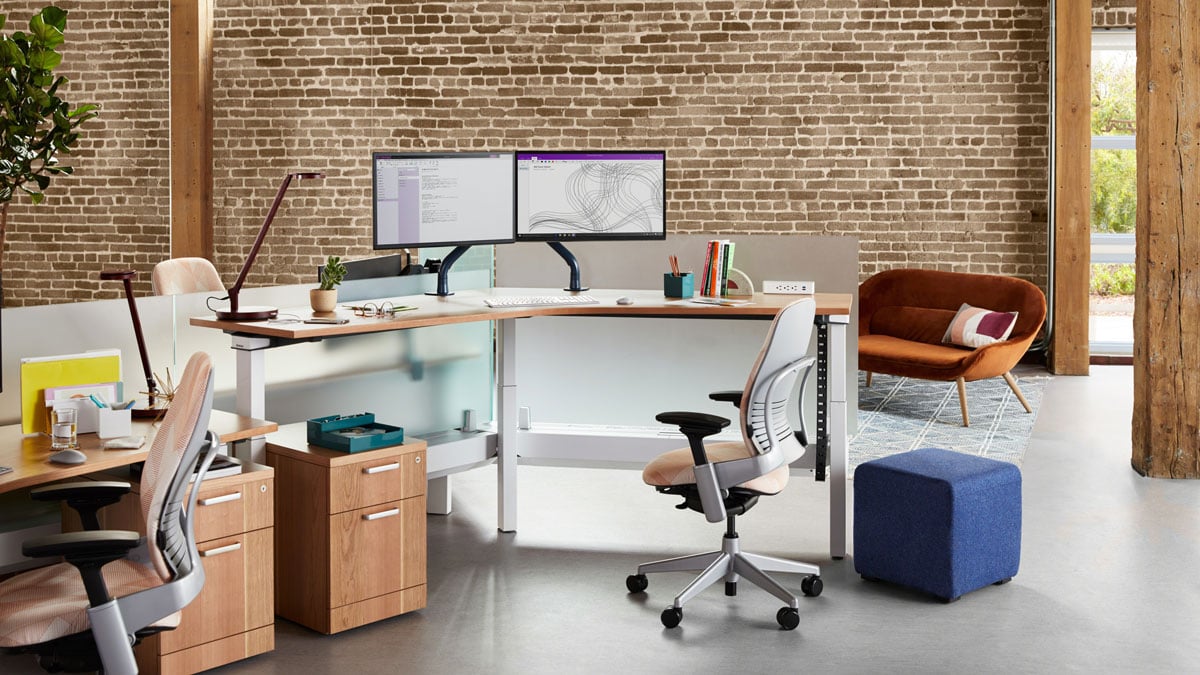 The cobi office chair, also by Steelcase, was designed with collaboration in mind. Working with others ( and therefore twisting round, huddling round a computer, gesturing or presenting etc) means the chair has to support a constantly changing palette of postures.
"The cobi office chair by Steelcase was designed to foster collaboration and promote movement, creating a perfect solution for meetings and conference rooms." Steelcase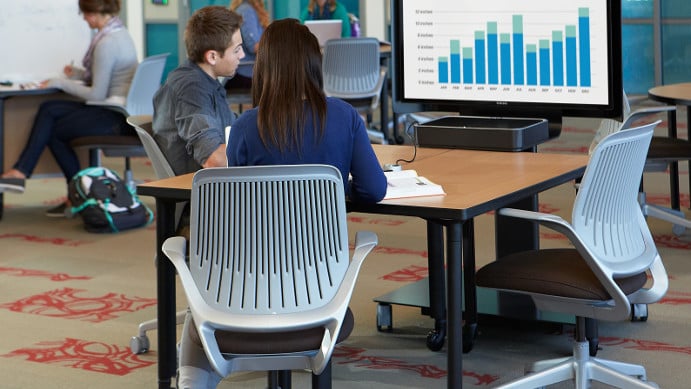 You've got to roll with it. What kind of casters do you need?
Chances are when you're thinking about task chairs, you're probably not thinking about the less glamorous parts, like casters. But they are an important part of the chair, and there's a lot more choice than you might think.
The type of caster you need will depend on how the chair will be used and the type of flooring it will be rolling across.
Most office furniture is fitted with carpet casters which are great for operating on soft surfaces, but not so much on hard surfaces. On hardwood floors, soft casters are your best option. They can move easily and won't cause any damage to the floor.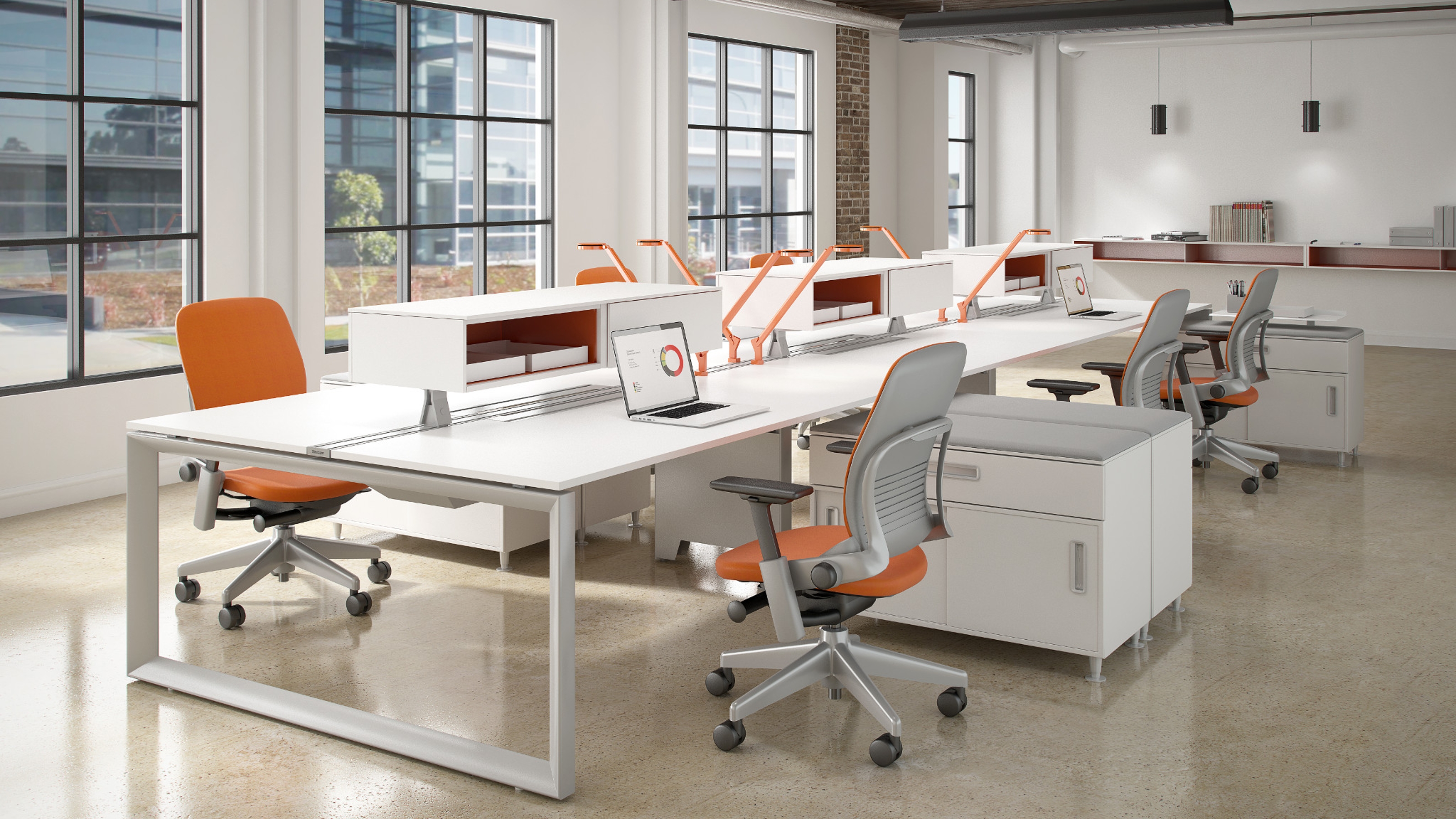 A question of sustainability. A chair with a conscience?
Most businesses want to do better when it comes to the environment, from recycling to going paperless. But have you thought about the impact of your office furniture on the environment?
Although most chairs will be designed for long product life, no chair is indestructible. So look for more sustainable task chairs, such as those that use fewer components, are made from recycled content, or are recyclable. Chairs that are environmentally sustainable should come with an Environmental Product Declaration (EPD).
Many manufacturers across a variety of industries are starting to talk about what percentage of each piece of furniture is recyclable. How recyclable a task chair is may help you decide between models and suppliers when buying. But another thing to consider is whether a supplier can help you to recycle the product when the time comes.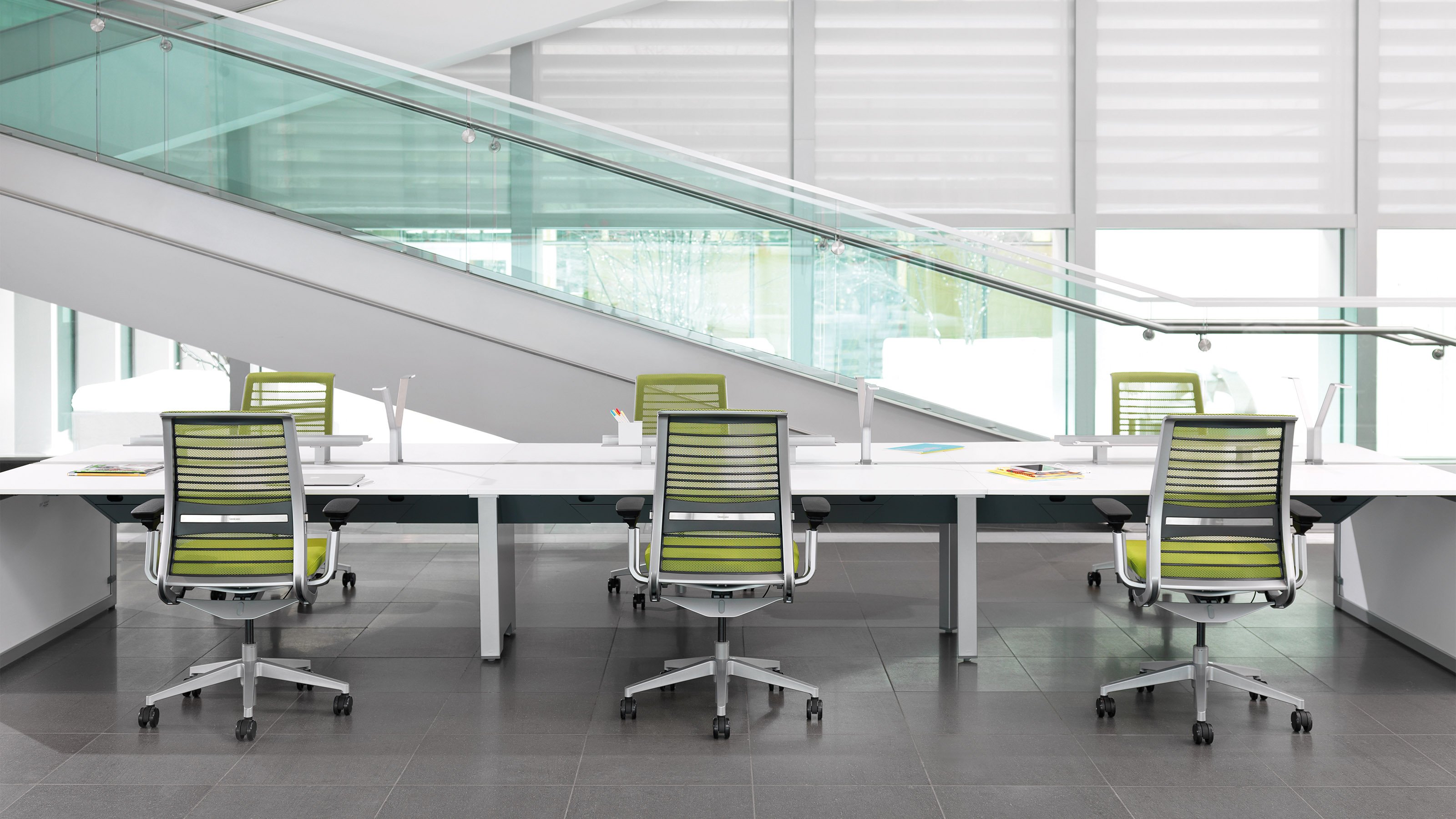 What about day 2 considerations?
When you're choosing a task chair, the focus is on whether they are practical and comfortable enough and whether they fit well with the design of your office.
But what about those day 2 considerations? When you've brought a suite of new task chairs into your office, and they break or get damaged. How do you manage those assets and get them fixed or replaced?
Asset tagging can be used by any business looking for a quick tool to keep track of everything they own and use - office chairs included. Placing a barcode or (a QR) on each chair means that when an issue arises, you can find out the details (model, make , component replacement details etc). When you purchase your task chairs, it's worth asking if this is something your supplier can offer.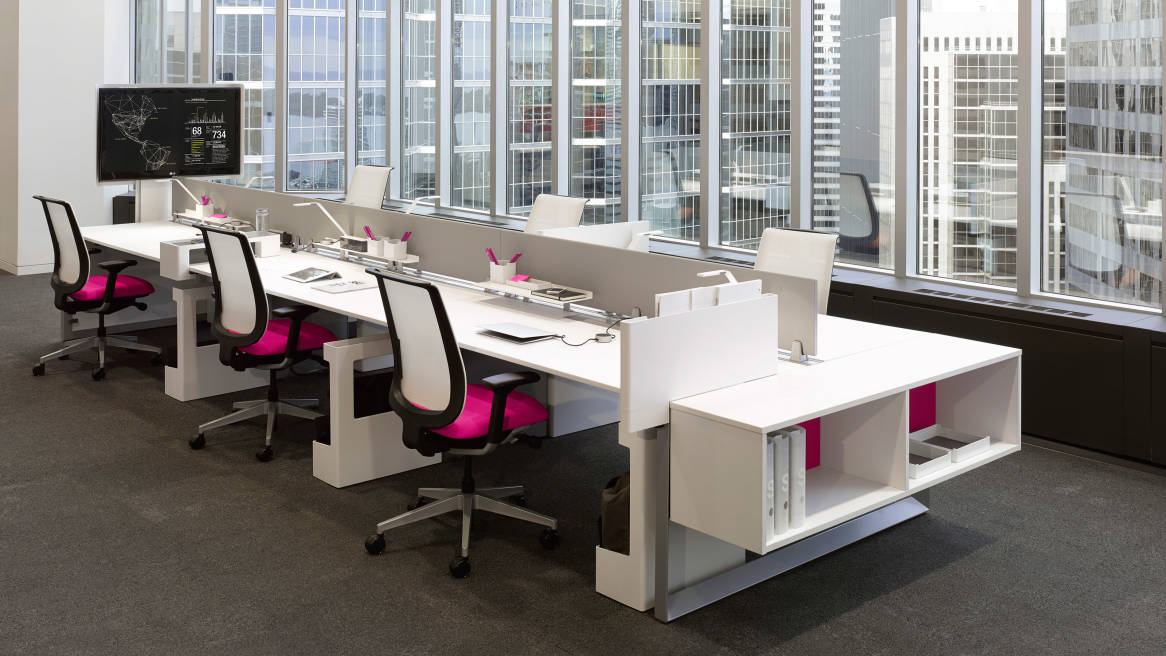 It's also worth checking and comparing the warranty period and what it covers to ensure you get the best value from a chair. Steelcase, for example, offer a lifetime warranty on most task chairs, excluding certain pieces like the fabric (usually 5 years) and gas cylinder (12 years).
The task chair for your office
Office chairs are a big part of the decor of any office. But the ergonomics and practicalities of the chair should be considered above everything else. If your employees' are spending up to 40 hours a week sitting on them, they need to offer maximum comfort and productivity.
And with the workspace becoming more dynamic to suit the variety of tasks your staff need to complete, from focused attention to collaborating with others, these chairs need to be able to adapt to suit each task. Luckily, the design of task chairs is becoming more sophisticated, and organisations are increasingly able to choose ones that adjust intuitively and can be used anywhere.