Serendipity is what drives businesses forward. The accidental collisions that force interaction and strengthens relationships between co-workers. The casual chats or impromptu meetings over coffee that spark innovative ideas.
But how much of serendipity in the workplace is owed to chance?
Serendipity: the key to innovation
"Serendipity means finding interesting or valuable things by chance. It's what happens when we make unexpected connections and create possibilities that never existed before."
Innovative products and services are not created behind desks or in a boardroom full of executives. They happen when the right people cross paths with each other and bounce ideas around.
Steve Jobs understood that serendipity was the key to innovation. It's why he never separated the engineers and the designers into separate divisions. He wanted them constantly rubbing shoulders and bouncing ideas off each other.
In fact, many leaders in innovation have expressed the value of interaction and chance encounters. In 2013, Yahoo made a complete u-turn on their flexible working policy because they wanted everybody back in the office interacting with each other.
And Google claim chance encounters amongst employees were responsible for innovations such as Gmail and Street View.
Serendipitous connections and chance encounters in the workplace can create opportunities for collaboration between unlikely partners, which can spark ideas, lead to new solutions, or at the very least, strengthen relationships and foster a happier and more productive workforce.
Engineered serendipity: organisations aren't leaving it down to chance
Serendipitous moments in the workplace may be down to chance, but the environment in which they occur is not. The workplace itself can provide the routes and the prompts to encourage serendipity.
As Rachel Emma Silverman, writing for The Wall Street Journal, explains;
"Attempts to engineer serendipity aren't entirely new. Steve Jobs famously designed the Pixar headquarters with central bathrooms so that people from around the company would run into each other. And firms have increasingly adopted open plans and even unassigned seating to get workers mingling more widely."
When organisations started to tear down the cubicle walls and open up the office floor, the hope was that it would bring people together and increase the opportunities for unexpected connections.
Hot desking is another strategy that has emerged to support a serendipitous workplace. As cloud-based working has made it easier for people to work in different locations, it has created a good recipe for serendipity by bringing unlikely partners together.
Some companies are taking a more scientific approach. They are collecting and analysing data about their teams to predict the likelihood that employees will meet. Others are trying playful tactics like trivia games and similar ice breakers to get employees talking in dead spaces where they might bump into each other, such as in corridors or lifts.
The space around us affects how we behave and our ability to connect with others. And companies of all sizes and sectors are realising the power of workplaces designed for connection and serendipity.
Employers keen to maximise these connections are using this to steer their workplace design.
Office design for serendipity
One of the focal points of a workplace designed for serendipity is the WorkCafé or breakout area.
Removing coffee points in each department in favour of a centralised cafe or breakout area brings everyone together and dilutes the boundaries between the different disciplines of the business. As people from different parts of the company visit the space to refuel and refresh, it becomes a hub for unexpected conversations to take place.
Bar-style seats support on-the-fly conversations as people drink their coffee and prepare their lunch. While other furniture such as tables and comfortable seating support deeper conversations.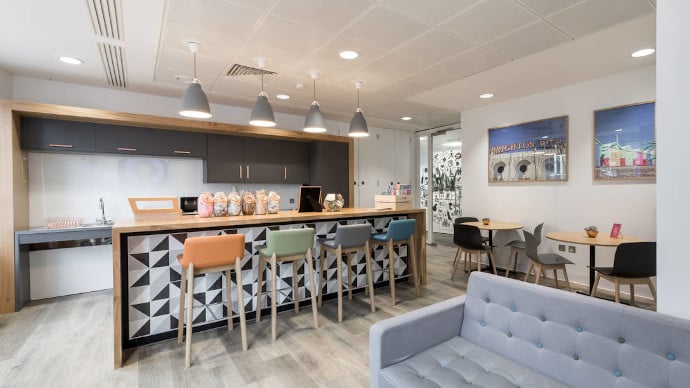 As well as shared spaces, there is a trend towards open staircases that increase visibility from floor to floor and encourage spontaneous conversations amongst workers in a way that can't be mimicked when using a lift.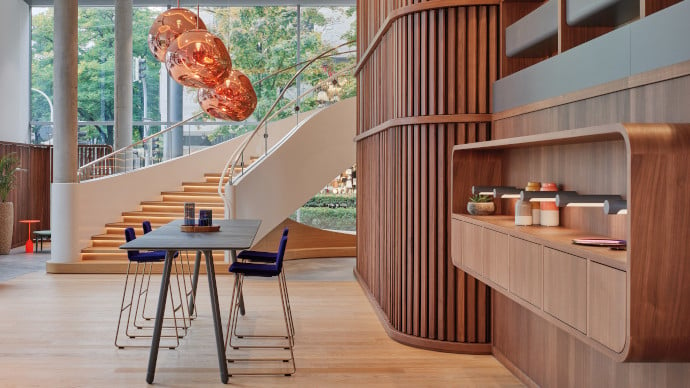 Weaving comfortable seating into the flights of stairs encourages people to continue serendipitous moments for longer. When two colleagues bump into each other at the top of stairs, both on their way down, it's natural that the conversation will end when they find their way to the bottom. Placing seating and even desks along their route can prompt them to stop so they can continue discussions.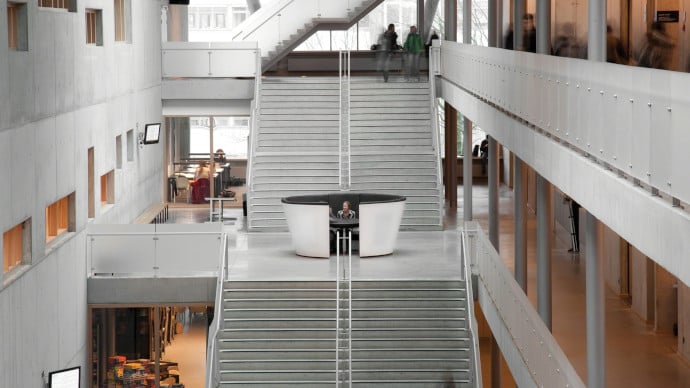 Elsewhere in the office, informal seating like sofas intermixed with desks and high tables support sociability and connection. The presence of a sofa makes a space more inviting for people to stop by and start a spontaneous conversation as they're passing through.
Inspiration: "One big desk for everyone"
Clive Wilkinson's Superdesk is perhaps one of the most creative office installations for encouraging connection and chance encounters.
In 2014, he created a 410m2 continuous desk for digital advertising agency The Barbarian Group in Manhattan. The desk undulates and then levels out, with the spaces under the desk creating space for private work or collaboration.
Benjamin Palmer, co-founder of The Barbarian Group, told The Architectural Review;
"I know we've had ideas we wouldn't have had if people weren't sat around each other in this way."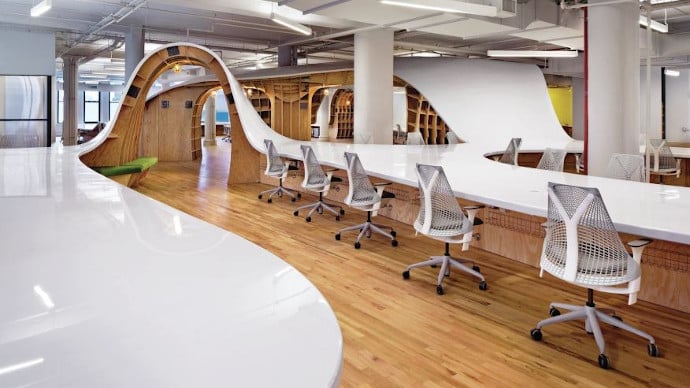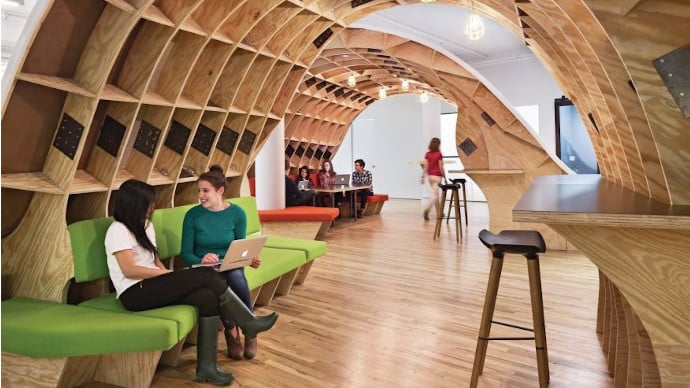 Image source: Architect magazine
Summary
As Libby Sander summarises in an article for Work Design Magazine;
"Serendipity or chance encounters that lead to something are more likely in environments where things are not completely planned, where informal conversations are encouraged, and where the workspace design enables chance encounters."
Leaving serendipity to chance is a risky strategy. But the workplace can be designed and furnished in such a way that it provides the routes and prompts for chance encounters to happen.