Today, Monday 15th August, is National Relaxation Day 2022. To celebrate, we've pulled together a list of our favourite office sofas and armchairs.
Having comfortable lounge furniture in the office gives workers a space to relax and recharge. They can offer moments of stillness, allowing the brain to reset, so workers can go back to their tasks with renewed energy and focus.
A moment away from the desk, settled into a sofa or armchair that supports a more relaxed posture, can also help aid creative thinking.
We're also seeing a trend towards collaborative spaces filled with sofas, coffee tables, armchairs and cafe tables, along with tools like whiteboards and digital screens to help teams record ideas and reach a shared understanding.
So to inspire you, let's take a look at our favourite office sofas and armchairs for 2022.
1. Hannah sofa – Bolia
Made from sustainable wood, the Hannah sofa by Bolia has an elegant and organic design with a soft curved arm and backrest to provide superior comfort It's available in a range of sizes and styles, from a 2 or 3 seater to a 6 seater corner sofa with open end. Choose from a range of colours and fabrics including wool, velvet and leather. There's also a wide variety of legs to choose from, including black lacquered steel, oiled oak, and white pigmented oiled oak.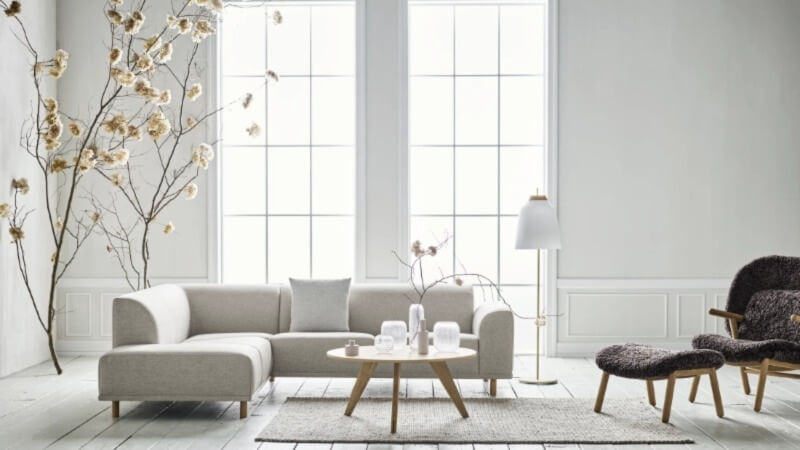 2. Savina sofa – Viccarbe
The Savina sofa by Viccarbe is designed to make people feel like they're sitting on a cloud or floating on water. Described as an "island of collaboration" and a "reassuring spot to gather, work and retreat", the Savina takes its name from the natural entrance to the island of Formentera in Spain, a space that connects you with nature and makes you unwind.
The Savina is available in a range of different configurations, and its modular format and hidden casters means it can be easily adapted as the needs for your workspace evolve over time. The versatile chaise provides a space to focus, while the corner module creates a space for multiple people. Accessories include wooden tables and discrete integrated power points so you don't run out of charge.
It comes in a variety of colours and fabrics, including recycled fabrics from Ecoalf, which is made from over 250 million plastic bottles collected in oceans.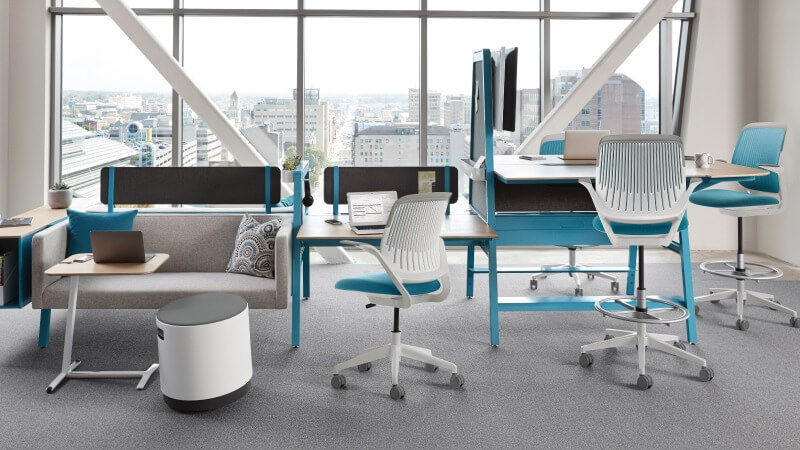 3. Levitt sofa – Viccarbe
As well as being incredibly comfortable, Viccarbe's Levitt sofa is packed with personality and looks great from every angle. There's the option to add modules to tailor it to your specific needs and it's also available as an armchair. It comes in many finishes and colours in line with Viccarbe's signature natural, authentic style.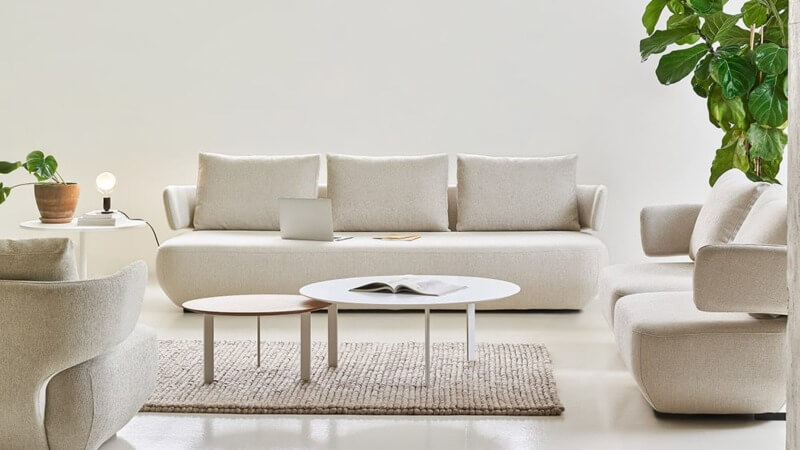 4. Tryst sofa - Connection
The Tryst sofa from Connection comes in a range of high and low back options to offer different levels of visual and acoustic privacy. It's perfect for socialising and casual collaboration. It also comes as an armchair, ideal for privacy or personal calls. It's available in a range of fabrics and comes with an optional lamp, power and USB charging points. There's also an option to include casters so it's easy to move around should you wish to pilot different positions and set ups.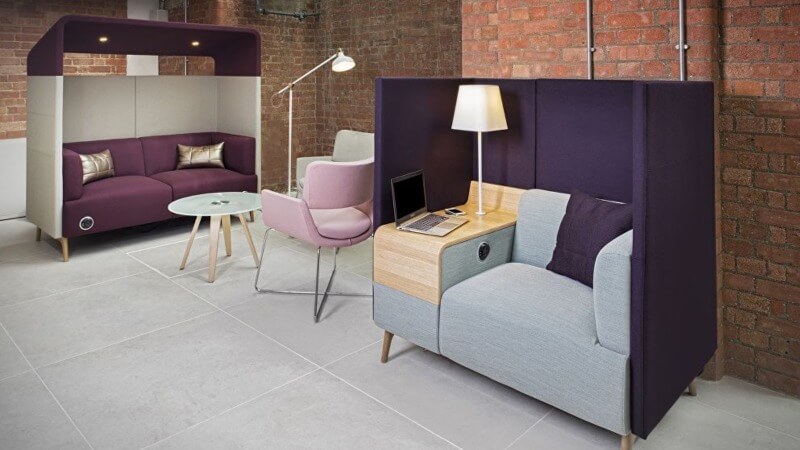 5. EL sofa - Davison Highley
The EL sofa from Davison Highley is designed to create a comfortable and practical space that can be included in any workplace. Its linking system means it can be configured in a range of formats, from a 3 seater sofa to corner sofa or separate armchair. Power points are subtly hidden under the timber frame.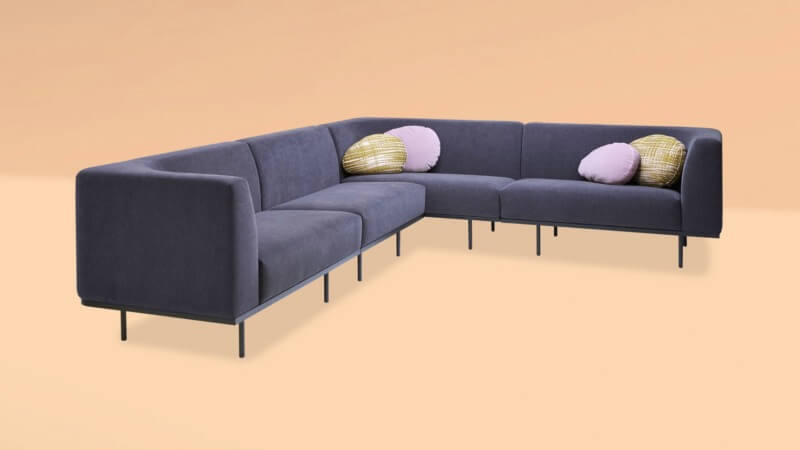 6. Trost armchair – Frovi
The Trost armchair from Frovi is inspired by the Swedish word for 'comforting' and makes users feel like they are being wrapped up in its soft form. Moulding foam gives it extra comfort and there is both a low and high back option. Its modern Scandinavian design will provide a calm and minimal look and feel to any working environment. It comes in a range of calming colours and fabrics and the legs are available in natural or black oak.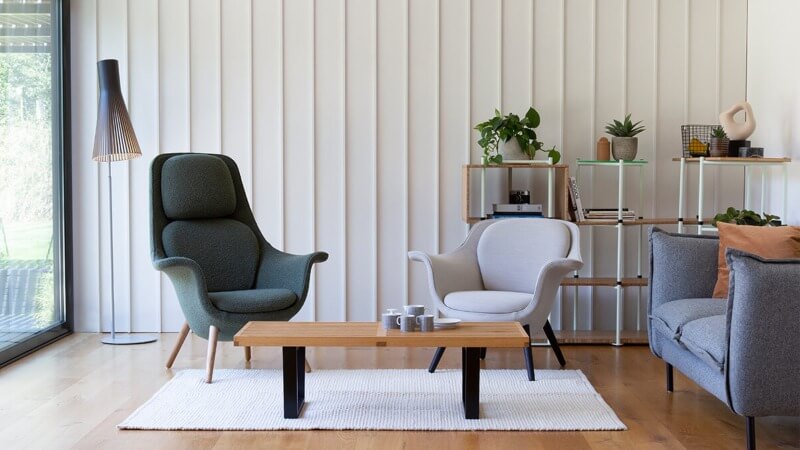 7. Saga armchair – Bolia
The Saga armchair and accompanying footstool from Bolia provides the perfect spot to relax. A great example of Danish design, it comes in a range of soft colours to create a natural and calming aesthetic. Just be careful, you may not want to move from it!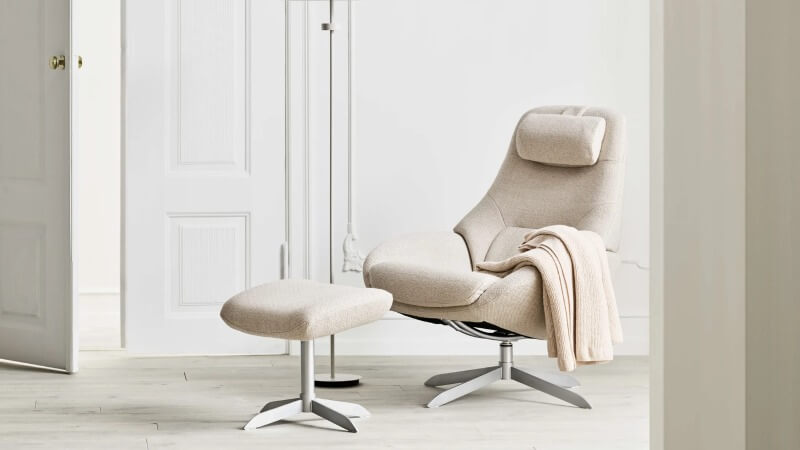 8. Massaud Lounge chair – Coalesse
The Massaud Lounge chair from Coalesse is designed for both comfort and connectivity, with its adjustable headrest for ergonomic support and swivel tablet surface to catch up on work. It's a great chair to work, contemplate or simply relax. It's available in a huge variety of colours and fabrics to suit every aesthetic. The wider Massaud Collection includes conference seating to offer design continuity across the workplace.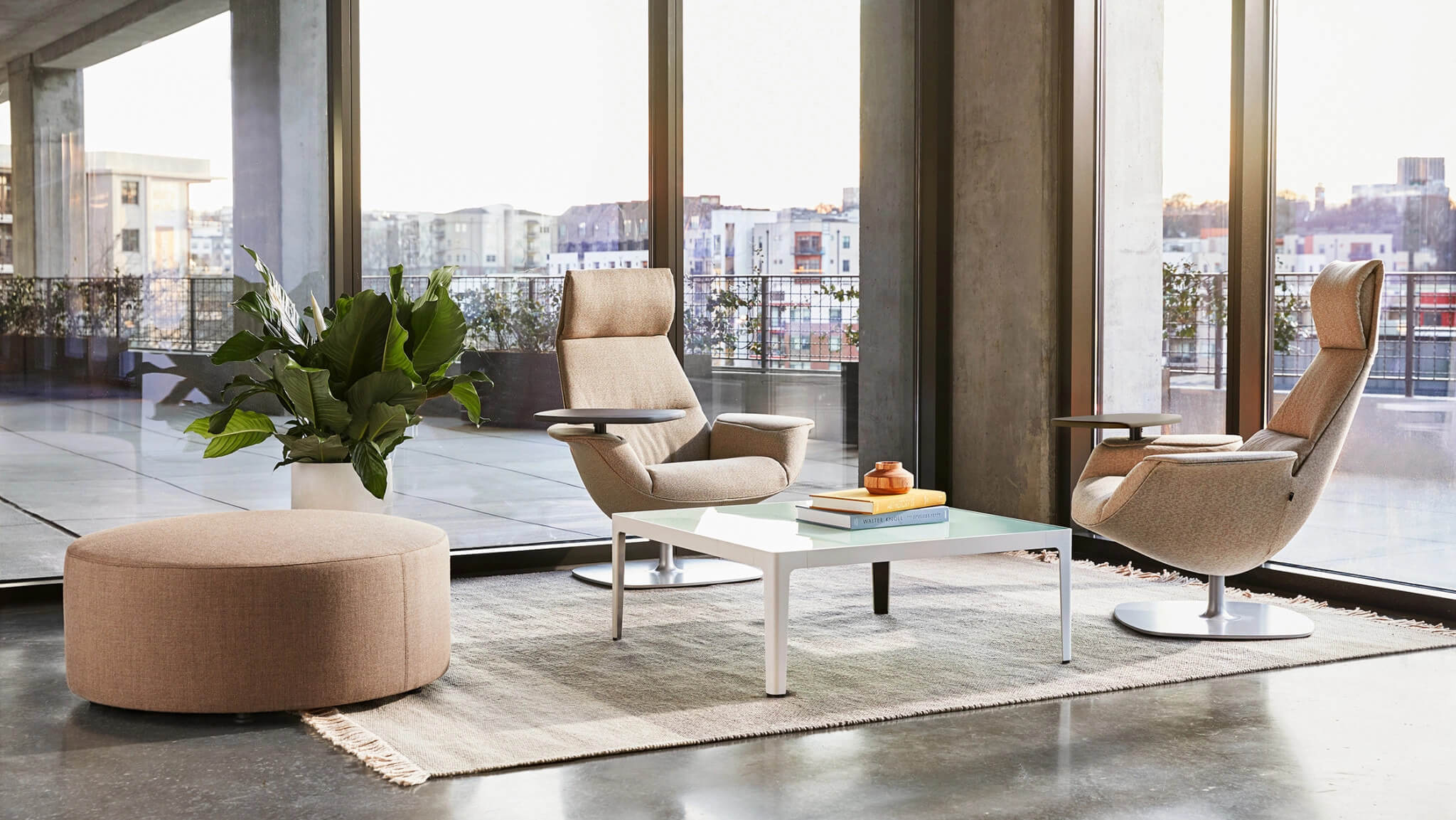 9. Leya Lounge Swing Seat - Freifrau
The Leya Lounge Swing Seat from Freifrau has been designed to provide "moments of weightlessness" within the office. A unique design that doesn't sacrifice on comfort, it would be a stand out addition to any workspace. It hangs from two black or silver ropes from the ceiling and can be created in a range of materials, covers and colours, including patterned fabrics to make a real statement.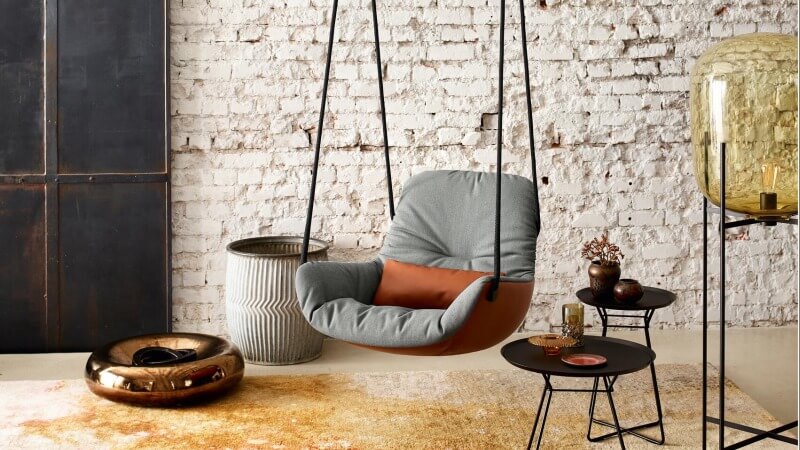 10. "N.A.P." - Loook
The Neuron Activation Pod or "N.A.P." offers something a little different. Stepping into the N.A.P. is more like stepping into space with its futuristic, sci-fi look. Technically a 'sleep pod' rather than a sofa or armchair, it offers the ultimate relaxation experience. A quick power nap can greatly improve concentration and productivity. And not only will the N.A.P. help you sleep better, but there are a range of settings designed to help you relax and recover.
Summary
Office sofas and armchairs are great for supporting employee wellbeing and creating informal social and collaboration spaces in the workplace. They can fit anywhere in the office, from the foyer to open-plan spaces to collaboration spaces, breakout areas, pods and booths.
If you'd like to find out more about any of the products in this article or discuss how you can incorporate sofas and armchairs in your latest projects, feel free to get in touch.
Which is your favourite? Let us know in the comments!